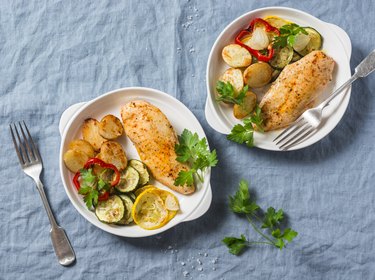 When it comes to food preparation, you're no longer limited to your oven and stove. With the NuWave oven fried chicken recipes, you can have a healthy chicken dinner on the table in minutes, without the need for a pot or pan.
This countertop cooking device combines infrared, convection and conduction techniques to help cook food quickly, using less energy and not much fat.
Tip
To bake your chicken breasts in your NuWave oven, use the 4-inch rack height and cook on power 10. The length of cooking time depends on whether you're cooking bone-in or boneless chicken breast.
NuWave Oven Temperature Settings
According to the NuWave website, the goal of the company is to provide you with affordable products aimed at making your life both easier and healthier. The NuWave Oven is a countertop device that can bake, broil, roast, grill, steam and air fry.
The oven uses what it refers to as a triple cooking method. The infrared heat generated from the top of the device ensures proper cooking inside and out. The conduction heat is similar to the type of heat found in your regular oven, and it cooks the surface of your food. With convection, the NuWave Oven is able to circulate the heat around the food for faster cooking.
According to the NuWave Oven instruction manual, oven temperature settings are based on power level, with temperatures ranging from 106 degrees Fahrenheit (low) to 342 degrees Fahrenheit (high). The numbers on the NuWave display panel indicate cooking temperature, with 1 being low and 10 being high. However, the countertop cooking device is automatically set to high.
NuWave Chicken Breast
According to the NuWave instruction manual, you can cook fresh or frozen chicken in the countertop device, with or without the bone. For a bone-in NuWave chicken breast, it's recommended that you use the 4-inch rack height and cook fresh chicken for 10 minutes per side and frozen chicken 13 minutes per side.
For boneless, skinless NuWave chicken breast, it's recommended you use the 4-inch rack height and cook your fresh chicken breast for seven to eight minutes per side, or 10 minutes per side if frozen. The NuWave oven cooking chart chicken recommends cooking your chicken breast until it reaches an internal temperature of 170 degrees Fahrenheit.
By comparison, FoodSafety.gov notes that chicken is safe to eat when cooked to an internal temperature of 165 degrees Fahrenheit. Proper cooking temperature is important for preventing foodborne illness. Americans eat more chicken than any other protein food, according to the Centers for Disease Control and Prevention. However, chicken is a source of bacteria, including Salmonella and Campylobacter, and can make you very sick if consumed raw or undercooked.
NuWave Oven Fried Chicken Recipes
One of the selling features of the NuWave Oven is that it can create a "fried" food without oil. According to a January 2019 study published in the_ BMJ_, regular consumption of fried foods, most notably fried chicken, increases premature death in postmenopausal women. While this study focused solely on women, too much fried food for anyone isn't good for anyone's health.
With NuWave Oven fried chicken recipes you can get the flavor you crave, but without the health consequences. The cooking methods in the device allow you to air fry the chicken.
You can shake and bake chicken in a NuWave Oven with a homemade shake-and-bake recipe inspired by Cook the Story.
3 cups panko breadcrumbs
1/2 tablespoon salt
1 tablespoon dried onion flakes
1 tablespoon paprika
1 teaspoon garlic powder
1 teaspoon black pepper
1/2 teaspoon cayenne pepper
1/2 teaspoon basil
1/2 teaspoon oregano
1/2 teaspoon parsley
3 tablespoons of olive oil
6 boneless, skinless chicken breasts
In a bowl, combine breadcrumbs, salt, dried onion flakes, paprika, garlic powder, black pepper, cayenne pepper, basil, oregano, and parsley. Then transfer breadcrumbs to a large resealable plastic bag.
Coat chicken with oil. Place two chicken breasts in the breadcrumb bag to coat. Repeat until all six breasts are coated.
Place chicken on the 4-inch rack and air fry for 15 minutes per side on power 10 (high).
Let chicken rest on a plate for two minutes before serving. If your cooking with thinner chicken breasts, you may reduce cooking time to seven to eight minutes per side. Use a meat thermometer to check for doneness with an internal temperature of at least 165 degrees Fahrenheit as noted by FoodSafety.gov.