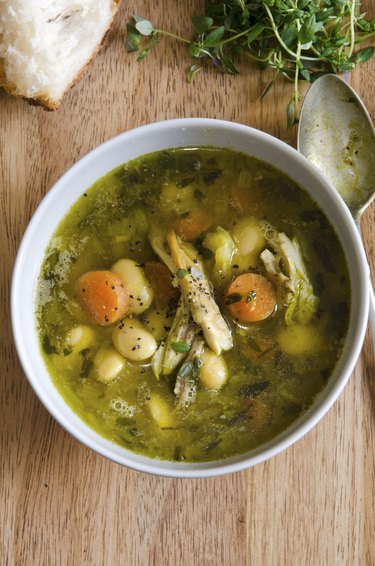 If you've got bronchitis or another respiratory infection, such as the cold or flu, what you eat and drink may help to at least temporarily improve your symptoms as you're undergoing treatment. Fluids are particularly important, with hot liquids, such as soup, having a slight advantage over cold. When it comes to soup, homemade chicken noodle soup may be one of the best choices, although there hasn't been much research comparing different types of soup. Consult your doctor before making any changes to your diet while you're receiving treatment for bronchitis.
Chicken Soup
A review article published in Food Science and Technology in 2008 notes that chicken soup can help limit fatigue and other cold symptoms. Fluids help keep you from becoming dehydrated and loosen mucus, helping you to breathe a little better by limiting congestion. Warm liquids like chicken soup also help soothe sore throats. In fact, the Milton S. Hershey Medical Center recommends chicken soup to help treat acute bronchitis. Chicken soup may be better than other types of soup as chicken contains lots of cystine, an amino acid that is similar to a medication sometimes used to treat bronchitis.
It may also be beneficial due to the placebo effect -- that is, if people believe it will help them feel better, it will.
Beneficial Additives
Bland chicken noodle soup won't be as helpful as a version that contains ingredients that make your nose run and your eyes water, according to an article published in The New York Times in 1999. This helps clear up your sinuses and make you less congested. Consider including hot peppers, mustard, garlic, wasabi, ginger, curry powder or horseradish in your chicken soup. These can even be added to canned chicken noodle soups for those who aren't up to making soup from scratch.
Other Alternatives
If you're vegetarian or just don't like chicken soup, any other broth-based soup may be helpful, especially if it is a bit spicy. Asian hot and sour soup, a vegetarian version of the Indian soup mulligatawny and miso soup are all good choices. Soups with vegetables and protein sources, such as tofu or egg, will also help you fit in the nutrients you need even when you're not feeling so great.
Potential Considerations
Soup will only help temporarily with your symptoms and won't actually cure your bronchitis. You'll need to see a doctor for medical treatment. Using a humidifier and taking an over-the-counter medication that includes expectorants may help relieve bronchitis symptoms. If your symptoms don't improve after a week or get worse or if you have trouble breathing, call your doctor.