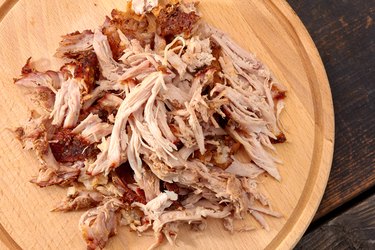 Traditionally, pulled pork is roasted over a low fire for hours to create a tender and succulent meat. But cooking for hours over an open flame isn't always an option, and you may be searching for ways to prepare your pulled pork in roaster.
The good news is, pork roast in a roaster is easier than cooking the meat over an open flame, and it's even possible to create the tender, succulent pull-apart meat you're looking for using your electric roaster.
Tip
For delicious pulled pork, cook in a roaster for 6 hours at 300 to 325 degrees Fahrenheit or until the meat is fall-apart tender.
It's All in the Cut
Pulled pork is always a winning meal, whether you're making it in your barbecue pit or roaster. The tender, flavorful shredded meat can be served by itself or stuffed into a bun. While the spices and sauces you use to make your pulled pork play a role in the taste and tenderness of the meat, the cut of pork traditionally used for pulled pork is the star of the meal.
Commonly referred to as the Boston butt, the meat that fills your pulled pork sandwiches comes from the shoulder of the pig. The shoulder is a heavily worked muscle, which generally means a tough cut of meat that needs to be cooked slowly to help break up the tough muscle fibers.
It's not only the cooking method that makes the Boston butt the perfect choice for your pulled pork in roaster recipe. The cut of meat is marbled with connective tissue and fat that melts as you slow roast it, which intensifies both the flavor and juiciness.
Pulled Pork in Roaster
Whether you're cooking the pork in your roasting pan in the oven or dusting off your electric roaster, the preparation of your meat may be the same. The key to a delicious pulled pork include the cut of meat, the spice rub and the final finishing sauce.
3 tablespoons brown sugar
1 tablespoon paprika
1 teaspoon garlic powder
2 teaspoons black pepper
1 teaspoon onion powder
1 tablespoon Kosher salt
5 to 7-pound pork roast (preferably Boston butt)
Your favorite barbecue sauce recipe or bottled sauce
In a small bowl, mix together brown sugar, paprika, garlic powder, onion powder and Kosher salt. Rub mixture over the pork roast and marinate for at least 1 hour or overnight.
Preheat oven to 300 degrees Fahrenheit.
Place your marinated pork roast in a roasting pan and cook for 6 hours or until the meat is fall-apart tender.
Remove the meat from the oven and allow to rest for 10 minutes.
Shred your meat with two forks.
Transfer shredded pork to a bowl and mix with the barbecue sauce.
Refer to the user guide for a pork roast in electric roaster oven recipe to determine cooking temperature and time when using this cooking utensil.
The cooking time may give a general idea of when your roast will be tender and juicy. But, whether it's pulled pork in roasting pan or pulled pork in roaster, the USDA recommends you cook the pork until it reaches 165 degrees Fahrenheit.
Healthier Pulled Pork Recipe
The fat in the Boston butt is essential for creating the juicy, tender meat you expect from your shredded roast pork. But that fat also adds a lot of calories and contains unhealthy saturated fat. According to USDA, a 3.5-ounce serving of roasted pork shoulder has 228 calories, 25 grams of protein, 13 grams of fat and 4.8 grams of saturated fat.
Most Americans get too much saturated fat in their diets, according to the FDA. A high intake of saturated fat may lead to an increase in blood cholesterol levels and can raise your risk of heart disease, the leading cause of death for both men and women in the United States. The 2015-2020 Dietary Guidelines Executive Summary says a healthy eating pattern is getting less than 10 percent of calories come from saturated fat, or no more than 22 grams on a 2000-calorie diet.
Though pork shoulder is the preferred meat for shredded roast pork, you can save calories and fat using pork loin instead. A 3.5-ounce serving of roasted pork loin has 173 calories, 27 grams of protein, 6 grams of fat and 1.9 grams of saturated fat. Use apple cider vinegar or more barbecue sauce to improve moisture.