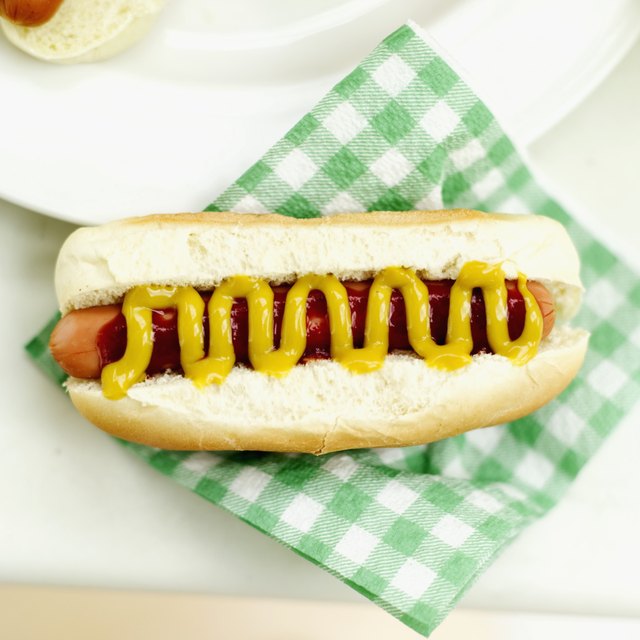 According to the National Dietetic Association, hot dogs contain somewhere between 10 to 15 fat grams. If you're trying to limit fatty foods, you can use fat-free or low-fat hot dogs instead, which contain about 2 to 6 fat grams. If you don't want beef, try a turkey dog or a chicken dog, though keep in mind that these options don't necessarily have less fat. Vegetarians can also opt for a soy or veggie dog. No matter what kind of dog you cook, a simple skillet preparation won't add any extra fat or calories to your franks, and it takes just a few minutes to accomplish.
Cooking With Water
Step 1
Use a deep skillet to cook your hot dogs in water. Make sure your skillet is deep enough to completely cover the hot dogs with water; otherwise, use the dry cooking method.
Step 2
Poke a few holes in your hot dog with a fork before cooking. This will stop the hot dogs from swelling in the hot water.
Step 3
Pour cold water over your hot dogs in the skillet, making sure to completely cover them. Place the skillet over a burner and turn the burner to high.
Step 4
Bring the water to a boil, then lower the heat and let the hot dogs simmer over a very light, low boil for five minutes.
Step 5
Place a strainer in the sink and pour out the hot water from the skillet. Use a fork to pierce and pick up the hot dogs, as they will be very hot.
Dry Cooking
Step 1
Make a few diagonal cuts on your hot dogs with a knife, about an inch apart. This will keep your hot dogs from puffing up when dry cooking them in a skillet.
Step 2
Warm your skillet on a burner set to medium heat, then place your hot dogs directly in the skillet with no water, butter or other substances.
Step 3
Use a fork or similar utensil to turn the hot dogs so they cook evenly on all sides. Let the hot dogs brown, turning them occasionally, for about five minutes. Use your fork to transfer the hot dogs out of the skillet and onto a plate.
Things You'll Need
Skillet

Knife

Fork

Water, optional

Strainer, optional

Bun and condiments
Tip
Warm a hot dog bun in the skillet over low heat until the edges toast up, then serve with the condiments of your choice.
Warning
Overcooked hot dogs turn rubbery and tough. Keep an eye on the time, and don't let the hot dogs boil or brown for too long.