Western diets are naturally protein-rich, particularly after the post-WWII economic boom expanded the middle class in developed countries worldwide. An average American male consumes about 140 grams of protein per day if he follows the USDA recommendations. Adding additional protein to daily intake using protein supplements or powder not only gets wasted if it's not burned, it might tax the liver unnecessarily.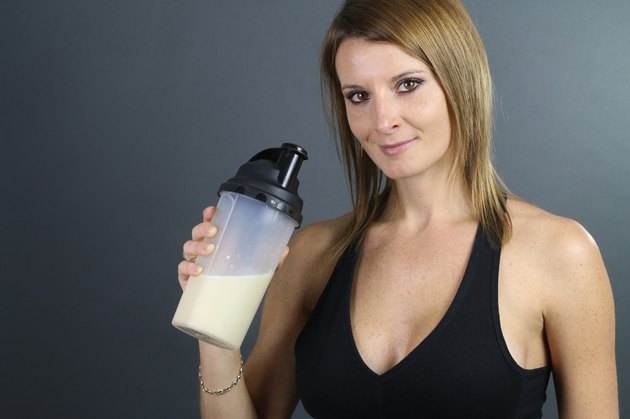 Basics
A healthy diet includes about 1 gram of protein per kilogram of body weight, according to Medline Plus, a division of the National Institutes of Health. Additional consumption above that level gets converted to carbohydrates in highly active individuals or stored as fat in sedentary individuals. Physicians recommend higher than normal protein consumption only for endurance athletes or extremely active people with physically demanding jobs. Working out a few times per week is not considered a good enough reason to increase protein consumption above normal by supplementing with protein shakes.
Urea
One concern about excess protein consumption is that protein metabolism creates nitrogen waste products. Normal levels of urea, one such waste product, are easily filtered by the liver and expelled through the kidneys. Urea buildup interferes with the body's ability to filter other toxins and expel waste.
Heavy Metals
In a widely publicized 2010 study, Consumer Reports tested a variety of popular protein powders and found dangerously high levels of heavy metals including cadmium, arsenic, lead and mercury. Heavy metal toxicity attacks the liver's ability to metabolize nutrients because the liver is responsible for filtering toxins. Excessive use of contaminated protein powder could cause liver damage, concluded the study's authors.
Contradictory Studies
A 2010 study led by Zhaoping Li and published in "Nutrition Journal" found no measurable effect on liver function when subjects were given a high-protein diet including protein powder twice daily. The high-protein group consumed 2.2 grams/kilogram of protein daily including two protein shakes while the control group consumed a more standard 1.1 grams/kilogram of protein daily. Seventy participants completed the study, and there were no differences in routine measures of liver function between the two groups at the study's conclusion.
Is This an Emergency?
If you are experiencing serious medical symptoms, seek emergency treatment immediately.