When you begin a low-carb diet, you may hope to lose weight, stabilize your blood sugar and improve your fat-burning capabilities. You may notice changes in your body that you didn't expect -- including dramatic changes in your bowel movements.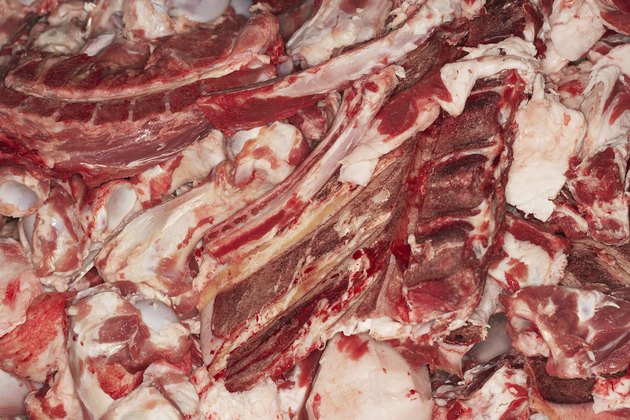 Some low-carb dieters experience constipation due to a decrease in fiber intake, while others can suffer from loose stools because of increased motility of food through your digestive tract. Light-colored stools affect a small number of low-carb dieters due to a simultaneous increase in fat. However, light-colored stools can also indicate the presence of a serious medical condition, so you shouldn't just assume they're related to your dietary choices.
Extremely Low-Carb Diets and Stool Color
If you're following a moderately restrictive low-carb diet of 50 to 150 grams daily, it's unlikely your eating habits are affecting your stool's color. It's only when you switch to a very low-carb diet and greatly increase your fat intake that you might experience white in your bowel movements.
On a ketogenic diet, which calls for a carb intake as low as 0 to 20 grams daily, you consume up to 70 percent of your daily calories in the form of fat. On a standard 2,000-calorie per day diet, that's about 155 grams of fat daily. Your meals consist mostly of meat, butter, poultry, fish, organ meat, animal fat, coconut oil and small portions of leafy greens.
The Presence of Fat in Your Stool
Sometimes an extremely low-carb, high-fat ketogenic diet will lead you to experience steatorrhea, or fatty diarrhea. You may notice white blobs in your stool, which are undigested fat. They may also float and appear oily. Steatorrhea is a sign you aren't digesting fats completely -- but your biliary system should adjust in a few days as your body becomes accustomed to a dramatic increase in your fat intake.
A study published in a 2007 issue of the Journal of Lipid Research found that mice fed a high-fat diet experienced notable changes in their intestinal physiology. It's possible that people also experience a similar dramatic change in digestion when dramatically altering fat intake.
Light-Colored Stool Can Indicate Digestive Disruption
A natural release of bile salts from the liver normally gives stool its characteristic brown color. Adequate protein and ample hydration ensures good bile production. A low-carb diet usually supplies enough protein, but can leave you dehydrated if you don't consume enough fluids.
The biliary system consists of the gallbladder, liver and pancreas. When your stools are pale, it could be due to non-dietary disruption of this system, which is essential in digesting fat. A liver disorder, gallstones, certain medications and narrowing of the bile ducts are other reasons there wouldn't be enough bile to darken the color of your stool. If pale-colored stools are a regular occurrence, seek medical attention to rule out these serious causes.
Pale-colored stool shouldn't be ignored if it persists more than a few days. It can be a sign of a serious condition, including some cancers, untreated celiac disease, pancreatitis or Crohn's disease.
Restoring Stool Color
If you're on an extremely low-carb diet, consider adding more carbs and reducing your fat intake slightly to see if your fat absorption improves within a day or so. Other underlying causes such as pancreatitis, medication or gallstones can be resolved with medical intervention. If, however, pale stools are caused by a serious condition such as liver disease or cancer, they will persist regardless of your carb intake.