Yep, a high-protein diet and stool color are connected. An unexpected potential side effect of low-carb diets is changes in your stool color. Fatty or high-protein diets can cause light-colored stools, and many people on keto diets experience poop changes as well. Here's what you should know.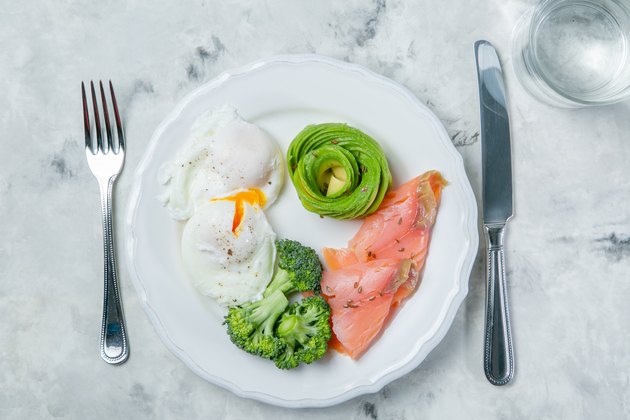 What Changes Your Poop Color?
The Mayo Clinic explains that the color of your stool is typically influenced by two things: what you've been eating and the amount of bile in your digestive system. Bile is a fluid that helps your body digest and absorb fats and break them down into waste products to be removed from the body.
Various medications, health conditions and your diet can influence your stool color:
Green stool can be caused by diarrhea or a diet rich in leafy greens. Another potential cause is green food coloring.
Yellow stool or yellow diarrhea on keto may be a result of excess fat in your stool.
Black stool is potentially serious. The Mayo Clinic says it can be a sign of bleeding in your upper intestinal tract. Other potential causes include eating licorice, taking iron supplements or taking some over-the-counter diarrhea medications.
Red stool can be caused by bleeding in the lower intestinal tract, hemorrhoids, red foods such as beetroot and red food coloring.
High-Protein Diet Stool Colors
One potential side effect of a high-protein diet is constipation. Increasing your protein intake generally means decreasing your intake of carbs and therefore decreasing the amount of fiber you eat. Fiber helps absorb water and adds bulk to your stool, which keeps your digestive system running regularly. Too little fiber can cause constipation. If you're constipated, your stools may appear darker in color than usual.
If you're eating a diet high in fat, you may notice light-colored fatty deposits in your stool or experience yellow diarrhea while on keto. Having too much fat in your stool is called steatorrhea, and it's potentially a sign that your body is passing fat through your system without digesting it properly.
If the fatty deposits in your stool don't go away after a few days or weeks, maybe the ketosis and stool changes are not linked. In that case your doctor can conduct something called a qualitative fecal fat test, which counts the number of fat globules present in your stool. In some cases, steatorrhea can signal various medical conditions or malnutrition.
Ketosis and Stool Changes
Generally, people following the keto diet hope to enter ketosis, which is when your body burns stored fats for energy. Signs that you're in low-carb ketosis include bad breath, diarrhea, headaches, a loss of appetite and nausea. The digestive symptoms of ketosis are usually temporary, though bad breath and body odor may be consistent.
Any major change in your diet can cause changes in your poop, but if you notice any long-term color or consistency changes in your stool, it's worth speaking to a doctor about.
Other Causes of Pale Stools