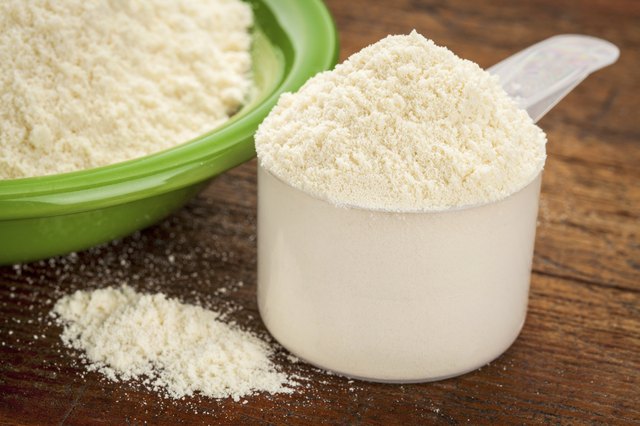 Whey protein supplements come with a recommended dose -- usually one or two 8-ounce servings per day. Occasionally exceeding that is not likely to cause major problems, but if it gets to the point where whey protein is the bulk of your diet, you could suffer deficiencies. If your whey shake has additives, these could potentially cause a problem, but major health effects are unlikely from the whey itself.
Immediate Effects
If, for instance, you drink a 16-ounce shake instead of an 8-ounce shake, you may develop a stomachache from the sheer bulkiness of the liquid. If you mix the shake with milk, you may become temporarily flatulent from the lactose, and you may eat less at your next meal because you may not yet be hungry. If you're trying to lose weight, this isn't necessarily a bad thing, as long as your protein shake is low-calorie. If it's not, doubling up also means doubling the calories. It's best if most of your calories come from whole foods, so stick to a single shake per day unless you are an athlete in intense training and need the extra calories to compensate for your workout.
Deficiencies
If you get into the habit of doubling your shakes and it goes from once to twice per day, the effects become slightly more severe. You'll either be taking in way too many calories, which contributes to obesity, or you'll be relying on whey protein to the detriment of other foods. Even if your particular formula contains some fat and carbs, it most likely doesn't contain your vitamin and mineral requirements for the day. Taking a multivitamin can help, but some of the benefit comes from interactions between vitamins and minerals that only occur in whole foods. Also, most multivitamins don't contain the phytochemicals and other healthy compounds you get from fruits and vegetables. While whey is a quality complete protein with a good bioavailability, it should be a supplement, not a main dietary component.
Wasting Protein
People tend to think that more is better when it comes to protein. While adequate protein is essential for good health and elevated protein intake is necessary for some athletes, eating massive doses of protein at each sitting doesn't help. According to molecular biologist Helen Kollias of Precision Nutrition, your whey shake digests in about an hour and a half. The problem is that your body can only absorb 8 to 10 grams of whey protein per hour -- in other words, for each shake you drink, your body only uses about 15 grams of protein regardless of the protein content of the shake. The leftover protein just gets excreted. Kollias recommends using a whey-casein blend to slow down digestion so more protein can be absorbed, and sipping the shake over the course of a hour or two. Because shakes with higher protein contents are generally more expensive, chugging a massive shake is like throwing money away.
Other Concerns
The popular wisdom that high protein intake causes kidney and liver disease is not backed by scientific evidence, according to a report from Harvard School of Public Health. Excess protein can, however, exacerbate existing disease, so if you already have kidney or liver issues, overdoing the whey protein may negatively affect you. If your shake contains additives like caffeine, sugar or sugar alcohols, drinking too many per day can overload you with these chemicals, which can cause side effects ranging from tremors to upset stomach. If whey shakes are a daily supplement for you, choose a pure whey protein with no additives, and consult your doctor before use.