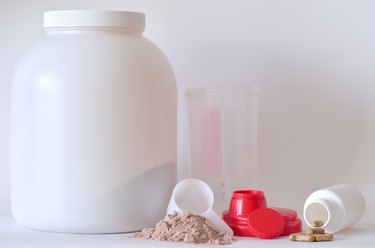 Protein powder supplements can be expensive, so it is important to choose a protein powder that not only works effectively but tastes great as well. You are less likely to use the protein if it tastes bad. Protein powders come in two types. Traditional "pure protein" powders contain little to no added sugars while the weight gainers and meal-replacement powders contain a higher ratio of carbohydrates to proteins. While personal taste preference plays a large role in determining a "best" tasting protein powder, several products consistently rate high on taste.
EAS Myoplex
Falling in the realm of a meal replacement powders, the company EAS produces Myoplex, which offers a unique blend of complex carbohydrates and proteins. Myoplex comes in vanilla, chocolate and strawberry. From a review of different weight gainers, Dr. John Berardi states that the overall flavor of chocolate was good and the shake had a nice consistency. A 78 g serving of Myoplex contains 300 calories per serving with 22 g of carbohydrates and 42 g of protein.
CytoSport Cyto Gainer
While Myoplex is classified as a meal replacement, CytoSport's Cyto Gainer would fall under the weight gainer category. Users of Bodybuilding.com rate CytoGainer highly with an overall score of 8.6 out of 10. Like Myoplex, Cyto Gainer uses a combination of carbohydrates and proteins to create its flavor profile. Cyto Gainer comes in a variety of flavors; however, the chocolate flavor is the most favorably reviewed. A 75 g serving of Cyto Gainer contains a total of 280 calories per serving with 37 g of carbohydrates and 27 g of protein.
NOW Foods Whey Protein Isolate
While Myoplex and Cyto Gainer contain a large amount of carbohydrates, the NOW Food's Whey Protein Isolate contains a larger amount of protein and a minimal amount of carbohydrates. Joel Tietge's on BodyBuilding.com rated Now's Isolate as one of his favorite protein powder products. A single 64 g serving of Whey Protein Isolate provides 240 calories and contains 7 g of carbohydrates and 50 g of protein.
Advice
These three products are suitable options to start when you begin the process of finding a protein powder that tastes great. Most companies offer sample packets of their protein for potential customers to try; therefore, you should try to contact the company directly for a sample. If samples are not available, start by buying the smallest size container of protein for a "taste run." This keeps your investment in the product to a minimum. If you do not like a product's particular flavor, you won't have a large quantity left over. As always, consult your doctor before altering your diet with the addition of protein powders.