Whether you love to top your pasta with its sauce or just love eating them straight off of the vine, tomatoes are a healthy fruit and a rich source of vitamins A and C, as well as folic acid. They also contain a wide array of beneficial nutrients and antioxidants, including lycopene, folic acid, beta-carotene and lutein. Despite their good-for-you properties, some people find it difficult to tolerate the higher acid levels of tomatoes and their derivatives.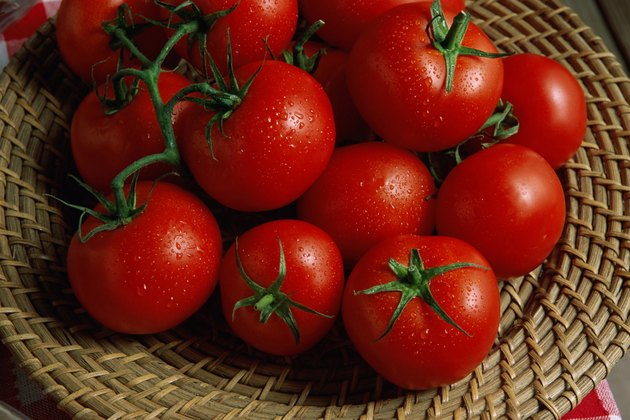 Tomato Intolerance Vs. Allergy
Food allergies are an abnormal response to a food, triggered by the body's immune system, while an intolerance is often identified by gastric discomfort and intestinal distress. Tomatoes are a cause of both food allergies and food intolerance, and they can trigger a number of nonspecific reactions.
Those with food allergies to tomatoes may experience difficulty breathing, swelling of the tongue or throat and other severe symptoms. Avoid this fruit at all times if you have such a reaction. These cases of severe, potentially life-threatening allergic reactions -- known as anaphylactic shock -- require immediate medical attention or a previously prescribed injection of adrenalin. Signs of an intolerance will often be less severe and may include headache, diarrhea, a burning sensation or tightness of the skin, or asthmalike symptoms.
Acid Reflux and Heartburn
For some people, the high acidity content of tomatoes can cause or contribute to gastrointestinal trouble, including acid reflux and indigestion. During this acid reflux, the stomach acid that touches the lining of the esophagus can cause heartburn, also known as acid indigestion, an uncomfortable burning feeling in the middle of the chest. According to the National Institutes of Health, acid reflux occurs when stomach contents flow back up into the esophagus -- the tube that carries food and liquids from the mouth.
GI Distress and Side Effects
Those who experience sensitivity toward the fruit may suffer from GI issues including stomach pain, diarrhea and abdominal cramps. These same side effects from eating tomatoes are often associated with other food intolerances, such as wheat and dairy. Before ruling out tomatoes altogether, make sure that they are the culprit by keeping a food diary. If the food diary doesn't shed light on the origin of the distress, try cutting out all tomatoes and tomato-based products and slowly integrating them back into your diet while at the same time recording your GI experience. You may find that citrus fruits or dairy are actually causing the distress.
Ease the Discomfort
If tomatoes are to blame, take steps to alleviate the digestive symptoms. Plan on enjoying tomatoes along with other foods, since eating them on an empty stomach can increase irritation and inflammation. Or take an over-the-counter medication to neutralize the heartburn-causing acidic effects of tomato-based foods. In addition, you can chew gum immediately after eating, as it has been shown to help relieve symptoms of gastroesophageal reflux. If you are preparing a tomato sauce, one strategy for reducing the acid content is to include about 1.5 teaspoons of baking soda for every two large cans of peeled, chopped tomatoes. The baking soda helps neutralize the acid and relieve digestive symptoms.