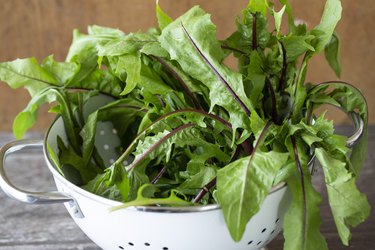 You probably know dandelions as the yellow flowers that pop up, often unwanted, in your yard. What you might not realize is dandelion roots and leaves have been touted as having health benefits, especially for the kidneys. So what's the truth: Can this worrisome weed also be a healing herb?
Dandelion Leaf vs. Root: What's the Difference?
However, when it comes to medicinal uses, there's not enough quality scientific research to recommend either part of the plant for any specific health condition, per the NCCIH.
"The belief in traditional herbalism is that dandelion leaves act as a diuretic (increasing urinary flow), which can help people with fluid retention and high blood pressure," says Isa Kujawski, RDN, MPH, a registered dietitian nutritionist based in Ann Arbor, Michigan. "However, this has not been well-proven in humans."
Human clinical trials on the kidney effects of dandelion are lacking. A very small August 2009 pilot study in the ‌Journal of Alternative and Complementary Medicine‌ showed people produced more urine within the five hours after taking a dandelion extract. But the study included only 17 people, and no newer human studies on the subject can be found.
If you want to explore dandelion for possible kidney benefits, the leaves are safe to eat in the amounts you would commonly find in food, according to the NCCIH.
"Using fresh dandelion greens, in season, is a safe and healthy option," Kujawski says, who notes the somewhat bitter taste of dandelion can work well in some salads, as well as in stir-fry recipes or soups. Dandelion leaves can also be steeped in water to make tea.
As an added bonus, dandelion greens are a good source of iron, containing 1.7 milligrams per cup, per the USDA. They also have 103 milligrams of calcium per cup.
Dandelion also comes in the form of supplements, such as capsules, tablets and tinctures, but these are regulated less vigorously than over-the-counter drugs. As such, the Mayo Clinic advises people to stick to brands that have been tested by independent sources, such as ConsumerLab.com or U.S. Pharmacopeial Convention (USP) and to stick to the recommended dosage.
However, you may need to avoid dandelion if you have an allergy to ragweed, chrysanthemums, marigolds or daisies, according to the NCCIH.
Better Ways to Support Your Kidneys
There are some general things you can do to keep your kidneys healthy, according to the Centers for Disease Control and Prevention. These include managing your blood pressure and keeping your cholesterol level within a healthy range.
You don't need to eat low-fat foods to do this, according to Harvard Health Publishing — instead, aim for a largely plant-based diet rich in vegetables, fruits, whole grains and beans, with smaller amounts of meat, dairy, eggs and sugary foods.
If you've been diagnosed with chronic kidney disease, you should meet with a dietitian to make a kidney-healthy eating plan.
And bear in mind herbal supplements are often unsafe for those with kidney disease, according to the National Kidney Foundation (NKF). Dandelion isn't among the herbs listed as being particularly harmful, but uva ursi and parsley — which often feature in diuretic supplements with dandelion — are flagged by the NKF as harmful.
Is this an emergency? If you are experiencing serious medical symptoms, please see the National Library of Medicine's list of signs you need emergency medical attention or call 911.