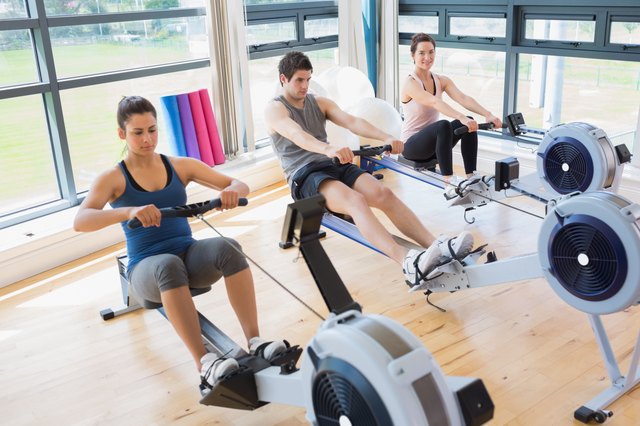 No exercise targets chest flab, as spot-reducing body fat is impossible. However, doing brisk cardiovascular exercise shrinks excess body fat wherever you have it, including your chest area. Once you trim the top layer of fat and reveal the underlying muscle, any strength-training you do for your upper body will build your pectoral muscles of your chest. If you have injuries or medical issues, speak to a doctor before starting an exercise regimen.
Running
Running is one of the fastest ways to reduce body fat. Your level of intensity makes all the difference in the effectiveness of a running workout. A jog at 5 mph burns only 470 to 745 calories in one hour, while 6 mph jogs burn 590 to 930 calories, depending upon how much you weigh. You burn calories on the lower end of the scale if you weigh about 130 pounds, and you burn calories at the top of the range if you weigh 205 pounds or more. A 7 mph pace increases calories burned from 680 to 1,070. A vigorous 8 mph jog burns 780 to 1,255 calories. For every 3,500 calories you burn running, you lose 1 pound of fat. Add an upper-body toning element to your run by pumping your arms vigorously.
Rowing
Using a rowing machine or rowing outdoors accomplishes a few goals at once. You burn excess body fat by elevating your heart rate for a prolonged session. You also involve your upper body in the rowing motion, targeting your pectoral muscles so your chest is more sculpted. Rowing at a pace fast enough to deepen your breathing warms your muscles and burns 510 to 760 calories per hour, depending upon your weight. If you weigh 160 pounds or less, you burn calories at the lower end of the scale. If you weigh 240 pounds or more, you burn calories at the higher end of the scale. However, the added muscle density also raises your basal metabolic rate, so you'll continue to burn calories while resting.
Strength-Training
Building your pectoral muscles will make your chest look more defined as you lose flab. You can do pectoral presses, bench presses and standing flies to target your chest area. Another option is doing resistance exercises that have you pulling and pushing against your own body weight to build muscle density. Good options that involve your upper body as well as other muscle groups include pushups, pullups, burpees, plank pose, downward dog and triceps dips.
Other Considerations
As you increase the amount of calories you burn through exercise, you also increase your appetite. Consuming caloric foods, typically high in fat and sugar, negates the benefit of doing exercise to reduce flab. Lower your caloric intake by 500 calories by replacing high-fat foods, such as fried meats, sweets, and processed meals with low-calorie high-fiber foods, such as spinach, kale, pears, apples, berries, whole grains, beans, peas and lentils. Drink water instead of sugary beverages. A 500-calorie daily reduction below your normal caloric intake results in 1 pound of weight loss weekly.