Safflower oil is oil made from safflower seeds. It is a clear oil commonly used in salad dressings and to cook food. Safflower oil has both advantages and disadvantages when compared with other oils. Safflower oil can tolerate both high and low temperatures but does not provide any flavor. Nutritionally, safflower oil lacks a vital vitamin provided by other oils but is a better choice than other types of fat.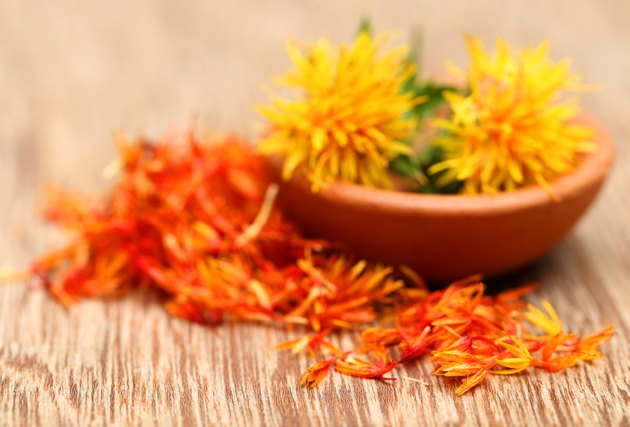 Cholesterol Level
Safflower oil contains high levels of polyunsaturated fats. According to the American Heart Association, polyunsaturated fats can lower your risk of heart disease when used to replace saturated and trans fat and consumed in moderation. Polyunsaturated fats help lower the total cholesterol levels in your blood. Since polyunsaturated fats lower both unhealthy low-density lipoprotein and healthy high-density lipoprotein cholesterol levels, it is not as good as monosaturated fats. Monosaturated fats do not lower your healthy high-density lipoprotein cholesterol level. Polyunsaturated fats such as safflower oil should be eaten in combination with monosaturated fats. Canola, peanut and olive oils contain monosaturated fat.
Vitamin E
Safflower oil does not contain any vitamin E, an antioxidant that protects your body against damage by free radicals. Free radicals are molecules produced by your body when it breaks down food or is exposed to hazards such as radiation and tobacco smoke. Vitamin E also keeps your immune system strong, helps form red blood cells and keeps your blood from clotting. For vitamin E, use dark toasted sesame oil and nut oils made from walnut, pistachio, hazelnut and macadamia.
Taste
Unlike other oils that provide foods with flavor, safflower oil is flavorless. Safflower oil's neutral flavor means that it is good if you want to use it to simply cook food or provide bulk to salad dressings. For an oil that infuses food with flavor and can be used as a condiment, choose other oils such as sesame oil and olive oil. Sesame oil has a nutty taste while olive oils range in flavor from mellow and buttery to fruity and bitter, depending on its origin and processing method.
Use
Safflower oil has a high smoke point. An oil's smoke point is the temperature at which it begins to burn. Safflower's oil's high smoke point means that it is a good oil to use for deep-frying. Besides deep-frying foods, safflower oil is a good neutral base for salad dressings since it can be kept in the refrigerator without solidifying. In contrast, olive oil turns cloudy and solidifies in the refrigerator, which means that you need to wait until it reaches room temperature before using it.