Fatty acids are healthy fats that can be found in many different foods. Unlike saturated fats, polyunsaturated fatty acids like linoleic and linolenic acid are healthy and an important part of your diet. In fact, fatty acids like these are considered to be essential for good health and can be used for the prevention of many diseases.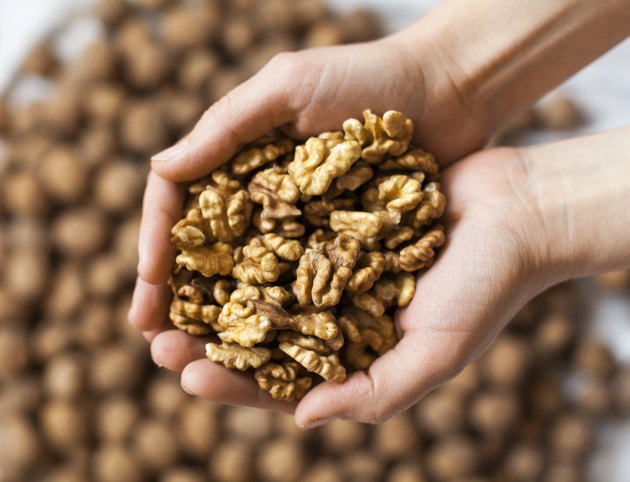 Linoleic vs. Linolenic Acid
Linolenic acid and linoleic acid are similarly named omega fatty acids that have different roles in human health and nutrition. Linolenic acid most commonly refers to alpha-linolenic acid (ALA), an omega-3 fatty acid found in many nuts, vegetables and oils. Linoleic acid, on the other hand, typically refers to a type of omega-6 fatty acid commonly found in nut, seed and refined vegetable oils. Both omega-3 and omega-6 fatty acids are essential polyunsaturated fatty acids with well-established health benefits.
You should know that there are also two types of fatty acids that have linolenic acid in their names: gamma-linolenic acid (GLA) and dihomo-gamma-linolenic acid (DGLA). Despite their names, these types of linolenic acid are omega-6 fatty acids more similar to linoleic acid. Like linoleic acid, they can be found in nut, seed and vegetable oils.
Omega-3 and omega-6 fatty acids are both essential fats that have a lot of overlap in terms of nutritional importance. However, the human body requires them in different quantities for good health. Different cultures consume different ratios of omega-3 and omega-6 foods. Western societies, such as the United States and United Kingdom, consume many foods rich in omega-6 fatty acids — so many, in fact, that these regions are thought to consume too many omega-6 fatty acids compared to omega-3 fatty acids.
What Is Alpha-Linolenic Acid?
There are several types of omega-3 fatty acids, but ALA, DHA and EPA are considered to be the most important. You can obtain fatty acids like DHA and EPA from select foods, including fatty fish and seaweed. ALA, on the other hand, is much easier to consume as it's found in these products as well as a variety of other foods, including fruits, vegetables, nuts and seeds.
DHA and EPA have been associated with the vast majority of the health benefits associated with omega-3 fatty acids. However, the importance of ALA is becoming increasingly better understood. ALA is now believed to have a wide range of benefits, including anti-cancer, anti-inflammatory, anti-osteoporotic, anti-oxidant, cardioprotective and neuroprotective effects.
Consuming Alpha-Linolenic Acid
Importance of Omega-3 Fatty Acids
What Is Linoleic Acid?
Linoleic acid is the most common type of omega-6 fatty acid, an essential, polyunsaturated fatty acid that comes from foods like nuts, seeds and refined vegetable oils. Omega-6 fatty acids are an important part of a healthy diet. They're particularly beneficial for your immune system and metabolism.
There are two main types of linoleic acid:
Linoleic acid: the most common form of omega-6 fatty acid that is commonly found in nuts, seeds and vegetable oils
Conjugated linoleic acid (CLA): a conjugated form of linoleic acid that's more commonly found in animal-source foods like meat and milk products

Linoleic acid and conjugated linoleic acid are similar, but they behave differently in the body due to their different origins and small structural differences. Linoleic acid is much easier to obtain than conjugated linoleic acid. However, conjugated linoleic acid is generally thought to have more health benefits.
Importance of Omega-6 Fatty Acids
Although linoleic acid is an essential fatty acid, it should be consumed in moderation. Too much linoleic acid means that there will be too much arachidonic acid and other fatty acids converted, resulting in the overactivity of certain bodily systems. For example, omega-6 fatty acids are associated with immune system function — and too much can increase inflammation. Excess consumption of omega-6 fatty acids has also been linked to obesity.
Healthy Omega-3 and Omega-6 Ratios
Obtaining Dietary Omega-3 and Omega-6
Obtaining the correct ratios of omega-3 and omega-6 fatty acids in your diet can be challenging. You can utilize resources like the USDA National Nutrient Database to identify foods rich in linoleic acid, alpha-linolenic acid and other specific omega fatty acids. It's particularly important to look at foods like oils, which most people use on a daily basis. Oils such as flaxseed and soybean can have substantial amounts of omega-6 fatty acids, while those like walnut are much richer in omega-3 fatty acids.
You should also keep in mind that fatty acids like conjugated linoleic acid can differ between animal products. Factors that influence CLA content include whether the animal has multiple stomachs and what kind of foods it's eaten. Although ALA is primarily found in plants, it can also be found in marine food products. For instance, farmed salmon and wild salmon also have different omega-3 levels, which can impact the amount of ALA present.