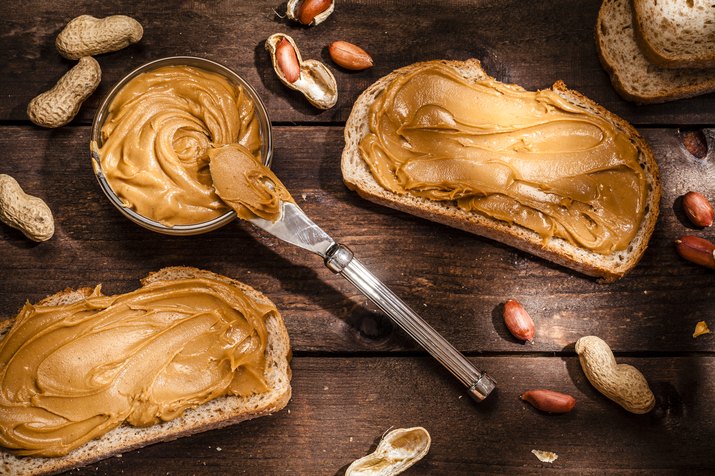 1 of 10
It's no wonder fitness fanatics are usually peanut butter fiends — unlike with eggs, meat or beans, you don't have to fire up the stove to get all the nutty protein and gut-filling fats peanut butter provides. Just pop the top and grab a spoon. But just using peanut butter or another nut or seed butter as a spread sells it short. This delicious stuff can be deployed to make sweet breakfasts sweeter, noodle dishes creamier and vegetables protein-packed.
"There are a lot of delicious, nutritious ways to use peanut butter in the kitchen besides spreading it on bread," says Lee Zalben, founder and president of Peanut Butter & Co. "It's a great replacement for butter, cream or sugar in lots of situations." Here are six strategies to help you to add peanut butter at every meal for more flavor and good fat.
Image Credit:

fcafotodigital/E+/GettyImages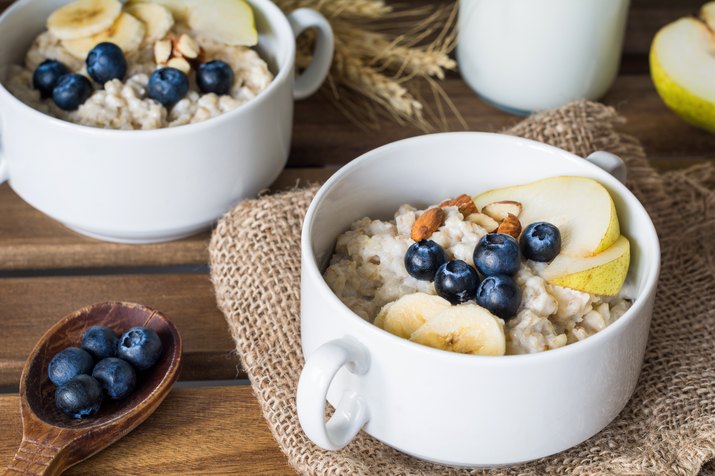 2 of 10
1. At Breakfast: Mix It With Oatmeal
Oatmeal's already a stick-to-your-ribs staple of healthy weight loss, filled with fiber and whole grains that keep you full. To further fend off snacking during the day, give it the PB&J treatment, suggests Lee Zalben of Peanut Butter & Co. Or add a lump to pancake batter. "Add a scoop of our cinnamon raisin swirl peanut butter and some chopped apples, and plain pancakes become kind of cinnamon raisin apple fritters."
Image Credit:

Arx0nt/Moment/GettyImages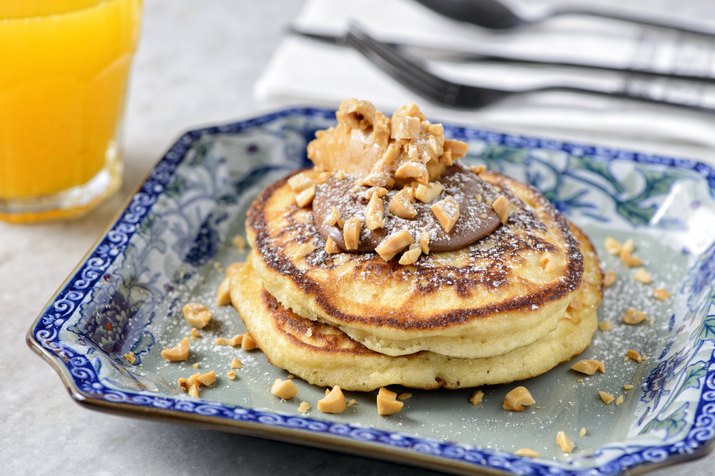 3 of 10
2. At Breakfast: Swap It for Syrup and Butter
Peanut butter or other nut butters can even act as a swap for syrup. Julie Fagan, the food blogger behind Peanut Butter Fingers, says she likes to use them for easy stuffed French toast. To make it, let two slices of French toast cool a bit, then slather peanut or almond butter between the slices and top with sliced bananas, strawberries or other fruit.
Image Credit:

Jordan Lye/Moment/GettyImages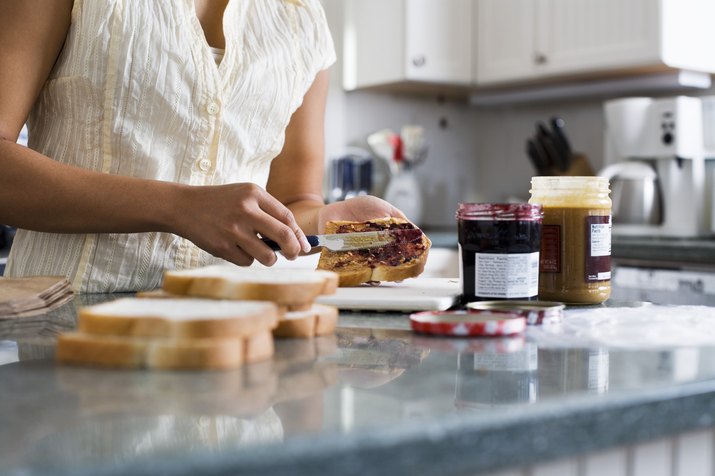 4 of 10
Reduce the sugar content and add extra protein to a simple PB&J with ricotta. According to food blogger Julie Fagan: "It's one of my favorite sandwiches to pack. Smash raspberries or any kind of fresh fruit, combine it with ricotta cheese, and put it on bread with peanut butter."
Image Credit:

Fuse/Corbis/GettyImages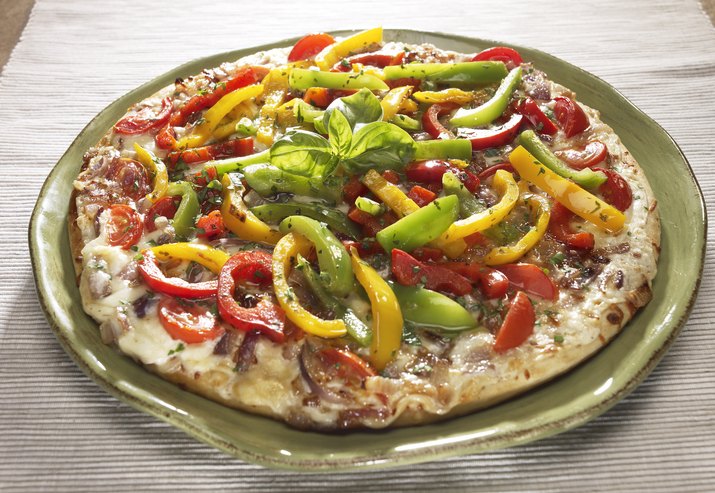 5 of 10
4. At Lunch: Try a Peanut Butter Pizza
Lunch just got a whole lot more interesting! Combine your love of peanut butter with one of your other faves — pizza. You can incorporate vegetables, spices and Thai flavor to create a peanut butter pizza. Simply top a pizza crust with peanut butter, cheese and vegetables commonly used in Thai cooking: bean sprouts, carrots, scallions, broccoli and chili peppers.
Read more: 13 Types of Nut and Seed Butters and Their Benefits (Plus, Our Top Picks!)
Image Credit:

Tonic Photo Studios/Photographer's Choice RF/GettyImages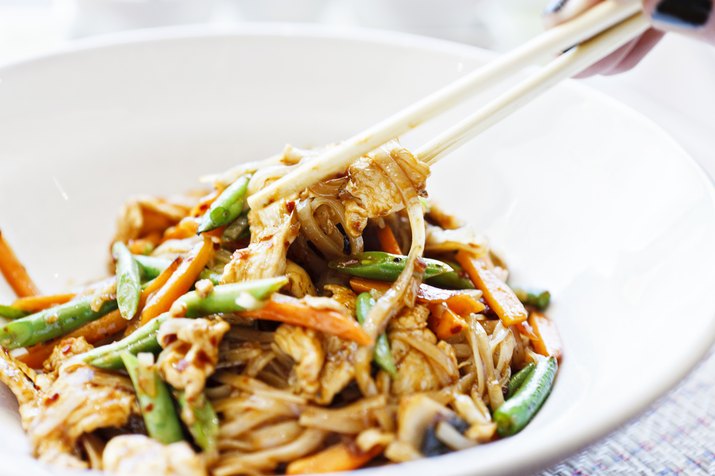 6 of 10
5. At Dinner: Add Sauce to Noodles and Rice
"Peanuts and peanut butter have been used in Asian and Eastern cooking for centuries," Lee Zalben says. As such, heat — especially red chili flavors — works well with peanut butter in any context.
For a chili/peanut butter sauce that works over chicken, noodles or rice, he suggests combining a scoop of peanut or cashew butter with some chili paste or powder and a little vegetable oil to thin out the mixture. Another ingredient that works well: coconut. Zalben suggested mixing light coconut milk with some peanut butter in a rice cooker for Indonesian-inspired rice.
Image Credit:

RapidEye/E+/GettyImages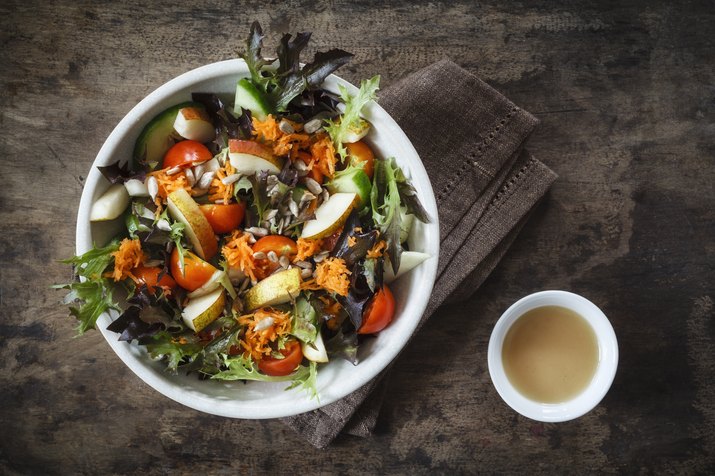 7 of 10
6. For Dinner: Dress Salads and Marinade Meat
For a peanut vinaigrette that makes salads creamy or works as a marinade or sauce for meat, mix some peanut butter with vinegar and a little water, suggests Phoebe Lapine, one of the authors of "In the Small Kitchen: 100 Recipes From Our Year of Cooking in the Real World."
"Because nut butters have natural fats, you can thin them without using oil," she said. Lapine's favorite use for peanut butter, though, is the BGSK Peanut Sauce from her website, Big Girls Small Kitchen, which you can serve over udon noodles, rice or meat.
Image Credit:

Westend61/Westend61/GettyImages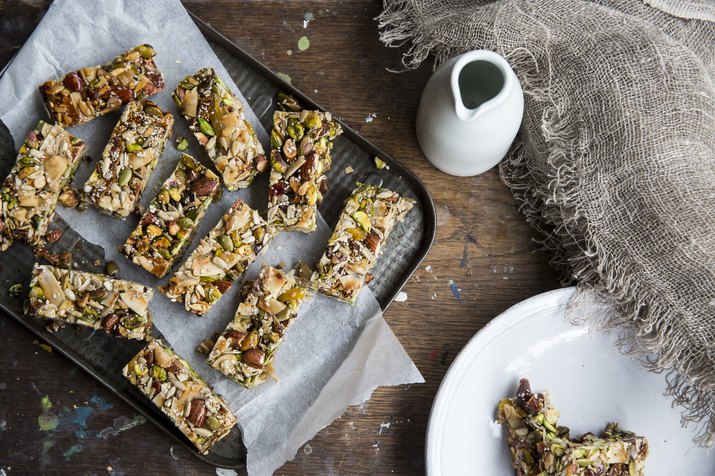 8 of 10
7. For Snacks: Peanut Butter Granola Bars
Peanut butter is great for binding foods together, says food blogger Phoebe Lapine, and it can be used to create chewy, no-bake granola bars or crispy, baked ones.
To make either type of granola bar, mix together: 1 1/4 cups crispy rice cereal, 1 1/3 cups rolled oats, 1/4 cup blanched and sliced almonds, 1/3 cup peanut butter, 1/3 cup oil, 1/4 cup honey, 1/4 cup brown sugar. For crunchy bars, bake at 350 degrees Fahrenheit for five minutes in a square pan, and then slice.
Read more: 9 Simple and Satisfying Peanut Butter Snacks
Image Credit:

Laura Reid/Moment/GettyImages
9 of 10
8. For Snack: Peanut Butter Granola
For a crumbly, bag-ready granola, food blogger Julie Fagan mixes 2 tablespoons of peanut butter with 2 tablespoons of honey and microwaves it for about 20 seconds until it melts. She stirs in 1/4 teaspoon each of cinnamon and vanilla extract, then adds 1 cup of oats, stirring until they're coated. She spreads the mixture on a cookie sheet sprayed with nonstick cooking spray and bakes it at 325 degrees Fahrenheit for eight minutes. Finally, she allows it to cool until it has that granola crunch.
Image Credit:

Luisella Sem / EyeEm/EyeEm/GettyImages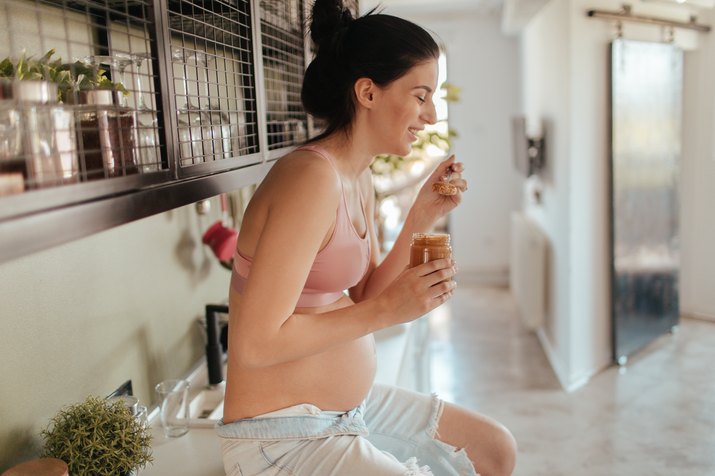 10 of 10
Are you a peanut butter lover? What's your favorite way to eat this creamy treat? Or are you a fan of other nut butters? What are some of your favorites? Share your thoughts and suggestions in the comments below!
Image Credit:

AleksandarNakic/E+/GettyImages
---