You need protein for repairing damage to your body and for proper growth and development, but before your body can use the protein you get from your diet, it needs to absorb it. For this to happen, the protein needs to be broken down during digestion. You'll absorb more protein if you spread your protein intake throughout the day, but there is a limit to how much you can use to build muscle.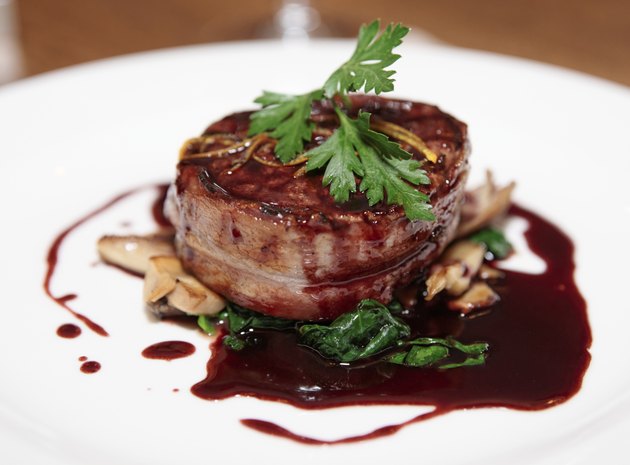 Substances That Break Down Proteins
The digestive process starts in your mouth, where your teeth break protein foods down into small enough bits that you can safely swallow them. Once the food reaches your stomach, the protein is broken down into strings of amino acids called peptides by enzymes called pepsins. This requires you to have sufficient amounts of stomach acid to maintain a pH of between 1.8 and 3.5. Pepsin accounts for no more than 15 percent of the digestive process for proteins, according to the Encyclopaedia Brittanica. The rest of the breakdown of proteins takes place in the small intestine, where enzymes from the pancreas called proteases break the peptides down into individual amino acids that are then absorbed, some with the help of carrier proteins.
Total Amount of Protein
Eating very large amounts of protein in the hopes of building extra muscle is counterproductive, as your body can only use at most 0.9 gram of protein for each pound of body weight for muscle building. That means a 150-pound man can't use more than 135 grams of protein for adding muscle and any extra will just be used for energy or stored as fat. Aim to get about 12 to 15 percent of your calories from protein, and you should easily meet this goal. A review article published in the "International Journal of Sports Nutrition and Exercise Metabolism" in April 2006 recommends getting no more than 25 percent of your calories from protein to minimize the risk of protein toxicity while maximizing muscle building.
Timing of Protein Intake
To maximize protein absorption, you should spread your protein intake throughout the day. Your body can only absorb 1 to 10 grams of protein per hour, so eating all your protein for the day in one sitting won't be as effective as spreading your protein out between your meals and snacks. A study published in "The Journal of Nutrition" in June 2014 found that more muscle was produced when people split their protein intake evenly between breakfast, lunch and dinner than when they ate most of their protein during dinner.
Exercise and Protein Absorption
You may not want to eat a protein-rich meal immediately after exercise if you're trying to maximize protein absorption. A study published in the "American Journal of Physiology. Regulatory, Integrative and Comparative Physiology" in March 2013 found that during the recovery phase after resistance exercise, protein digestion and absorption are impaired due to minimal amounts of damage caused to the small intestine during the workout. However, further studies are necessary to verify the results of this small preliminary study. The current recommendation is that you should eat 10 to 20 grams of protein after a vigorous exercise session along with 0.5 to 0.7 gram of carbohydrates for each pound of body weight to help rebuild your glycogen stores and repair any damaged muscles.