It can be hard to breathe when your throat feels as if it's suddenly tightening or closing during exercise. The problem is caused by vocal cord dysfunction, a condition that affects the vocal cords, or voice box, in your throat. Learning a series of special exercises can help you relax your throat and make breathing less difficult.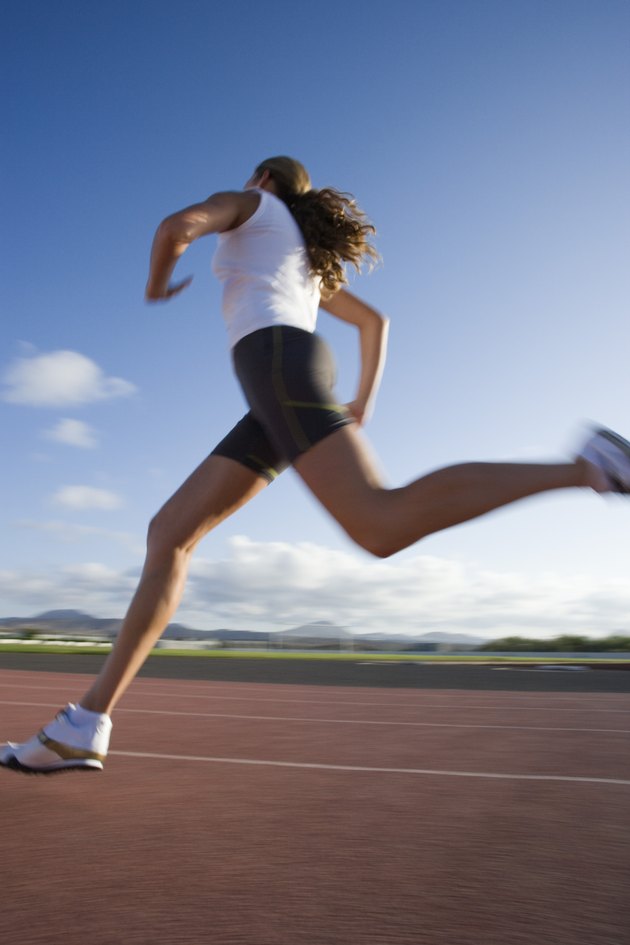 Identification
Vocal cords are located in the trachea, the tube inside your throat that carries air from your mouth to your lungs. During exhalation, your vocal cords partially cover your trachea. When you speak, your vocal cords vibrate, producing sound. The vocal cords normally open when you exhale or inhale. If you have vocal cord dysfunction, your vocal cords don't open and close as they should, which makes it difficult to get enough air into your lungs. Although vocal cord dysfunction can happen at any time, it can be particularly troublesome when you are exercising and might already be out of breath.
Symptoms
If you have vocal cord dysfunction, both your throat and chest can hurt as you struggle to get air into your lungs. You might also wheeze or feel short of breath and it might take real effort to inhale or exhale fully. Other potential symptoms of vocal cord disorder include coughing, hoarseness and throat clearing. Symptoms of vocal cord dysfunction can affect your ability to participate fully in sports or activities, especially activities that involve running or strenuous exertion.
Causes
In addition to exercise, a number of other conditions can trigger or worsen vocal cord dysfunction, including post-nasal drip, gastroesophageal reflux disorder, laryngopharyngeal reflux, laughing, singing, changes in air temperature or humidity levels, colds, or exposure to strong odors, allergens, irritants and cigarette smoke. Some people might notice an increase in symptoms if they are feeling stressed or are upset.
Treatment
After your doctor confirms that you have vocal cord dysfunction, he might recommend that you begin vocal cord therapy with a speech therapist. The therapist will teach you deep breathing exercises to promote relaxation and show you how to perform other exercises to help you relax and open your throat when you experience symptoms. If your symptoms occur during exercise, your therapist might ask you to run on a treadmill or perform other types of exercise until symptoms occur. Treating underlying conditions that might be triggering your vocal cord dysfunction can help reduce symptoms. The American Thoracic Society suggests learning relaxation techniques, or undergoing biofeedback or psychotherapy if emotions or stress trigger vocal cord dysfunction.
Considerations
Vocal cord dysfunction can be confused with exercised-induced asthma because both conditions have similar symptoms, National Jewish Health reports. Some people also have asthma in addition to vocal cord dysfunction. If you have any type of breathing problem, your doctor should evaluate all potential causes, including vocal cord dysfunction, asthma or other lung conditions.