Sugar is akin to gold, metabolically speaking. Your body meticulously conserves blood sugar, or glucose, because your brain, muscles and many other tissues use it as their primary fuel. As the kidneys filter your blood, glucose flows with water into the filtrate. Under normal circumstances, however, virtually all of the filtered sugar is reabsorbed into your bloodstream. Therefore, drinking water does not help flush sugar from your body.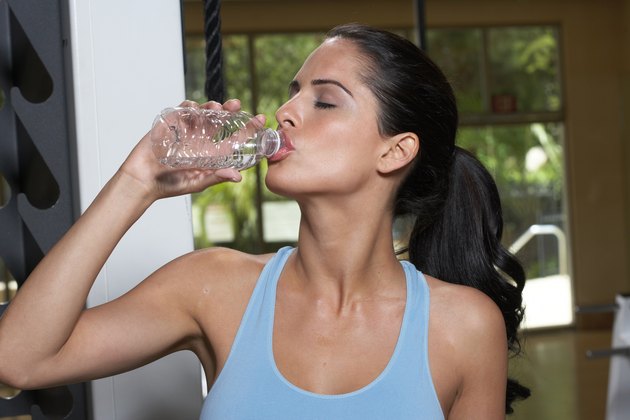 Sugar and Your Kidneys
Your kidneys normally process approximately 34 to 46 gallons of fluid from your bloodstream daily. As blood passes through your kidneys, processing units called nephrons filter out water, glucose, sodium, potassium and other small dissolved chemicals. Special glucose transporters reabsorb the sugar, preventing its loss in the urine. Your kidneys' conservation of sugar is necessary to prevent large-scale losses of this essential body fuel.
Glucosuria
Some glucose may spill into your urine if you have a high blood sugar level. Diabetes is the most common cause of glucose in the urine, also known as glucosuria. Certain prescription medications also sometimes cause variable glucose spillage in the urine. You may experience increased thirst and urination if you have diabetes and glucosuria. However, drinking additional water will not flush the excess sugar from your bloodstream.
Metabolic Fate of Excess Sugar
If you consume too much sugar, your body stores it for future use. The storage form of glucose, called glycogen, accumulates primarily in your liver and muscles. If you have enough stored glycogen, excess sugar is converted into a form of fat called triglycerides. Fat cells throughout your body absorb the triglycerides. This storage mechanism contributes to the accumulation of body fat if you regularly consume too much sugar. The only way to rid your body of excess sugar, whether it is stored as glycogen or fat, is to burn more calories than you consume. You can accomplish this with a reduced-calorie diet, increased physical activity or both.
Dietary Sugar
Many sources of dietary sugar are obvious, such as candy, regular soda, cakes, cookies and other desserts. However, you may not recognize the amount of sugar present in other common foods. Ready-to-eat cereals, snack bars, fruit juices and snacks, flavored yogurt, frozen dinners, salad dressings, bottled sauces, gourmet coffee beverages and many other processed foods may contain high levels of sugar. To reduce the amount of sugar in your diet, cut back on sweets, regular soda and candy. If you purchase processed foods, check the nutrition facts to determine the grams of sugar per serving. Plan your meals and snacks to minimize your consumption of added sugar.