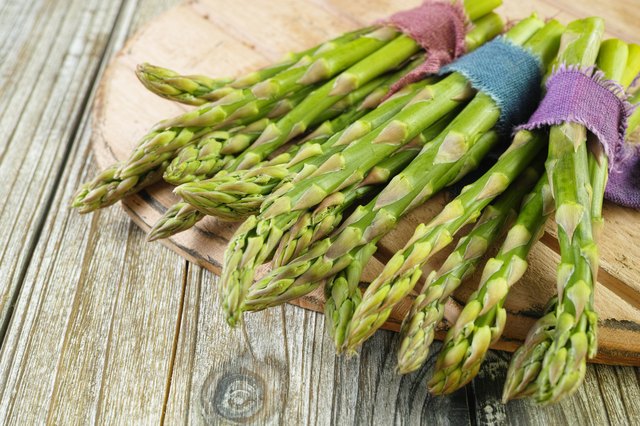 Urine usually has little odor to it, so you may be puzzled if yours smells stronger than usual. A restrictive low-carb diet can put you into a state of ketosis, a side effect of which is a fruity-smelling urine. Moderate low-carb diets are unlikely to give your urine an unusual odor, however, so consider other causes and, if still not sure why your urine smells, consult your medical provider.
Low-Carb Diets and Ketosis
It's unlikely that you'll reach the state of ketosis with moderately low-carb diets. You'll need to follow a restrictive plan, such as the Atkins 20™ diet, which only allows 20 grams of carbs per day, with virtually all high-carb foods off your plate. You focus on moderate amounts of protein and large amounts of fat. No added sugar, fruit, grains or starchy vegetables are allowed in a ketogenic diet. Meals consists of meats, cold-pressed oils and leafy, watery vegetables. Nuts, eggs and cheese serve as snacks.
After several days or weeks of following this extremely low-carb plan, your body starts to produce ketones. You don't have enough carbs for energy, so, to fuel activity, your body becomes efficient at burning fat and the liver produces ketones to fuel the brain. This production is normal, but not regularly experienced by people that consume the 225 to 300 grams of carbohydrates recommended on a standard American 2,000-calorie diet.
Benefits of the ketogenic diet include stabilization of blood sugar and insulin levels and the weight loss that results from your body reaching into your fat stores for energy. The diet may also help alleviate symptoms of a number of diseases, including neurological conditions and some cancers.
Your Urine on Ketosis
One of the first signs that you've reached a state of ketosis is frequent urination. As the diet stabilizes your insulin levels, it triggers your kidneys to release excess water. You may subsequently lose minerals, such as sodium, magnesium and potassium, which can make you feel tired and lethargic.
Your urine, along with your breath, usually takes on a fruity smell, which comes from the byproducts of ketone production and waste products associated with burning more fat. Many drugstores carry test strips that detect ketones in your urine to confirm you're in ketosis.
Moderate Low-Carb Diets and Urine Odor
A moderate low-carb diet that includes 100 to 150 carb grams per day is unlikely to put you into ketosis and produce the subsequently smelly urine. If you've established that you're not in ketosis, but are still experiencing an odd odor when you pee, consider the foods you're eating. If you've raised your intake of asparagus -- a low-carb vegetable -- it will give your urine a slight smell of rotting cabbage. Some vitamins -- especially B-vitamins -- can affect the color, and sometimes smell, of your urine.
When To Be Concerned
Foul-smelling urine that's got a cloudy color could be a sign of a urinary tract infection, or UTI. Consult your doctor immediately for treatment, especially if you're also experiencing burning or pain when you go to the bathroom. Sweet-smelling pee might also be a sign of diabetes; as concentrations of sugar rise in the blood, it also rises in the urine.
In women, a fishy-smelling odor may actually be coming from their vagina -- indicating a possible vaginal infection. Consult your doctor for a medical evaluation and treatment, if needed.