Dropping a few pounds can be done in a matter of weeks by watching your portions and adding some walks to your daily exercise routine. Losing 30 lbs. takes more dedication, planning and strategies, especially if you want to shed those unwanted 30 fast. How quickly you lose the 30 lbs. depends on how many calories you cut from your regular diet and how much exercise add. Cutting 1,000 calories a day will help you lose 2 lbs. per week and get you to your goal in 15 weeks, for example. Exercising off 500 calories per day will help you lose an additional pound each week, bringing your total down to 10 weeks to reach your goal. However, dropping 1,000 calories may put you below safe minimums, so focus on adopting a healthy meal plan with as few of calories as you can afford.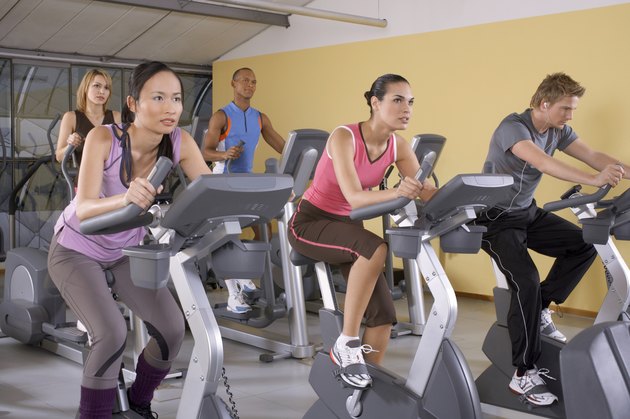 Do you want to lose weight or be healthier? Join MyPlate Calorie Counter and get access to free meal plans, healthy recipes and at-home workouts. You'll also get daily calorie and macro goals for your fitness journey. Don't miss your chance for amazing results. Sign up today!
Step 1
Choose a menu plan designed by a professional. It is difficult to ensure that your body gets all its required nutrients on a low-calorie diet, but if you follow a menu plan such as those designed by the National Heart, Lung, and Blood Institute you will be more likely to eat a healthy, balanced diet. Choose a plan that has 1,000 to 1,200 calories in it if you are a woman or 1,200 to 1,600 calories in you are a man, as recommended by the National Heart, Lung, and Blood Institute (see Resources).
Step 2
Increase the number of calories you eat by 100 to 200 per day if you are hungry. Eat a minimum of 25g of fiber and drink a minimum of 80 oz. of water daily to help you feel full without adding too many calories, recommends the National Academy of Sports Medicine (NASM).
Step 3
Burn off 500 to 1,000 calories per day with exercise to lose a minimum of 1 to 2 lbs. per week. Use a cardio machine's calorie calculator or consult a calories burned per hour chart to select activities that will expend enough calories (see Resources). Be sure to input your current height and weight into a cardio machine and take into consideration your intensity or speed when looking at the chart. For example, rowing on a machine will burn 413 calories if done at a light intensity, 502 calories if done at a moderate intensity and 561 calories if done at a vigorous intensity by a 130 lb. person in one hour. Light intensity will be easy enough that you can sing, moderate intensity will allow you to participate in a conversation and vigorous intensity will be too difficult for chatting, according to the Centers for Disease Control and Prevention (CDC).
Step 4
Choose activities that burn a larger number of calories as soon as you feel able. Running, for example, burns 885 calories per hour if run at 9 mph, 944 calories per hour is done at 10 mph, and 1,062 calories per hour is done so at 10.9 mph for a 130-lb. person. Take your current weight into consideration for these activities as well as a person that weighs 190 lb. will burn 1,553 calories if running at 10.9 mph for one hour. Use an activity calculator such as the one listed in the Resource section if your weight does not match up exactly to one on a chart.