Soreness and fatigue can be normal effects of doing deadlifts, but a few strategies may help you speed recovery. A coach or trainer can work with you to develop a balanced program to help your muscles recover so you can stay healthy and meet your fitness goals.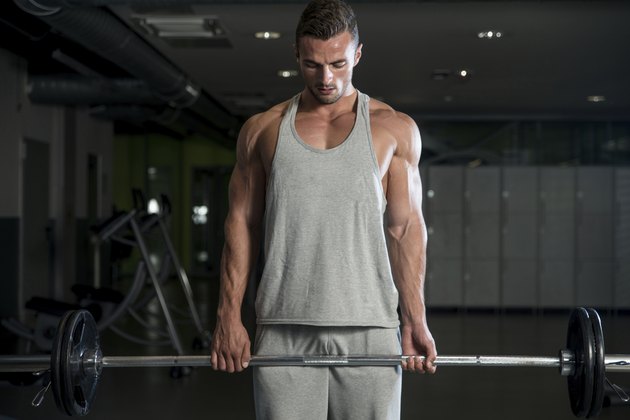 Background
Deadlifts emphasize your back, butt and hips, according to the American Council on Exercise. Varieties of deadlifts include single-arm, single-leg Romanian, dumbbell and barbell lifts. The dumbbell and barbell deadlifts also work your thighs. Soreness in the targeted muscles for each exercise may result from small tears, called microtears, in your muscles. Full recovery is essential for allowing your microtears to heal and your muscles to be repaired.
Standard Recommendations
Strength training builds muscle mass and strength, helps control your weight and improves your bone mineral density, reducing your risk for osteoporosis, according to the Centers for Disease Control and Prevention. Two sessions per week of strength training can provide these benefits. Your routine should include exercises for each of the major muscle groups, including the arms, shoulders, chest, abdominals, back, hips and legs. The American College of Sports Medicine recommends at least 48 hours between weight training sessions, so you should not perform deadlifts on consecutive days.
DOMS and Recovery
Delayed onset muscle soreness, or DOMS, is severe muscle soreness that occurs when you increase your exercise intensity. The soreness is most intense at 24 to 48 hours after exercising the muscle, according to the American Council on Exercise. Deadlifts can cause DOMS if you are doing them for the first time or you increase the number of repetitions or the weight you use. Ice treatments and massage may decrease the severity of DOMS, but they do not appear to reduce the recovery time.
Considerations
You may have less soreness and need less recovery time if you do a slow, gradual warm-up before your hard sets of deadlifts, according to the American Council on Exercise. Because stretching increases blood flow to your muscles, stretches for your gluteus maximus, or glutes, and back may speed up recovery from deadlifts. Improper technique, heavier weights than you can control and inadequate recovery can lead to injuries, including strains and fractures.