Ganache is one of the mainstays of the pastry chef's kitchen. A mixture of cream and high quality chocolate, it can be made thick and fudgy or thin and runny, depending on how it's to be used. Thick ganache is used to make truffles and other candies, medium ganache can be used between layers of cake and thin ganache makes an attractive glaze for cakes, pastries and petit fours.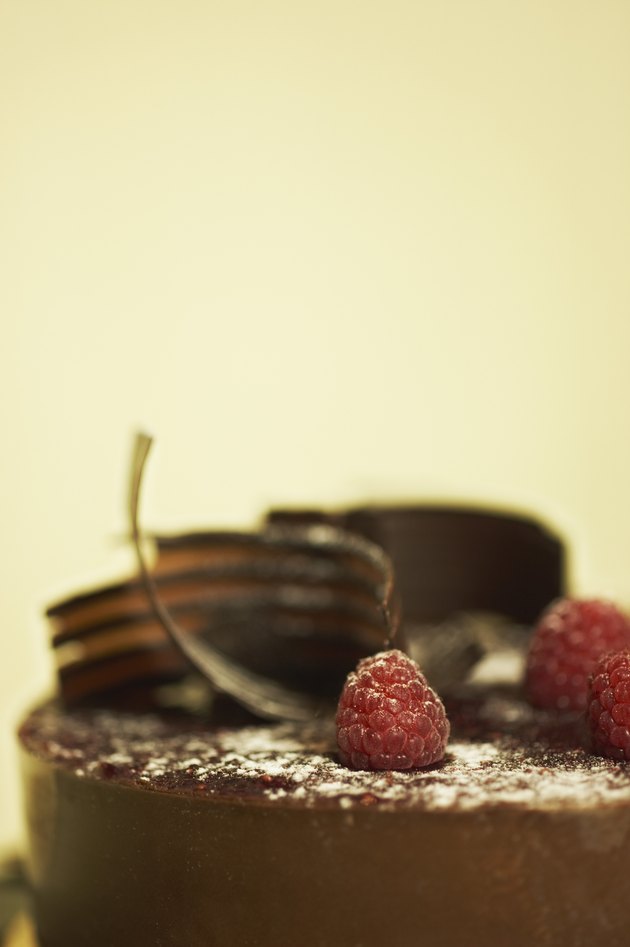 Ganache Basics
Ganache is made by heating heavy whipping cream and pouring it over a quantity of chopped or shaved chocolate. The chocolate melts as it's stirred, forming a silky-smooth consistency. The chocolate should be couverture, a French term indicating chocolate with all natural ingredients and a high level of cocoa. The basic mixture is equal parts cream and chocolate by weight. It can be made thicker by adding more chocolate or thinner by using less. If it's poured while warm, it will retain a glossy finish. If allowed to cool, it will thicken to a spreadable consistency.
Cooling
Sometimes ganache is intended to be used warm, as a glaze. If it's going to be employed as a filling between cake layers or truffles, it will seem much too liquid while it's warm. However, as it cools, it will begin to thicken on its own. At room temperature, it should be soft and spreadable, especially if it's gently stirred as it cools. To make the ganache stiff enough for truffle centers, refrigerate it in a shallow container for at least an hour. If the ganache doesn't thicken as it cools, it may require further attention.
Whipping
For cakes and pastries, sometimes a ganache won't achieve its intended texture unless it's whipped as it cools. Wait until the ganache has reached room temperature and begun to thicken, then whip it for just a few minutes until it has increased in volume by about a third and developed a light brown color. Like cream, ganache becomes thicker as air is whipped in and will hold its shape when spread between layers of cake.
More or Different Chocolate
Sometimes, a ganache is just too thin. There are several reasons this can happen, including inaccurate measurements and variations between brands. For example Callebaut chocolate is thick when melted, but Lindt is thin and runnier. The simplest solution is to keep the ganache warm over a gentle heat source, such as a heating pad or double boiler, and grate more chocolate into the bowl. Stir in the additional quantity until it melts and record how much you've added for future reference. Alternatively, try a different brand next time and see how it compares to the current one for flavor and texture.
Is This an Emergency?
If you are experiencing serious medical symptoms, seek emergency treatment immediately.