Melted chocolate is often used as a dip for fruits, pastries and other sweet indulgences. However, if the dipping chocolate is too thick, it can overpower the foods dipped into it or not adhere to their surfaces. The way to make dipping chocolate a little bit thinner is not to place it over higher heat but to add a liquefying agent. Approximately 10 minutes and one simple ingredient are required to thin out dipping chocolate.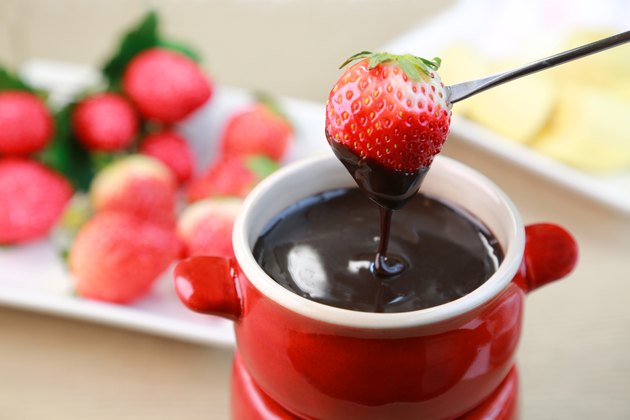 Step 1
Fill the lower half of a double boiler with water and set it over high heat. Bring the water to a boil and reduce the heat to medium. Set the top half of the double boiler onto the bottom half.
Step 2
Transfer the dipping chocolate to the top half of the double boiler. Allow it to heat until melted thoroughly, stirring frequently with a spoon.
Step 3
Add 1 tsp. of shortening or cooking oil to the melted dipping chocolate. The type of shortening or cooking oil you select might affect the flavor of the chocolate. Vegetable oil or shortening and canola oil will not affect the flavor. In contrast, peanut oil will give the chocolate a slightly nutty flavor and butter-flavored shortening will make it richer.
Step 4
Stir the shortening or cooking oil into the dipping chocolate. If it does not thin out as much as you desire, add another teaspoon. Repeat this process until the dipping chocolate is thin enough.
Step 5
Remove the dipping chocolate from the double boiler and use it within 10 minutes or before it hardens.
Things You'll Need
Double boiler

Spoon

Shortening or cooking oil (peanut, canola oil, vegetable oil)
Tip
You can refrigerate leftover dipping chocolate and reheat it later in the double boiler.