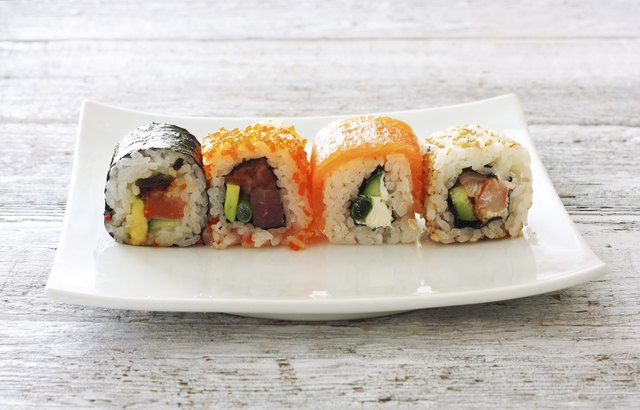 Now that sushi's as easy to find in supermarket refrigerator cases as it is in high-end restaurants, you may find nigiri or California rolls making more frequent appearances on your menu. Usually low in fat and high in heart-healthy omega-3 fatty acids, sushi makes an easy meal; but as with any food, it's possible to get too much of a good thing when you're eating sushi at most meals.
Benefits
The Reader's Digest book "Foods that Harm, Foods that Heal" estimates that an average 10-piece sushi meal containing a variety of fish, rice and vegetables has fewer than 500 calories. Not only is sushi typically low in calories, it's also served in a way that encourages you to slow down and savor your food, which can prevent overeating. And eating lots of sushi means you're eating lots of fish, which can reduce your risk of dying from a heart attack by one-third, according to Dr. Dariush Mozaffarian, assistant professor of medicine and epidemiology at Harvard Medical School and the Harvard School of Public Health.
Risks
Eating lots of sushi with nori, or seaweed, and soy sauce may boost your sodium intake too high and fatty sauces can make healthy sushi high calorie, but the biggest risk from eating lots of sushi is mercury poisoning. Though it's not common, if you're eating sushi -- or any fish high in mercury -- more than six times a week, you could be getting enough mercury in your diet to make you sick, explains "Health" magazine medical editor Roshini Raj on CNN Health. Another rare risk if you're eating a lot of sushi is food poisoning, since improperly stored and prepared fish can become contaminated.
Recommendations
If you eat lots of sushi, protect your health by minimizing your intake of fish potentially high in mercury. Avoid sushi made with mackerel, tuna and salmon, which are the most likely to have mercury contamination, according to the Monterey Bay Aquarium's Seafood Watch. You don't have to cut them out completely, but limit your consumption to once a week. For the rest of your sushi, stick with safe bets such as shrimp, crab, cod, snapper or sea urchin.
Considerations
In general, the benefits of eating lots of sushi outweigh the risks, especially if you limit your intake of menu options high in mercury, Mozaffarian says. But for pregnant women or very young children, the risks of eating sushi, including mercury poisoning and food poisoning, outweigh the benefits. Pregnant women should avoid all fish high in mercury because of potential birth defects; children should likewise avoid fish high in mercury since it takes a lower amount of mercury to be toxic in their smaller bodies; and very young children should skip raw fish entirely because of the risk of food poisoning, Raj says.