Sweet potatoes are a starchy root vegetable that possess a sweet taste and smooth interior texture. If you are peeling and cubing sweet potatoes in preparation of a larger meal or dish, it is important to soak them in water in the refrigerator to prevent them from drying out and keep them ready to use.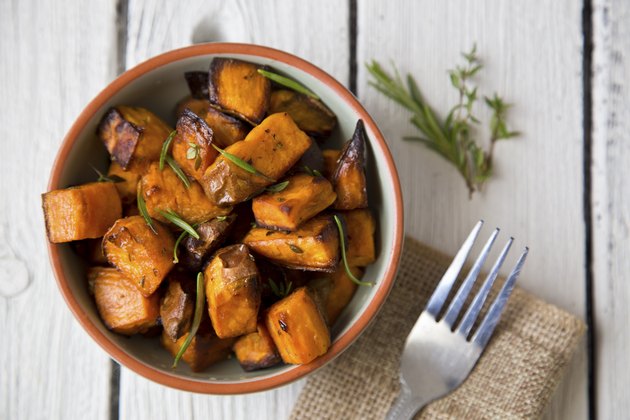 Materials
Before you peel and cube your sweet potatoes, you will need several different cooking utensils as well as numerous, whole sweet potatoes. To start, get a large knife that is sharpened, allowing for smooth and clean cuts of the potatoes. You also need a cutting board, a large bowl and a peeler. The large bowl will later be filled with water to help store and preserve the cubed and peeled sweet potatoes.
Peeling
Before you peel your sweet potatoes, wash them vigorously with water. If you use a scrub brush, you will remove excess dirt and grime, making it easier to peel the potatoes themselves. Grab one potato and a peeler, pushing firmly with the blade along the exterior of the potato until you have removed the outer layer of skin. Continue to peel the potato with a peeler until there is no skin left. You can also use a small knife to peel the potato if you do not have a peeler.
Cubing
Once you have peeled your potatoes, you can cube them using a sharp knife. Place the sweet potato on the cutting board, holding one side of the potato with your free hand to keep the potato stable. Make several parallel cuts along the potato, cutting the potato lengthwise. Roll the potato one-quarter turn and make another series of lengthwise cuts. Hold these pieces together with your free hand while you slice perpendicular to the first two series of cuts. Cutting in these two directions will get you numerous sweet potato cubes.
Storing
After you have successfully peeled and cubed your sweet potatoes, you can either cook them immediately or preserve them overnight. If you are keeping them to cook later in the day or the next day, place them in a bowl of cold water, allowing them to sit in the fridge until you bring them out to cook. Dry them off with a paper towel before cooking them. If you are directly cooking them, you can simply place them on an oven tray with olive oil, salt and pepper, or add them to a pan and saute them with meat or any other food you can think of.