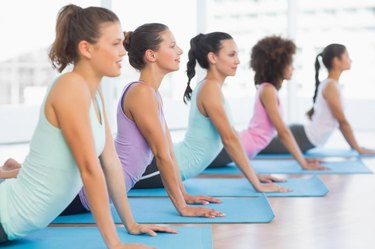 Spending long days hunched over a desk and squeezed into a car can leave your muscles sore and tight. While you might think that your shoulders feel the most strain, you'll likely feel aches in other parts of your upper body, too, and that includes your chest muscles.
Of course, any significant and sudden chest pain should be evaluated by a physician to rule out any cardiac events. Once you're given the OK, however, you can loosen your chest muscles with a few soothing yoga positions.
Cobra
Step 1
Lie flat on your stomach on your yoga mat or a soft surface, positioning your chin on the floor with your palms face down under your shoulders. Keep your legs together.
Step 2
Squeeze your glutes and thighs and press your pelvis down into the floor.
Step 3
Inhale and, without using your arms, lift your head and chest off the floor. Focus on keeping your neck in line with your spine.
Step 4
Keeping your elbow tucked into your sides, press your palms down and use your arms to lift up higher. If you feel any strain in your lower back, bend your elbows a bit or walk your hands farther forward. Drop your shoulders down and back, pushing your chest forward. Hold for two to six breaths.
Step 5
Exhale and slowly lower your chest and head to the floor.
Upward Facing Dog
Step 1
Get onto your hands and knees, in a pose known as Table, and then slowly drop your hips to the floor.
Step 2
Press your palms down, pushing your torso up into the Cobra pose. Drop your shoulders and press your chest forward. Focus on lengthening your knee and reaching the top of your head skyward.
Step 3
On the inhale, extend your elbows and lift your thighs and legs off the floor, using the tops of your feet to push upward. Hold for one to three breaths.
Step 4
Release the pose by bending your knees and returning to the table position.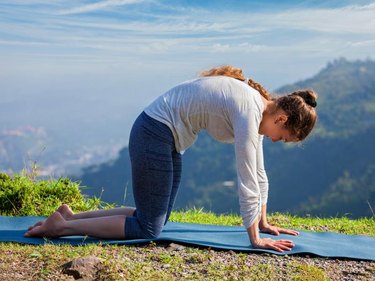 Cat-Cow
Step 1
Get onto all fours, evenly distributing your weight and positioning your hands directly under your shoulders and knees directly below your hips.
Step 2
On the exhale, press your palms into the floor. Round your spine upward, engaging your abdominal muscles and tucking your pelvis under to go into Cat pose.
Step 3
Take a breath and reverse your tailbone as you push it toward the ceiling. Your chest presses toward the floor and your head looks toward the ceiling.
Step 4
Repeat steps two and three for five to 10 breaths.