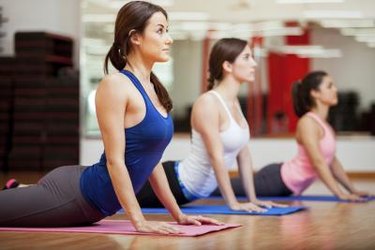 When perusing studio schedules, you may come across a class entitled "Hot Fusion Yoga" or "Hot Power Fusion." These aren't ancient traditions or set practices, but rather melanges of different styles designed by particular instructors.
All Hot Fusion classes will vary, but have a foundation in vinyasa, a flowing practice of yoga that links postures to the breath, often through Sun Salutations. You may find a sprinkling of the traditional hot 26-posture Bikram style, Ashtanga and Yin in these practices as well.
Ultimately, you'll have to ask the teacher and studio owner what to expect in these classes, or just experience them for yourself.
Popular Examples of the Style
CorePower Yoga, a studio with 160 studios nationwide, offers a class called Hot Power Fusion. This class blends the feel and heat of Hot yoga -- practiced in a room that's over 100 degrees and with at least 40 percent humidity -- with the movement and intensity of Power yoga. You'll flow through Sun Salutations, open your hips in Warrior poses, balance in poses such as Eagle and Stick, strengthen your core and open up your hamstrings and shoulders in more passive holds at the end of class.
Hot Fusion Yoga is also a class featured at The Yoga Joint in Ft. Lauderdale, Florida. Paige Held, a well-known yoga instructor, designed the class with her colleagues to last 75 minutes in a heated space. The idea of the class is to move smoothly through vinyasa-style Sun Salutations, stand in balancing postures, sit in Yin poses and then end with meditation. The class is intended to de-stress, de-kink and inspire students.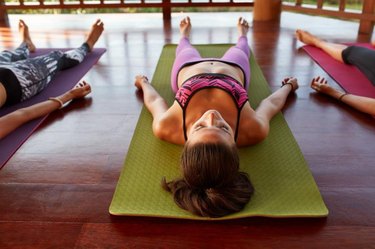 What to Expect
As the class title suggests, you'll practice in a hot room. Dress accordingly and bring a yoga towel to sop up the sweat. These towels are thin, made of a wicking microfiber and have grippy nubs to stay put on your mat. Fitted clothes designed for yoga will suit you best, as baggy T-shirts hang uncomfortably and buttons or zippers pinch. Synthetic fabrics that tolerate sweat are superior to cotton.
You might appreciate having some experience with yoga before jumping into a Hot Fusion class. Attend a Hatha class consisting of gentle expressions of the poses and a flowing vinyasa practice before heading to Hot Fusion. These classes just give you the foundation to feel good and secure in your practice before jumping into a new challenge.
You don't usually need experience in classic hot yoga to attend Hot Fusion; in fact, Hot Fusion can be a great introduction for you to see if you indeed like it hot.