Gatorade is a vitamin-enriched sports beverage which is used to re-hydrate athletes during and after sports. The sweet taste and convenience attract athletes and non-athletes alike to the many flavors of Gatorade. Though Gatorade is an excellent tool to provide athletes with important electrolytes lost during exercise, it should only be drunk in small amounts as needed. Drinking too much Gatorade can have serious health consequences.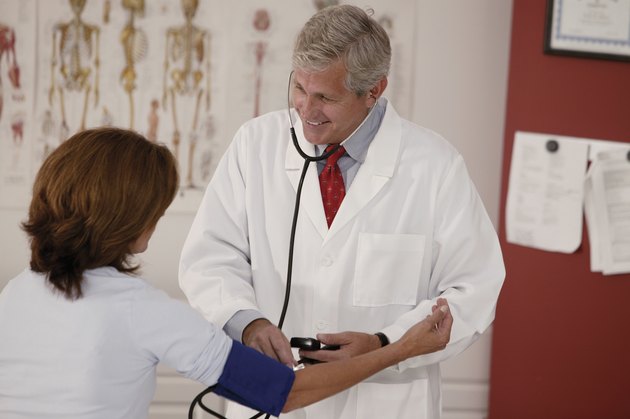 Weight Gain
Probably the most common consequence of drinking too much Gatorade is weight gain. According to Calorie King, each 32-oz. bottle of Gatorade has 200 calories. If an athlete burns fewer calories than that, the excess calories will be stored as fat, which will eventually lead to weight gain.
Vitamin Toxicity
Gatorade is fortified with a variety of different vitamins and minerals, including some fat-soluble vitamins such as vitamin A. Fat-soluble vitamins cannot be excreted from the body when they are consumed in quantities too large, so side effects may occur. Drinking too much Gatorade, and consuming much more than your recommended amount of vitamin A, can lead to vitamin toxicity, also known as hypervitaminosis A. The National Institutes of Health say that the symptoms of hypervitaminosis A include blurred vision, fatigue, headache and nausea.
Hyponatremia
"Runner's World" states that a very serious and sometimes deadly side effect of drinking too much is hyponatremia. Hyponatremia is an over-hydration of the cells which causes dangerously low sodium levels in the body. Although hyponatremia usually occurs when an athlete drinks too much water, "Runner's World" states that it can occur if an athlete drinks too much Gatorade as well. Many athletes feel that they are doing a good thing by re-hydrating with Gatorade, so they think more is better, but in reality, too much Gatorade could be dangerous.
High Blood Pressure
One bottle of Gatorade has 800mg of sodium, which is 33 percent of your normal daily recommended intake, according to Calorie King. Drinking too much Gatorade, especially along with eating salty foods, may result in high blood pressure. The Centers for Disease Control and Prevention state that too much salt in the diet can lead to high blood pressure and eventually to health problems like heart attacks and strokes.
High Blood Sugar
There are 56g of sugar in each regular sized bottle of Gatorade, according to the Calorie King website. Though replacing some sugars lost during exercise is generally a good idea, drinking too much sugar can lead to high blood sugar in the cells which can be very dangerous. Since every person is different, there is no one amount of sugar which is too much to consume for everybody. Some people, such as diabetics, may get high blood sugar from drinking even half of a bottle of Gatorade, while it may take several bottles to cause high blood sugar in others.