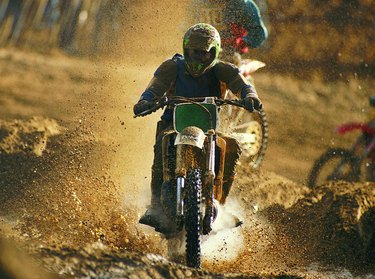 Keihin Fuel Systems is a large manufacturer of carburetors for racing vehicles such as dirtbikes, watercraft and motorcycles. They also manufacture other products pertaining to the vehicle's fuel system. Keihin Fuel Systems can also rightly boast its accomplishments in designing and building racing systems for several companies and designing and building the fuel system for Super Bikes. Keihin also distributes products to such companies as Harley Davidson and Kawasaki. Owning one of these speedy vehicles may require some fuel system work from time to time. To ensure you receive the correct parts needed for this repair job, it is important to identify your vehicle's carburetor. This process is not difficult and can save you time and headaches.
Step 1
Visit Keihin's website at keihin-us.com and access the products page. This will pull up a list of carburetor models on the left side of the screen. Click the models until you find the picture that looks like your model. Information on parts and repair is also posted.
Step 2
Look at the carburetor itself. You will find a number that is usually preceded by two to three letters. This is your model number. This number is needed for all parts orders or repair assistance. This number is normally located on the side of the carburetor toward the bottom.
Step 3
Visit your vehicle manufacturer's website. They will normally have the carburetor information as long as your vehicle has not had a replacement prior to your current repairs.
Step 4
Measure the throat of the carburetor. The throat dimensions can tell you what model series your carburetor fits.