Originally synthesized by a Japanese chemist in 1919, methamphetamine has evolved into a highly addictive, cheap and easy-to-make drug of choice for hundreds of thousands of Americans. Far more potent than the original meth, today's meth usage supplies longer highs and can be more appealing than cocaine. Meth is used in pill or powdered form, and can be injected, snorted or smoked. The effects of meth abuse can be deadly. Recognizing the signs that someone is smoking meth could help early detection and lay the groundwork for intervention and rehabilitation.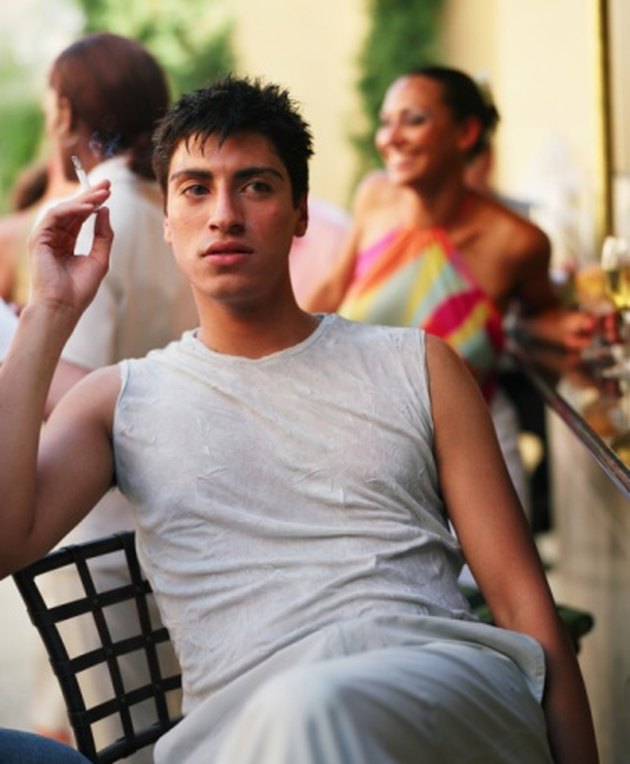 Physiological Signs
The effects of smoking meth occurring physiologically eventually become apparent to others. Due to the stimulant effects of meth, those who smoke it have an increased heart rate and elevated blood pressure. In addition, there is a decrease in oxygen supply to the extremities, causing poor circulation throughout the body. This poor circulation can lead to skin lesions. Elevated body temperature results in radiating body heat and becomes apparent to others. This excess body heat may lead to muscle and major organ damage.
Behavioral Signs
Those who smoke meth seem to undergo a personality transformation that is noticeable through their behavior. Users have a heightened sense of alertness and uncontrollable movement. Long-term use can lead to insomnia, paranoia and aggression. Feelings of enthusiasm toward things and activities are replaced with an attitude of apathy. Conversely, things that would not necessarily be an issue get blown out of proportion. Hallucinations, such as "crank bugs" crawling on the skin, are common among regular users. Impaired speech may occur due to anxiety.
Physical Signs
The overall "look" of a meth smoker is somewhat different. At first, you may notice subtle changes in the smoker's appearance and not quite know the cause; however, with time, physical signs become evident and unquestionable. Meth smokers lose their appetite and their metabolism increases. This combination leads to extreme weight loss. The eyes dart back and forth and blink excessively. It may be difficult for a meth smoker to make eye contact. Those smoking meth may have what has been coined as "meth mouth," in which the mouth is dry and the teeth and gums become corroded due to the harsh chemicals of meth. The skin begins to change to a grayish, leathery texture and may even break out into a rash. Users can create skin sores from the constant picking at the imaginary "crank bugs."