Anxiety is a normal part of daily life. It can occur when someone is stuck in traffic, is waiting for a diagnosis in her doctor's office or giving a speech. However, anxiety can be overwhelming and debilitating for those who have anxiety disorders. Psychosomatic symptoms, which are physical symptoms of anxiety that have no medical basis, can significantly impact a person's life. You can get help for symptoms of anxiety by talking to your doctor and seeing a mental health professional.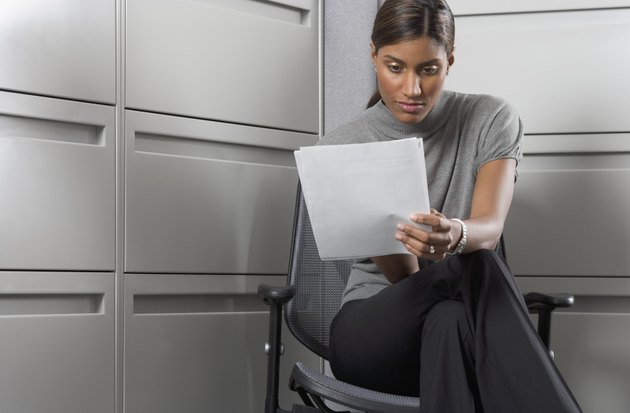 Stomach Problems
Someone who is suffering from an anxiety disorder may have a hard time eating, might feel nauseous on a regular basis and may vomit or have diarrhea. A person with an anxiety disorder may mistake these symptoms as a medical problem and be surprised when his doctor can't find a medical explanation for the stomach issues. Most people have experienced an upset stomach when under stress; however, someone who experiences an upset stomach regularly due to stress and anxiety is probably experiencing psychosomatic symptoms of an anxiety disorder which means there is no other medical reason why the person has stomach problems.
Headaches
When someone has an anxiety disorder, she is usually overwhelmed by the symptoms which can cause emotional and physical tension. This can result in repeated headaches. Many times a neurologist will ask a patient about symptoms of stress, especially if he doesn't find any medical issues after completing some tests. Biofeedback is a tool that health professionals use to help people who experience psychosomatic symptoms such as headaches get control of stress. According to the University of Maryland Medical Center, biofeedback is a technique that helps people learn to control things such as heart rate and muscle tension.
Panic Attacks
Someone who has panic attacks may experience many psychosomatic symptoms include the ones listed above and trouble breathing, a racing heart, chest pain, dizziness and sweating. Due to the psychosomatic symptoms, panic attacks can lead someone to feel as if they might die and are completely out of control. People with panic disorder may develop agoraphobia which can limit their ability to go in public places due to the fear that they will experience a panic attack in public.
Fatigue
The overwhelming stress that someone experiences when they have an anxiety disorder can lead to fatigue. Someone might have a hard time staying awake at work, being able to concentrate and forget important dates or events due to fatigue. A person who is fatigued on a regular basis may see his doctor because he might assume that it's related to a medical condition like many other psychosomatic symptoms of anxiety disorders.
Is This an Emergency?
If you are experiencing serious medical symptoms, seek emergency treatment immediately.