Whether you're trying to lose or gain weight with extra protein in your diet, you may have noticed that you're also making more trips to the bathroom. Protein by-products are excreted in your urine, and the more protein you eat, the more your body needs to excrete, which means an increase in urination. If you're concerned about your multiple trips to the bathroom on your high-protein diet, consult your doctor.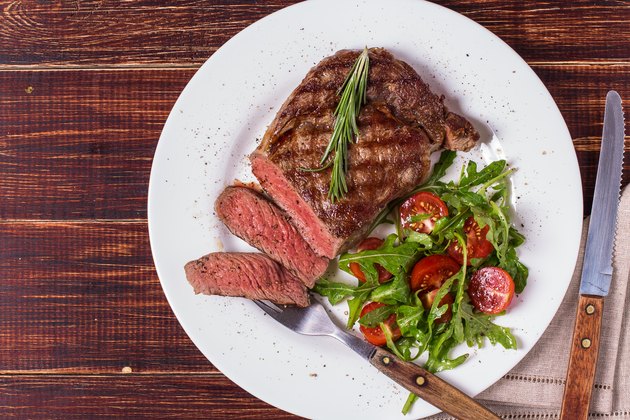 Protein Metabolism and Urination
The protein in the steak you eat on your high-protein diet is made up of amino acids, which is a source of nitrogen. The amino acids are used to make the proteins in your body, including muscle, hormones, enzymes and immunoproteins. The nitrogen from the protein is converted into urea and excreted in your urine. Urea is also excreted in feces, skin cell turnover and sweat. In healthy people, the amount of nitrogen consumed equals the amount excreted. Given that your body wants to maintain its nitrogen balance, the more protein you consume, the more urea your body makes to get rid of the extra nitrogen, which means an increase in urination.
How Much Protein Do You Need
Healthy adults need 0.35 grams of protein per pound of body weight, which for most people means protein provides 10 to 15 percent of daily calorie needs. If you're lifting weights to build muscle, you need to get more protein in your diet, 0.5 to 0.8 grams per pound of body weight. However, this usually doesn't translate into a higher percentage of calories from protein because you need to increase calorie intake as well when you're aiming to build muscle. So, a 150-pound person needs 53 grams of protein to meet maintenance needs, and 75 to 120 grams when trying to build muscle.
Drink Your Water
If you're upping your protein intake, you need to also up your water intake to prevent dehydration. The general formula for water needs is 1 quart for every 50 pounds of body weight. At 150 pounds, you'll need three quarts, or 12 cups, of water a day. Exercising, medication, health needs and other diet choices also alter water needs. If you're not certain about how much water you need on your high-protein diet, talk to your doctor for guidance. To get what you need, make water your drink of choice. Also, carry a bottle with you everywhere you go.
Dangers of Too Much Protein
While protein is an essential nutrient, getting too much may be bad for your health. An excessive intake of protein may overwhelm your liver and lead to high blood amino acid, ammonia or insulin levels; it may also cause nausea or diarrhea. And, in extreme cases, it can lead to death, according to 2006 article published in the International Journal of Sport Nutrition and Exercise Metabolism. Getting more than 35 percent of calories from protein is considered excessive and risky, according to the authors of the 2006 article. If you eat 2,000 calories a day, that means no more than 175 grams of protein. Consult your doctor to help you determine daily protein needs to prevent excessive intake.