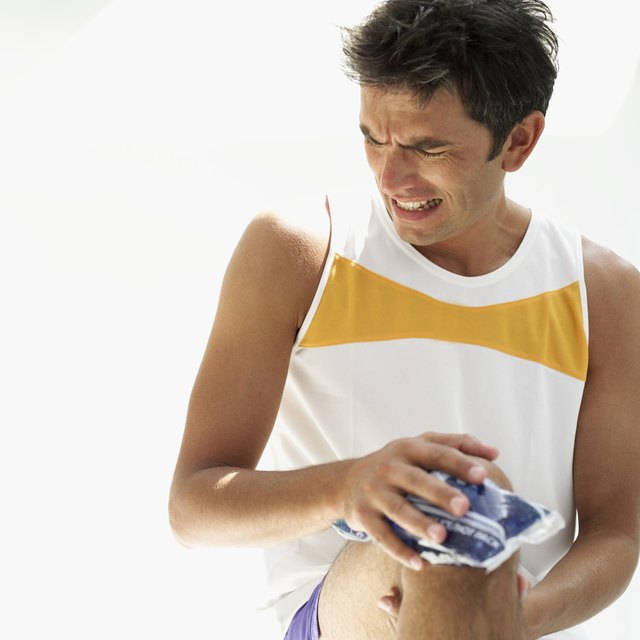 If you have ever begun a new weight-training program, then found it difficult to walk down stairs for the following few days, you are familiar with the uncomfortable side effects of muscle strengthening. Your muscles swell after weight training. You may find that your strength and range of motion decreases, and you'll feel stiffness and discomfort. Studies are inconclusive as to whether muscle swelling is actually the cause of these other symptoms.
Cause
When a muscle lifts loads that it is unaccustomed to, the stress causes tiny tears in its fibers. These tears are a natural part of building stronger muscles because when the damage is repaired, the muscle fibers are rebuilt stronger than before. Almost immediately after exercise, white blood cells rush into the muscle to clear up the debris from the muscle damage, producing prostaglandins as a byproduct. Prostaglandins is a hormone-like substance that causes pain and swelling. Along with white blood cells, fluids carrying other nutrients and enzymes rush into the muscle to support the rebuilding process. The extra fluids packed into the muscle also contribute to swelling.
Eccentric Contractions
A muscle contraction has two parts: the concentric or "positive" phase (i.e. the "up" phase of a biceps curl); and the eccentric or "negative" phase (i.e. the "down" phase of a biceps curl). Multiple studies have demonstrated that eccentric contractions cause the most muscle damage, pain and swelling; the muscle must lengthen as it contracts. Although weight training usually causes muscle soreness, the cumulative stress of eccentric contractions in weight-bearing endurance activities, such as running a marathon, can also cause muscle damage and swelling.
Duration
Muscles begin to swell about two hours after exercise. Swelling peaks on the fourth day, then gradually subsides, returning to normal seven to eleven days after a workout. Researchers at the Department of Physiology at Monash University in Australia found that swelling was not only greater after eccentric contractions than concentric training, but it also took longer to subside.
Treatment
Some athletes use anti-inflammatory drugs, massage or active recovery to relieve post-exercise muscle swelling and soreness. Anti-inflammatories may reduce swelling, but a Canadian study found that ibuprofen didn't reduce post-exercise soreness. An Australian study published in the Journal of Athletic Training found that post-exercise massage reduced swelling and soreness. However, a similar study from the University of Virginia found no such reduction in swelling after a massage. Many athletes insist that active recovery, or light exercise a few days after a workout, increases blood flow and reduces swelling -- studies have yet to confirm these observations.
Injury
Not all pain causes gain. Athletes must learn to tell the difference between swelling associated with recovery and swelling caused by injury. Acute injury causes sharp pain during exercise and immediate swelling. Swelling from injury is usually localized around a bone or joint. Chronic injuries may not cause appreciable swelling, but pain will be greater during exercise than in the following days. If you suspect injury, seek medical advice and use rest, ice, compression and elevation (RICE) to relieve the swelling.