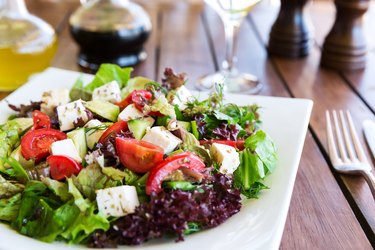 Healthy eating is important at all stages of life, but for a growing teen, getting the right nutrients is especially essential. Building healthy eating habits now often results in a healthier life down the line.
Consider Your Calories
The energy a teen needs can vary, depending on a number of factors such as age, weight, height, gender and level of physical activity. Looking to lose weight? These tips can help.
According to the Academy of Nutrition and Dietetics, a diet for a 16-year-old boy should include no less than 2,400 calories if he is nonactive, and around 3,200 calories if he is typically more active. Suggested calories regarding a diet plan for a 16-year-old female are between 1,800 for a nonactive girl and up to 2,400 for a girl of this age who is very active.
Of course, the calories in any given food depend on the amount of fat, carbohydrates and protein it contains. To maintain a healthy body, teens are warned to stay away from junk foods like candy, cookies and potato chips, that are often low in or devoid of vitamins, minerals, fiber and other essential nutrients.
Use the My Plate Method
GirlsHealth.gov recommends the My Plate Food Plan for teens who may be at a loss when it comes to food choices. When constructing a meal, they advise that half of the plate consist of fruits and vegetables, that one fourth be allocated to a protein-rich food like chicken or tofu and that a grain choice like brown rice or sweet potato should round out the last part of the meal. Use the My Plate Calculator to figure out a food plan that's right for you.
Teen Nutrition Needs
Good diets for teenage guys should include plenty of protein. It's recommended that males around the age of 16 get 52 grams of protein per day. Teen girls, on the other hand, should aim for 46 grams, according to the 2015-2020 Dietary Guidelines for Americans. To achieve this goal, make sure to reach for lean meats, legumes, soy products and vegetables rich in protein.
According to the Centers for Disease Control and Prevention, obesity affects 13.7 million children and adolescents in the United States, with 20.6 percent of teens between the ages of 12 to 19 classified as overweight. As such, weight-loss plans for teenage guys and girls should keep unhealthy fats to a minimum.
To Eat or Not
The types of foods a teen should eat for optimal nutrition don't differ much from what an adult should be eating. Regular diet plans, as well as 16-year-old athlete diet plans, should include lean meats, dried beans and milk to help build strong muscles, according to the American Academy of Pediatrics. Don't forget to watch out for your daily sugar intake.
It's also recommended that teenagers avoid empty calories and extra sugar in sodas and juices and pay attention to portions, especially when eating out. Omit sauces like mayonnaise, ketchup and creamy dressings that may contain extra sugar and salt.