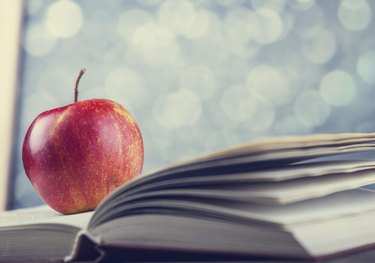 More than $20 billion is spent per year on weight loss books, drugs and surgeries, ABC News reported in 2012. With dozens of books coming out each year, it's difficult to know how to tell the good books from the fad books. In general, a quality weight-loss book promotes health and nutrition as well as gradual weight loss, without banning entire food groups. A top book that will stand the test of time encourages moderate portions, and taking in whole foods and engaging in exercise. Some books tap into the latest trend, emphasizing Paleo or vegan, but common sense advice really makes a book tops.
Food Matters
Food Matters is a book released by Mark Bittman, a New York Times food columnist and author, which argues that you can save the planet and your health with certain dietary efforts. This book emphasizes ample intake of fresh produce and offers more than 75 recipes to get you started. Bittman also helps you figure out how to trade a few meat-based meals for vegetarian ones, which could improve your health. The journal, JAMA Internal Medicine, in 2013 published a study of more than 70,000 participants, which found that vegetarian diets are associated with reduced mortality from all causes and with better health.
Following his own plan helped Bittman lose 35 pounds over the course of several months, as well as see improvements in his cholesterol and blood sugar readings. The fact that the changes encouraged by Food Matters affect not only you, but also could potentially have a positive outcome on the planet, may make you more likely to stick to the healthier eating plan he proposes. The book may make you more aware of the impact your choices have on the environment, at the very least.
Eat to Live
Dr. Joel Fuhrman uses diet not only to help you get your weight under control, but also to reduce blood pressure, cholesterol and prevent heart disease without medication. The book emphasizes the value of a mostly vegetarian diet that allows for unlimited quantities of vegetables, fresh fruits and beans, but discourages consumption of meat, sugar and processed foods. The emphasis is on choosing nutrient-dense foods that will help improve your health. As of 2013, the book had spent 90 weeks at the top of The New York Times best seller list.
Thin for Life
In Thin for Life, registered dietitian Anne M. Fletcher presents strategies that have worked for those who have been successful in losing weight. The book details why some people lose weight and keep it off, while others regain weight shortly after losing it. You'll get practical advice on how to overcome obstacles such as stress, emotional eating and binge eating. Meal planning and recipes are part of the book. The book emphasizes changing long-term habits, rather than offering a trendy quick fix.
The Step Diet Book
The Step Diet Book uses the simple concept of trimming portions and moving more to help readers lose weight. To lose weight, cut only 25 percent from your meals, walk more and track your steps with the included pedometer. The book contains tips and ideas as to how to boost your activity level, which helps you burn more calories daily without focused exercise. It requires no drastic changes or calorie counting -- only small changes that can change your weight and health over time.
Mediterranean Diets
Several diet books help you navigate this diet plan based on food from countries that border the Mediterranean Sea. A meta-analysis published in September 2011 in the American Journal of Medicine concluded that Mediterranean diets seem to be more effective in reducing inflammation and warding off heart disease than low-fat diets. This diet, based on whole grains, olive oil. fish, eggs, beans, legumes, fresh vegetables and low on red meat and processed foods, can also have beneficial effects on diabetes, metabolic syndrome and hypertension. As a 2015 study published in the European Journal of Clinical noted, the Mediterranean diet can also be a successful way to manage your weight. The New Sonoma Diet, written by registered dietician Dr. Connie Guttersen, offers menu plans and recipes based on this style of eating. Other books based on the Mediterranean-style of eating promote consuming whole, natural foods while keeping portions in check are also top picks.