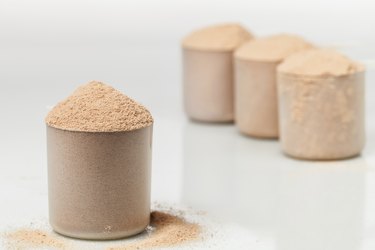 Muscle Milk and whey protein are both powder supplements that offer concentrated sources of protein in low-calorie packages. While no scientific studies have been performed that evaluate the effects of Muscle Milk compared to whey protein, the differences between the two in nutrition and ingredients provide a helpful starting point for analysis.
Nutrition Facts
According to the Muscle Milk website, a 35-gram scoop of vanilla creme powder contains about 150 calories, 6 grams of fat, 9 grams of carbohydrates and 16 grams of protein. In contrast, a 41-gram scoop of vanilla whey concentrate powder has about 170 calories, 3 grams of fat, 7 grams of carbohydrates and 30 grams of protein. A 30-gram scoop of whey isolate powder has a higher percentage of protein and less fat -- it contains 108 calories, no fat, 1 gram of carbs and 26 grams of protein.
Protein Doses
If your intention in using protein powder is to get as much protein as possible, you may want to bypass Muscle Milk in favor of a purer whey powder. Generally, whey protein concentrate powders are at least 70 percent protein by weight, but isolate powders are at least 90 percent protein by weight. Muscle Milk, in contrast, is closer to 45 percent protein by weight. Although its calorie count isn't dramatically different than a serving of whey concentrate or isolate, either whey powder offers close to twice Muscle Milk's amount of protein in a single scoop.
Ingredient Profiles
Muscle Milk's blend of proteins includes calcium sodium caseinate, milk protein isolate, whey isolate, whey hydrosolate and whey concentrate. The powder also contains a wide variety of additives and flavorings, including sunflower and canola oils, corn fiber, maltodextrin and the sweetener sucralose. Whey concentrate powder typically contains a blend of both concentrate and isolate and may be supplemented with amino acids. It also contains additives and flavorings that can include maltodextrin, soy lecithin, cellulose gum and sweeteners. Whey isolate powder will usually have a smaller ingredient list, containing only isolate and flavorings, with optional stabilizers such as soy lecithin.
Dietary Effects
Whey protein has been proved in several scientific studies to contribute to better body composition, lean muscle mass gain, fat loss and lower risk factors for metabolic disease. Muscle Milk makes the same health claims, which have not been evaluated by the U.S. Department of Agriculture, although it is reasonable to infer that the whey proteins in Muscle Milk can produce similar effects. Muscle Milk also offers health benefits by combining whey and casein proteins in its formula. While whey is a "fast-acting" protein, meaning that it's quickly digested and able to rapidly promote muscle protein synthesis, casein is a "slow-acting" protein that contains a different set of amino acids and may promote better recovery from endurance exercise. The National Strength and Conditioning Association recommends using a blend of whey and casein proteins, rather than just one or the other, in an exercise recovery plan.
Other Considerations
Neither Muscle Milk nor whey protein powder is guaranteed to change your body in any specific way, and how each affects you is likely to depend on a wide variety of factors that include your age, sex, weight, overall diet and physical activity level. In a 2010, a "Consumer Reports" study found that a Muscle Milk product contained the highest amounts of the heavy metals cadmium and lead of any protein supplements tested. Such heavy metals can be harmful with long-term, low-level exposure and can even cause permanent organ damage. Before you begin taking any type of supplement, see your doctor.