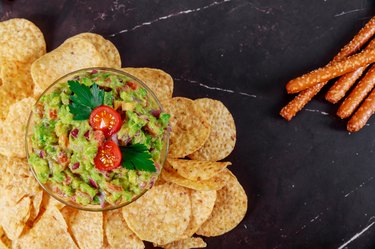 Doritos is a brand of flavored tortilla chips from Frito-Lay. They've been around since 1966 and have expanded over the years to offer a wide variety of Doritos flavors to choose from. They may taste good, but Doritos nutrition facts paint quite the picture.
Doritos Nutrition Facts
According to the official Frito-Lay website, a 1-ounce (28 gram) bag is the appropriate Doritos serving size. The serving size is about 12 chips.
150 calories
8 grams of fat, 1 gram of which is saturated fat. There are no trans fats.
210 milligrams of sodium
18 grams of carbohydrates
1 gram of dietary fiber
Less than 1 gram of sugar
2 grams of protein
40 milligrams of calcium
50 milligrams of potassium
150 calories
8 grams of fat, 1 gram of which is saturated fat. There are no trans fats.
180 milligrams of sodium
18 grams of carbohydrates
2 gram of dietary fiber
Less than 1 gram of sugar
2 grams of protein
2 percent recommended daily allowance (RDA) of calcium
6 percent RDA of vitamin E
4 percent RDA of thiamin
2 percent RDA of calcium
4 percent RDA of vitamin B6
4 percent RDA of phosphorus
4 percent RDA of magnesium
Instead of providing the amount of minerals, this nutrition label provides percentages, and includes more data. Generally speaking though, the nutrition facts are the same. There are minor differences, likely due to the difference in flavoring ingredients between the varieties.
A Look at Doritos Flavors
If you're not a fan of the popular Nacho Cheese or Cool Ranch flavors, Frito-Lay offers plenty of other Doritos flavors to choose from, such as:
Salsa Verde
Spicy Nacho
Taco
Spicy Sweet Chili
Blaze
Tapatio
Toasted Corn
Jacked Ranch Dipped Hot Wings
Flamin' Hot Nacho
FLAMAS
Chile Limon Rolled Tortilla Chips
The difference in flavoring doesn't change the nutrition facts much. One thing to note is the difference in sodium content. If you're watching your sodium intake, these aren't necessarily a good snack.
According to the American Heart Association, you should eat no more than 2,300 milligrams of salt per day and aim to eat no more than 1,500 milligrams per day if you have heart disease or other cardiovascular health issues. This means you're consuming more than 10 percent of your daily sodium with 12 chips.
The flavor that contains the least sodium, Toasted Corn, according to Frito-Lay, still contains 120 milligrams. That's still close to 10 percent of your daily recommended amount.
Closer Look at Doritos Ingredients
If you're trying to decide whether it's worth it to eat a Doritos serving size at the end of the day and you can do so without derailing your weight loss goals, it's worth looking at the ingredients.
The Nacho Cheese flavor contains: Corn, vegetable oil, maltodextrin, salt, cheddar cheese, whey, monosodium glutamate (MSG), buttermilk, Romano cheese, whey protein concentrate, onion powder, corn flour, natural and artificial flavor, dextrose, tomato powder, lactose, spices, artificial color (yellow 6, yellow 5 and red 40), lactic acid, citric acid, sugar, garlic powder, skim milk, red and green bell pepper powder, disodium inosinate and disodium guanylate.
According to the Food and Drug Administration (FDA), there are nine certified colors approved for use in food. Doritos contains three of those nine colors. The Mayo Clinic says that while the FDA classifies MSG as "generally recognized as safe," it may cause some adverse reactions such as headache, flushing and sweating.
Though science hasn't found a definitive link between these symptoms and MSG consumption, a small percentage of people may experience short-term reactions to MSG that are usually mild and don't require medical treatment.
The Toasted Corn flavor is the best to go with in terms of ingredients because it only contains corn, vegetable oil and salt. This flavor does not contain preservatives or flavors of any kind.
Remember, when you're dealing with a big bag of Doritos, it's important to pay attention to how much you're eating. The single Doritos serving size is only about 12 chips, which most people can eat without even thinking about it.