Ritalin, also sold under the generic name methylphenidate, is a central nervous system (CNS) stimulant used to treat attention deficit-hyperactivity disorder (ADHD). While the drug is effective in treating inattention symptoms of ADHD, using Ritalin can result in mental and emotional changes in the patient. This is due to the drug increasing the levels of dopamine in the brain, a neurotransmitter linked to mood, pleasure and behavior.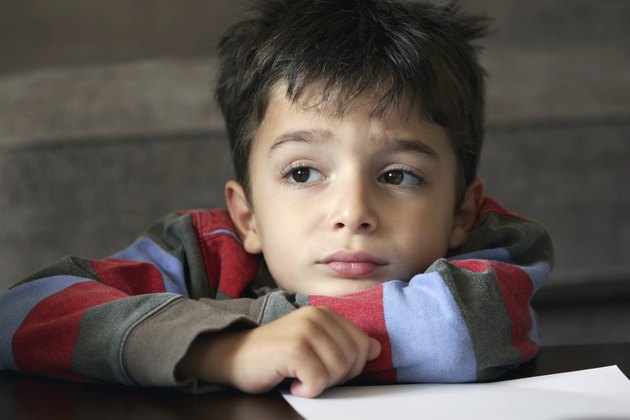 Depression
One serious emotional effect of Ritalin is depression, a mood disorder characterized by sadness, withdrawal from people and activities, feeling hopelessness and helpless, self-blame and changes in eating and sleeping patterns. The Partnership for a Drug-Free America notes that severe depression can occur when a patient is having a withdrawal from Ritalin. Suicidal thoughts also can occur with the depression side effect, in which a patient has a preoccupation with death and contemplates taking his own life.
Hallucinations and Delusions
A long-term Ritalin user can experience hallucinations and delusions. Kristi Monson, PharmD, and Arthur Schoenstadt, M.D., authors of the article "Methylphenidate Side Effects," define hallucinations as seeing, hearing or feeling things that do not exist. For example, a patient may feel that someone is touching her, but no one is in the room. Delusions are a false belief, such as the patient believing he is the president when he is not. Patients also may have paranoia or psychotic episodes.
Anxiety
Anxiety can occur with Ritalin use, with the patient having an unusual amount of worry that she cannot control. The anxiety can be coupled with restlessness or compulsions, when the patient is driven to repeat certain behaviors. In short-term use of Ritalin, users may experience nervousness and dizziness.
Behavioral Changes
Abnormal or strange behavior is another mental change that results from Ritalin use. Patients may become more agitated and prone to aggressive behavior. Outgoing behavior also is possible, in which the user is more social and talkative than normal. Confusion also can occur with Ritalin use.
Is This an Emergency?
If you are experiencing serious medical symptoms, seek emergency treatment immediately.