Alcoholism can have a significant impact on one's appetite, food choices and eating habits. In some individuals, cravings for unhealthy food increase. For others, alcoholism rids them of their ability to recognize or feel hunger. Since alcoholism puts one at risk for a variety of serious conditions and diseases, including malnutrition, proper guidance and treatment is recommended for those in need.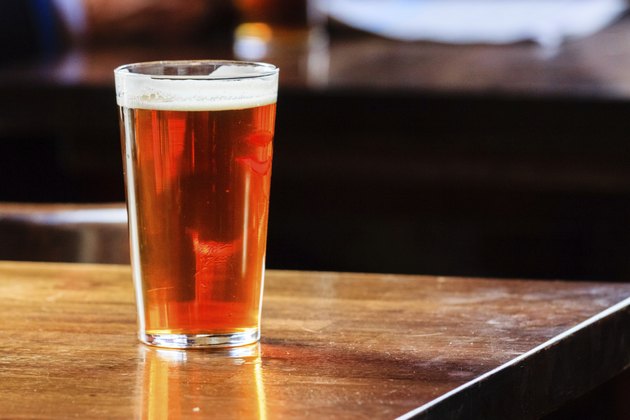 Increased Cravings for Fatty Foods
A hormone linked to increased hunger, particularly hunger for high-fat foods, has been linked to cravings for alcohol. According to Medical News Today, a study conducted at Princeton University in 2004 showed that the hunger-increasing hormone, known as gelanin, is produced when alcohol is consumed. Thus, a person consuming vast amounts of alcohol will produce greater amounts of the hormone. Though the effect increased gelanin has on appetite and eating behaviors varies amongst individuals, the chances that an alcoholic's desire for high-fat foods will increase runs high.
Inability to Assess Appetite
Alcoholism can lead one to disconnect from his hunger or desire for food. According to the American Association of Family Physicians, research conducted by the National Institute on Alcohol Abuse and Alcoholism and U.S. Department of Agriculture in 2000 indicates that those who over consume alcohol display poor eating habits while drinking. Such individuals are more likely to overeat and to consume fewer healthy foods, such as whole grains, fruits, vegetables or lean protein sources. Poorest eating habits and food choices were displayed by those who drank the most volume of alcohol. When one is intoxicated, assessing one's appetite and making healthy food choices is dampened.
Loss of Appetite
Loss of appetite is frequent amongst individuals with alcoholism. According to a report published in the American Journal of Clinical Nutrition in February of 2010, alcoholism can lead to malnutrition and low-body weight, due to the fact that those with the disease neglect to eat and often consume fewer calories than necessary to maintain proper weight. Those who consume adequate calories in the form of alcohol and/or food may maintain proper weight, but often lack a variety of vital nutrients, a precursor to malnutrition. The study also indicates that fatty liver disease, which occurs frequently in affiliation with alcoholism, has a negative impact on nutritional wellness. For this reason, decreased or loss of appetite can exacerbate wellness and increase risk for nutrient-related illnesses in those suffering from alcoholism.
Is This an Emergency?
If you are experiencing serious medical symptoms, seek emergency treatment immediately.