The taste of sardines isn't for everyone, but if you enjoy seafood and don't mind the strong, fishy flavor of sardines, you might find yourself opening a can. Sardines are part of the herring family and, for North American consumers, are caught in the North Atlantic Ocean. The sardines are then typically packed in oil and canned, ready to add flavor and a variety of nutrients to your diet. Because of the canning process, they're oilier than fresh sardines and supply more fat grams.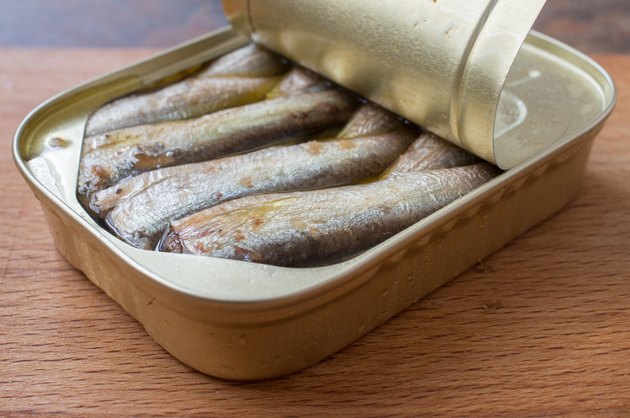 High Protein, Low Carbs
A 3.75-ounce can of drained sardines has 191 calories, according to the U.S. Department of Agriculture National Nutrient Database. This amount of sardines also has 22.7 grams of protein and 10.5 grams of total fat. Canned sardines aren't a source of carbohydrates, dietary fiber or sugar. The fish's protein value is notable; women should get 46 grams of protein daily and men should get 56 grams per day. Although it's unlikely you'd eat an entire can of sardines, even a small amount helps you meet your protein recommendation.
A Source of Calcium and Iron
A can of sardines provides a significant boost of minerals. Per can, sardines contain 351 milligrams of calcium and 2.7 milligrams of iron. Adults between the ages of 19 and 50 should have 1,000 milligrams of calcium per day, while men and women of the same ages should have 8 milligrams and 18 milligrams of iron, respectively, per day. Adequate calcium consumption improves bone health. Getting enough iron is especially important for women; during menstruation, women can experience iron deficiency.
Keep an Eye on Your Sodium
If you frequently make sardines a part of your diet, be mindful of the sodium level per can. A can of sardines has 282 milligrams of sodium. While this amount of sodium isn't particularly alarming, monitoring your sodium intake helps you limit your risk of health issues such as high blood pressure. An adult's daily sodium consumption shouldn't exceed 1,500 milligrams, warns the American Heart Association.
Sardines Improve Your Heart Health
Seafood is often a valuable source of essential fatty acids, and sardines are no different. A can of sardines has 3.6 grams of total monounsaturated fatty acids and 4.7 grams of total polyunsaturated fatty acids. The American Heart Association suggests adding fatty fish, such as those from the herring family, to your diet at least twice a week. Regular consumption of essential fatty acids can improve the health of your heart.