Autism, according to the Autism Society of America, is one of the five pervasive developmental disorder (PDDs). These neurological disorders cause severe impairment in several areas of development. Considered one of the most common PDDs, autism occurs in approximately one out of every 100 births. Recognizing its symptoms early can have a significant effect on a child's treatment success.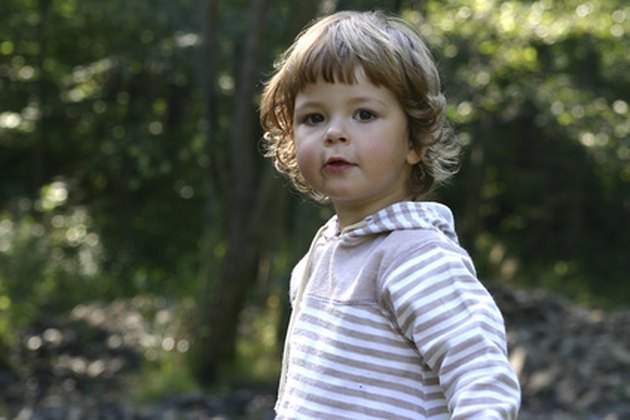 Social Effects
Healthy Children states that by 4 years, a child has a desire to play and please her friends. However a child with autism has an obvious lack of interest in those around her and has a difficult time making new friends and engaging in conversation.
While most children at this age like to sing or dance in front of others for the attention and praise, those with autism appear to be in their own world, not wanting the attention from others. An autistic 4-year-old has a difficult time showing or understanding emotion, often resisting when you attempt to hold or hug her. She does not make eye contact with you when you speak to her and, according to the Mayo Clinic, will not respond when you call her name.
Effects on Communication
It is common for children with autism to have begun learning words, or to have begun speaking, only to suddenly stop one day. Healthy Children states that by the age of 4, your child should have the ability to speak sentences containing more than five words. However, if he is displaying the symptoms of autism, his speech will be delayed or completely absent. When he does speak, you may notice him repeating words or phrases exactly as they are heard, but he will have no understanding of how to use them correctly.
While a typical 4-year-old can tell or recall parts of a story, a child with autism is unable to begin a conversation or keep one going. The Mayo Clinic states that he may also speak abnormally, using an unusual tone or rhythm, sounding robotic.
Behavioral Symptoms
Repetitive behavior is common among autistic children and includes body movements such as rocking or hand-flapping. An autistic child may also pick one toy that she likes the most, rather than playing with a number of toys at once, as most children do. She will generally be fascinated by this object, becoming so fixated by it that it keeps her occupied for hours. For instance, if she enjoys baby dolls, she may take all of her baby dolls and line them up perfectly on the couch. However, if someone moves one of them just a little bit, she may become inconsolable and begin screaming.
Routines are another sign of autism. You may find that your child becomes upset beyond relief if take a different route to the park or give her something different for breakfast one morning. This is because she understands nothing else in the world around her, and her routines provide her with a sense of security. If these routines change, she may become disturbed and begin rocking in place, screaming or humming.