The freezer is a great way to extend bread's shelf life so that, when thawed, it tastes like it came fresh out of the oven. Whether rolls or sliced, sourdough or bagels, there's a place in the freezer for your favorite loaf.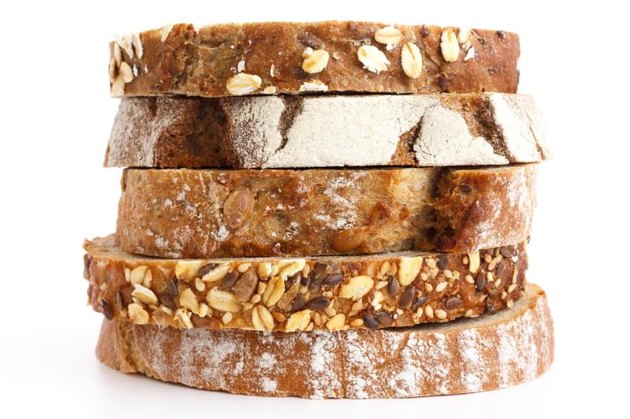 Before Freezing
When it comes to storing bread, not all loaves are created equal. Bread created from straight dough doesn't last as long as that made from enriched dough, prefermented dough or sourdough, explains Matt Pellegrini, author of "The Art of Baking Bread: What You Really Need to Know to Make Great Bread." The fat content and prefermentation of the latter act as natural preservatives, extending their freezer shelf life. So before freezing your bread, consider the type of bread and how long it's projected to last.
Temperature and humidity also impact a loaf's life. Ensure bread is well wrapped before storing it in the freezer to retain moisture, recommends baker David Norman, head doughpuncher at Easy Tiger Bake Shop in Austin, Texas. When you're ready to freeze your loaf, remove it from the paper bag (if it came in one), double bag it in plastic bags, and then freeze it.
Defrosting Methods
When the time comes to defrost bread, there are multiple ways you can go about it:
1. Defrost it at room temperature. For a loaf, let it stand for 4–5 hours at room temperature until it thaws completely. Norman recommends thawing the bread wrapped and then removing the wrapping: "This will allow the loaf to reabsorb any of the moisture that's migrated out to the wrapping." Individual slices of bread defrost in under 10 minutes at room temperature and take slightly longer to defrost in the refrigerator.
2. Heat the bread in the oven. Pre-heat the oven to 350 degrees, remove a loaf of bread from any wrapping and heat it for approximately 30–40 minutes. Individual slices naturally take less time to defrost in the oven. After a couple of minutes, check the progress of the thaw and turn slices over if needed.
3. Toast sliced frozen bread in the toaster for a quick thaw. Some toasters even come with a defrost option.
4. Microwave frozen bread. The amount of time you want to microwave it depends on the size of the loaf. Dinner rolls and small baguettes can be defrosted in approximately 2 minutes, whereas large baguettes can take twice the amount of time to defrost. Individual slices can overheat quickly in a microwave and turn hard – 10 seconds should be enough.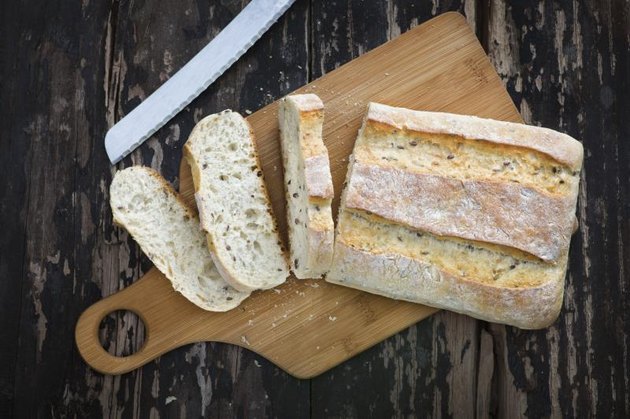 Breaking Bread
Once you have defrosted your bread, try to eat it within an hour or two after thawing. Norman explains that changes in the alignment of the starch molecules cause bread to go stale: "These molecules change most rapidly at just above freezing temperature, so when you reheat bread, it changes the starch molecules back."
As a result, bread that has been frozen will go stale more quickly after being thawed.
Defrosting Dough
Bread and pizza dough can also be frozen after it has risen to be defrosted later, according to Nigella.com, official site for author and TV cooking expert Nigella Lawson. The best time to freeze dough is after it has risen once and been knocked back/punched down and shaped into loaves or rolls.
"To thaw the dough put rolls on a lightly greased baking sheet or loaves into their loaf tins - which should also be greased. Cover with oiled clingfilm (plastic wrap) or a damp tea towel and leave in a warm place to thaw and rise - the time for this will vary depending on the side of the roll/loaf and the temperature of the room," according to the site.
Pizza dough should be divided into baking portions and frozen in balls that can later be defrosted in the refrigerator overnight or at room temperature over 2-3 hours, then rolled out and prepared with toppings for baking.