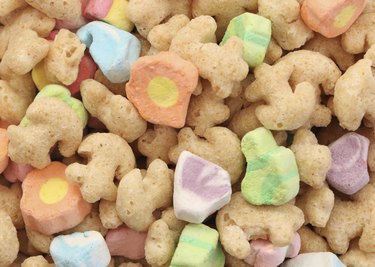 It's important to know which cereals contain pork derivatives if you're a strict vegetarian or if you do not eat pork for religious reasons. Although it might seem surprising, some cereals contain traces of pork in the form of gelatin made from bones, cartilage, tendons and skin, as explained by CyberParent.com. Marshmallows are usually the culprit, and rarely, frosted cereals are a problem as well.
Kellogg's Cereals
A few cereals from Kellogg's contain marshmallows made from pork gelatin. These include Fruity Marshmallow Krispies, Marshmallow Froot Loops, Smorz Cereal and any other Kellogg's cereals containing any marshmallow product. Rice Krispies Treat Krunch cereal and Rice Krispies Treats Squares also contain pork-related gelatin, as do Special K Protein Snack bars.
General Mills and Malt-O-Meal Cereals
Some General Mills and Malt-O-Meal cereals also must be avoided if you do not want to consume any pork. They include all Lucky Charms cereals (General Mills): the original version of Chocolate Lucky Charms and any special holiday versions of the cereal. The Malt-O-Meal cereals Marshmallow Mateys, and Frosted Mini Spooners also contain pork.
Millville and Ralston Cereals
Any Aldi's cereals supplied by Millville that contain gelatin or marshmallows include pork, according to Israel of God Research Committee. Frosted Shredded Wheat from Ralston Foods also must be avoided, as well as Millville Marshmallows & Stars.