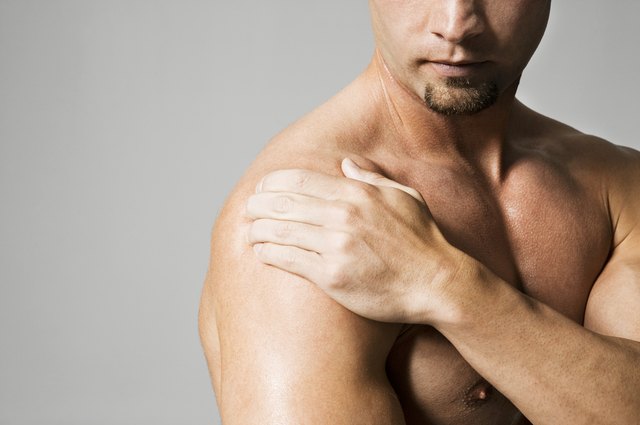 Since there is no guaranteed way to eliminate muscle soreness after lifting weights, the best approach is a preventive plan. While it is common to expect some muscle soreness after lifting weights, you can reduce the occurrence by adjusting your lifting routine. If your pre-planning doesn't do the trick, you have options to lessen your muscle soreness and speed your recovery. Soon, your soreness won't interfere with your next workout, thus bringing you closer to reaching your fitness goals.
Step 1
Warm up completely before you begin your weight lifting session to prepare your muscles and lessen post-workout soreness. Spend five to 10 minutes doing full-body movements such as walking, stair climbing or jumping rope to increase circulation.
Step 2
Use a lighter amount of resistance if you repeatedly experience uncomfortable muscle soreness. Decrease the weight slightly and perform your usual number of repetitions to see if it reduces your soreness after a workout.
Step 3
Reduce the eccentric portion of the strength training move. Lower the weights to a count of two instead of a slower count of three or four to reduce muscle soreness.
Step 4
Increase the amount of rest in between sets. Rest for one to two minutes between each set instead of 30 to 60 seconds, or increase the rest time between three and four minutes to allow for greater muscle recovery and a lesser chance of discomfort.
Step 5
Increase the amount of recovery time in between each workout. Wait at least 42 to 78 hours before you lift weights again to allow enough time for muscle recovery and to prevent muscle soreness.
Step 6
Stretch the muscles that you have trained to diminish your chances of being sore. Include stretches for your major muscle groups such as your chest, back, shoulders, arms, hips and legs.
Step 7
Avoid activities that increase the pain during your rest days. Walk to increase the blood flow to your muscles, but avoid any strenuous activities such as sport play or running long-distance.
Step 8
Increase your intake of antioxidants such as Vitamins C and E to speed cell recovery. Speak with your doctor about the correct dosage; an increase of antioxidants can minimize your muscle soreness.
Step 9
Get a massage, which may reduce your muscle soreness and increase your relaxation response.
Step 10
Soak in an epsom salt bath for temporary relief of your muscle soreness.
Step 11
Apply topical pain-relieving ointments that contain aspirin, once you have clearance from your physician, to alleviate your muscle soreness.
Things You'll Need
Epsom salt

Muscle-relief ointments
Warning
Speak with your physician if your muscle soreness lasts longer than a week or interferes with your work and sleep.