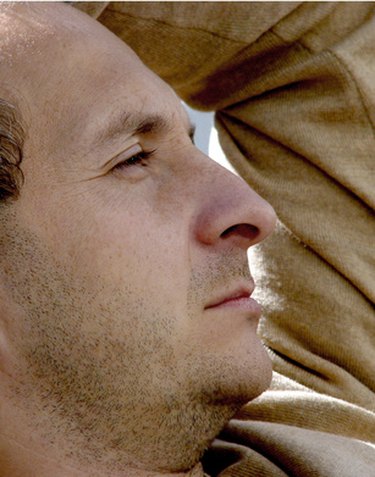 A receding hairline can occur for a number of reasons, including anything from stress to illness to male pattern baldness. The latter is one of the more common reasons, and for the most part, occurs due to heredity. While your hairline will still recede, there are some things you can do to reverse the damage and to fill in the areas where your hair has fallen out, such as using topical treatments or having surgery.
Step 1
Apply minoxidil to your scalp. Also known as Rogaine, this treatment helps stimulate hair growth and reverse a receding hairline. The treatment usually must be applied twice a day and massaged thoroughly into the scalp.
Step 2
Visit your doctor and obtain a prescription for a drug called Propecia. This drug lowers the amount of a certain hormone called DHT in your body, which can help to reverse hair loss. This oral drug is taken once a day and requires a few weeks before displaying results.
Step 3
Have hair transplanted onto your hairline. If topical creams and drugs don't encourage your hair to grow back, hair from the back of your scalp can be transplanted onto the top of your head.
Once this hair takes root, it will grow just like the rest of your hair, though the use of a topical like minoxidil is still recommended to prevent future hair loss.