The body mass index uses your height and weight to estimate the level of fatness in your body. For much of the population, it's a fair enough gauge as well as simple to apply and noninvasive to perform. A BMI higher than 25 indicates that you're overweight, and when it's over 30, it indicates obesity. This helps doctors quickly evaluate whether a patient is at increased risk of diseases such as cardiovascular disease, hypertension, type 2 diabetes and certain cancers. Although BMI can be helpful in a clinical setting, it's not infallible and can over- or underestimate fatness in some people.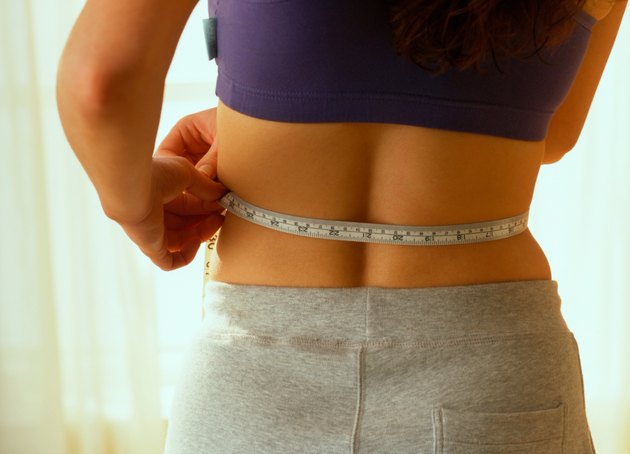 BMI Doesn't Account for Muscle
If you're especially lean, such as a body builder, you may weigh more for your height than usual, because muscle tissue is denser than fat. The BMI computation will then show you as falling into a range of overweight, or even obese. You, however, do not have an unhealthily fat body composition and are probably not at increased risk of chronic disease related to an unhealthy weight.
In most cases, it'll be obvious to your doctor, and you, that the BMI categorization is inappropriate for you if you're muscular and fit.
BMI Misses Normal Weight Obesity
BMI doesn't really measure body fat. Some people who present with a normal weight for their height carry way too much body fat, classified as 30 percent or more for women and 20 percent or more for men, putting them in the category of normal weight obesity.
These people may appear thin, but they are vulnerable to some of the same medical risks that present in people who are clearly overweight, including type 2 diabetes and heart disease. A doctor may not even screen these people for possible health conditions and miss treatment until they've advanced to a serious level.
BMI Doesn't Discriminate Between Types of Fat
A person whose BMI is high, but who carries a fair amount of subcutaneous fat in the hips and rear, may not be at as serious of a health risk as a person who has the same BMI but stores most of the fat in the belly.
An abdominal circumference of 35 inches or greater in women and 40 inches or more in men indicates a serious health concern. Deep-belly fat is inflammatory, releasing compounds into the body that trigger disease. Subcutaneous fat -- the pinchable kind under your skin -- is less of a concern since it's not associated as readily with serious disease. Classifying everyone with a BMI above 30 as being at an increased risk can waste resources and unnecessarily alarm people who are otherwise healthy.
BMI Is Sometimes Unresponsive
Even if you make changes to your exercise routine and switch to a healthier diet with better quality of calories, you may not lose weight -- especially if you don't notably reduce your caloric intake. Your physical activity levels and whole food choices mean you are healthier, but unless you drop weight, BMI won't reflect that.
As pointed out by Dr. Peter Janiszewski in Obesity Research in 2012, increased physical activity associates with reductions in heart disease and mortality related to the condition, regardless of a person's size. A person who's added exercise may lose fat and gain muscle, so the net change in gross weight is the same -- but the body composition is much healthier. But, BMI won't account for this. Exercise can help reduce belly fat by 10 to 20 percent without a notable change in weight, so a person -- especially one who is getting close to her goal weight -- may be getting healthier but her BMI doesn't show it. This can make a person feel as if the efforts to eat better and move more are not bringing results. If this describes your situation, don't get frustrated and resort to old, unhealthy patterns. By losing fat and adding muscle to your frame, you're improving your overall health regardless of whether your BMI is a bit high.