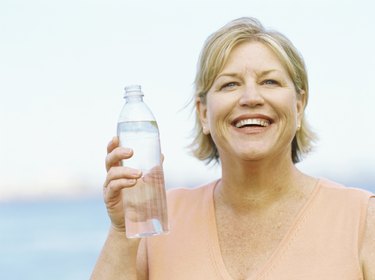 The Arbonne 7 Day Body Cleanse Dietary Supplement is a detox program offered through the Arbonne beauty supply company. Ingredients found in the supplement include blue algae, red marine algae, chlorella, aloe and rhubarb. According to the manufacturer, detoxification allows you to get rid of toxins that could be causing medical problems, such as fatigue, stomach upset, and stress. Speak to your doctor before you start a detox program.
Step 1
Order the Arbonne 7 Day Body Cleanse from an Arbonne consultant. Arbonne does not sell its products in stores. If you don't know of a seller in your area, put your ZIP code in the Arbonne website to receive contact information for a local representative. The supplement comes in a single set with seven individually packaged doses.
Step 2
Take one vial of the supplement and blend it well with 32 ounces of cold water. Sip the concoction over the course of the day. Shake the bottle before each sip that you take. A 1 liter bottle may be a good idea to use in order to have the ability to carry the drink with you all day.
Step 3
Repeat usage for seven consecutive days. You should stop after the seven days and wait at least one month before using the product again.
Step 4
Follow a diet made up of mostly fruits and vegetables. Alcohol, caffeine, processed foods, fried meals, and sugary treats are not recommended during the detox. A minimum of eight glasses of water should be consumed daily.
Step 5
Exercise a minimum of 30 minutes per day. The manufacturer recommends 30 minutes daily of cardio activity such as running, cycling, swimming, tennis, or brisk walking.
Tip
Remember to stay close to the bathroom. When you consume Arbonne 7 Day Body Cleanse supplement, you are likely to have a large number of bowel movements. Therefore, it is not a good idea to plan a road trip while on the cleanse.
Keep in mind that none of the claims made regarding the product have been evaluated by the FDA.