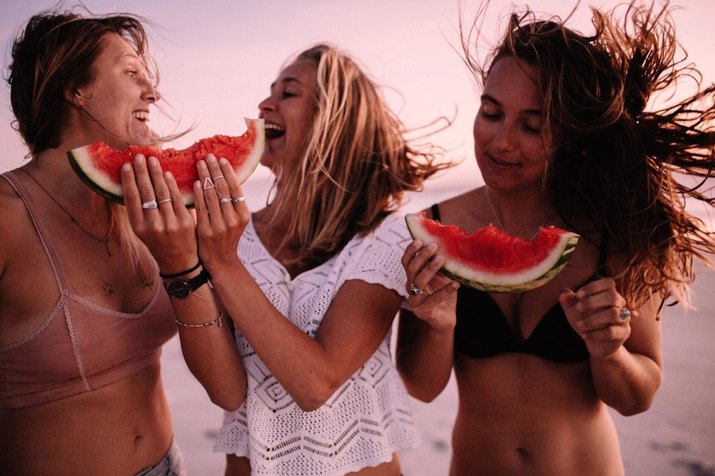 1 of 22
Summer! Barbecues, beaches, ballparks and vacations. Since we're on the move even more during summer months, snacking can often take the place of real meals. The problem is, many typical snack foods -- candy, sodas and chips -- lack the vitamins, minerals, fiber and protein of a well-rounded meal. To help you improve your summer snacking habits, we found some healthy snacks and quick on-the-go meals that deliver solid nutrition with each bite. Read on for 20 better-for-you alternatives to chips and dip, energy bars, ice cream sandwiches and more.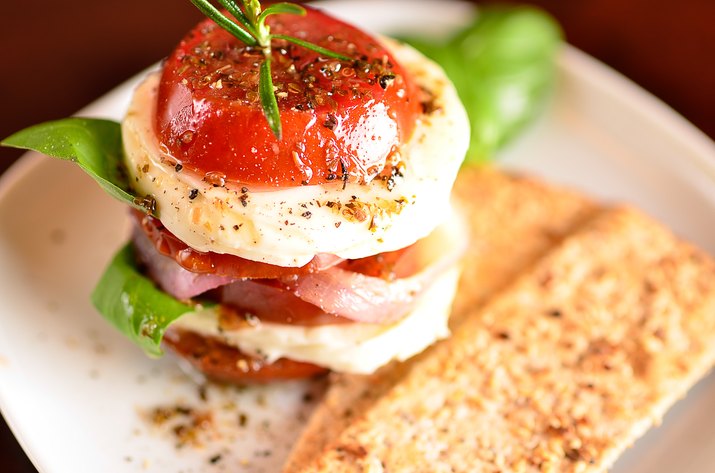 2 of 22
Tomatoes are in season during the summer, so they're at their best flavor-wise. Here's a great snack that you can make in minutes: Slice one heirloom tomato, and top each slice with a small piece of fresh mozzarella cheese and fresh basil leaves; drizzle with 1 teaspoon of olive oil and balsamic vinegar, and add salt and pepper to taste. Tomatoes are nutritional all-stars providing vitamin C, potassium and the antioxidant lycopene. Simple, healthy and 150 calories.
Read more: 16 Snacks That Are OK to Eat at Night
Image Credit:

Wislia/iStock/Getty Images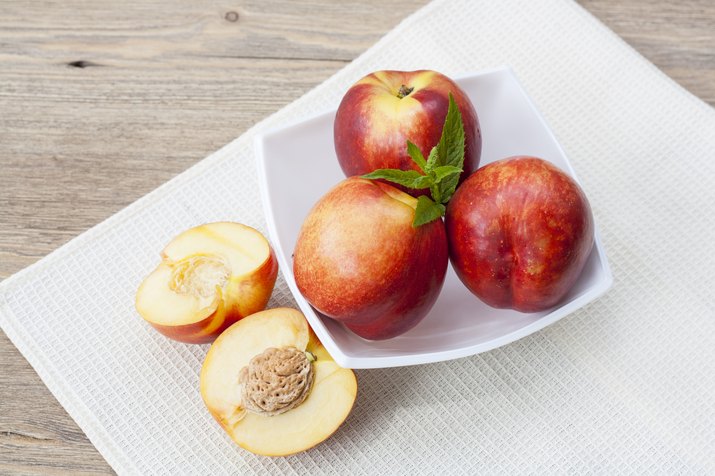 3 of 22
There's nothing more refreshing than biting into juicy fresh fruit in the summer. Whether it's strawberries, cherries, figs, stone fruit (like peaches and plums) or watermelon, now's the time to enjoy in-season fruit. Nutritionally, you can't go wrong. A single serving (approximately 1 cup) has about 60 to 90 calories and is packed with essential nutrients like vitamins A and C, folate, potassium, fiber and antioxidants. Stock up on your favorites, and enjoy them as snacks during the day. The more variety in the color of the choices you make, the better, because that means you're getting a wider variety of antioxidants. Strive to get at least two servings of fruit every day.
Image Credit:

ArtSvitlyna/iStock/Getty Images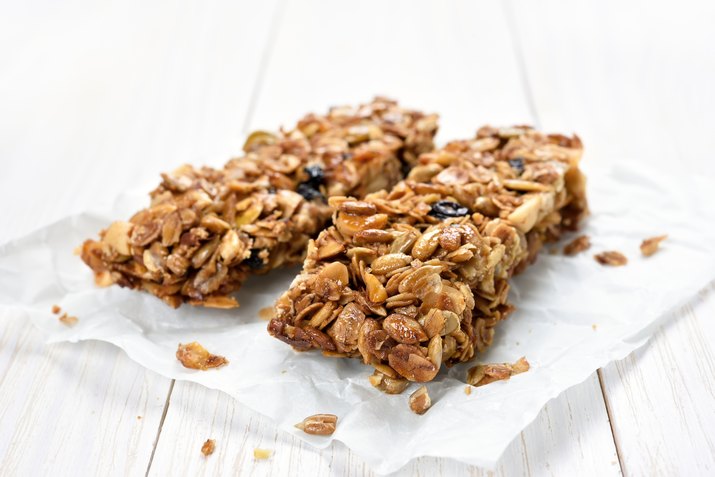 4 of 22
3. More Wholesome "Energy" Bars
Energy or sports bars are generally loaded with sugars because they were designed for endurance athletes who need a fast-acting, steady supply of carbs to fuel them during hard, long workouts. If you want a healthy snack that picks you up but provides more lasting energy, choose one with fewer carbs and more slow-to-digest protein and fat. Luckily, there are many newer, more natural bars that are made with nuts, seeds and dried fruit as compared to the overly processed original bars. Some of the better natural energy bars with healthful ingredients include: LaraBar, Kind Bars, ProBar, Gnu Foods, Figamagigs, Clif Mojo and PowerBar Nut Naturals. You can find most of them at your local supermarket or health food store.
Image Credit:

Tatiana Volgutova/iStock/Getty Images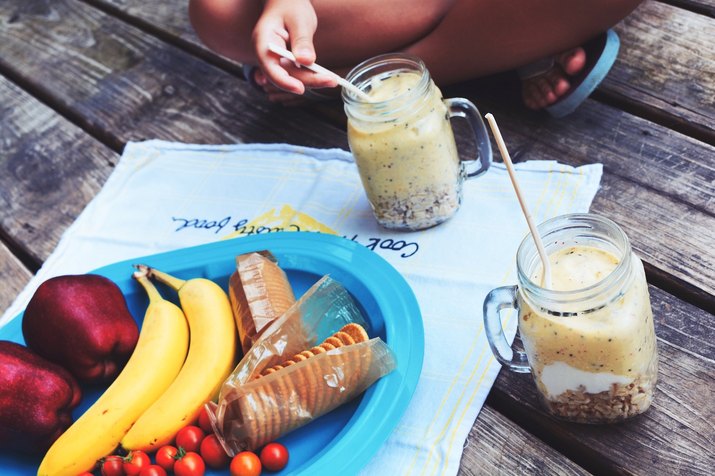 5 of 22
4. Frozen Banana Smoothies
When you have bananas that are too brown to eat, throw them in the freezer to use as a base of refreshing smoothies. Put all ingredients in blender and process until smooth. Three to try: A chocolate banana smoothie can be made by blending together one frozen banana, 1 teaspoon of vanilla extract and 2 teaspoons of chocolate syrup. Make a peanut butter banana smoothie with one frozen banana, 1/2 cup milk, 2 teaspoons of peanut butter and 2 teaspoons of honey. For a berry-banana smoothie, blend one frozen banana, 1/2 cup milk, 1/2 cup frozen berries and 2 teaspoons of honey.
Read more: 16 Surprising Facts About Bananas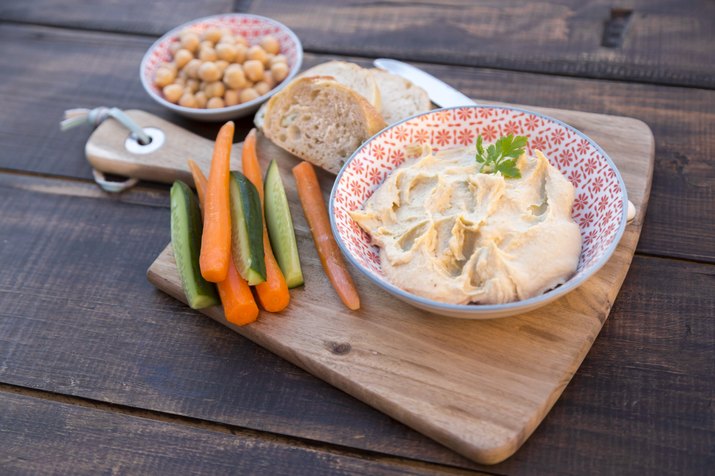 6 of 22
5. Hummus and Fresh Crunchy Veggies
Chips and dips are like heat and humidity of summer: They're everywhere, and you can't seem to escape from them. Whether you're at the beach, ballpark or barbecue, chances are there will be chips and dips to snack on. Unfortunately, salty, fried chips coupled with creamy sour cream dips can be diet disasters. You can consume hundreds of calories before you even start in on your main meal! Hummus and veggies is a healthier alternative because the chickpea spread has protein and fiber and is lower in saturated fat than dairy-based dips. Two tablespoons have 2 grams of protein, 2 grams of fiber and just 70 calories. Serve with crunchy veggies such as sugar snap peas, baby carrots or bell pepper.
Image Credit:

Westend61/Westend61/Getty Images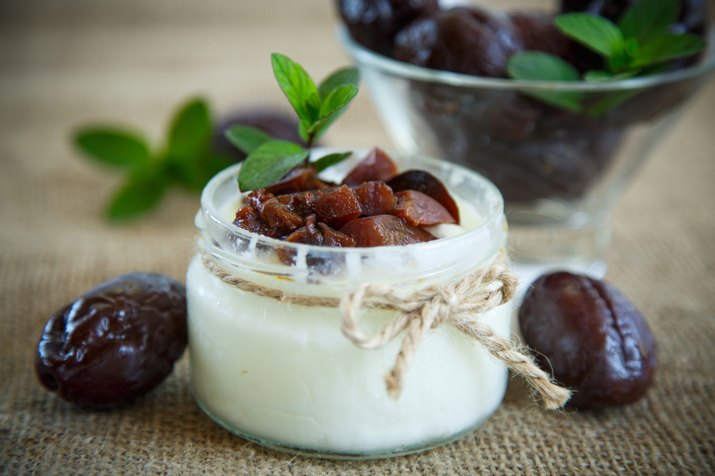 7 of 22
6. Nonfat Plain Greek Yogurt Powered with Plums
One of the most protein-packed snacks to enjoy is plain Greek yogurt with berries. A cup of Greek yogurt contains about 24 grams of filing protein -- that's equal to the protein in six medium eggs! And unlike sweetened yogurt, plain Greek yogurt doesn't contain any added sugars. Flavored yogurts often have 5 or more teaspoons of added sugars per serving. To add some natural sweetness and fiber to Greek yogurt, mix in 1/4 cup of dried fruit such as dried prunes. They have significantly less sugar, more fiber and fewer calories compared to most other dried fruit. Dark blue-purple fruit (like blueberries and figs) are considered some of the healthiest, because they provide beneficial phytonutrients that may help reduce the risk of chronic diseases.
Image Credit:

peredniankina/iStock/Getty Images
8 of 22
7. Make-Your-Own Kale Chips
Kale is considered the "queen of greens" due to its impeccable nutritional value. A single serving (about 1 ½ cups chopped raw kale) has about 50 calories, 4 grams protein, 9 grams carbs and more potassium than a banana. It's also an excellent source of vitamin C, vitamin K, and the eye-protective antioxidants lutein and zeaxanthin. One of the best ways to enjoy kale is by making kale chips to replace your fried potato or tortilla chips. Here's how: Rinse and dry one bunch of kale. Remove and discard the thick stems and tear the leaves into pieces. Spread the leaves on a cookie sheet (single layer), and spray with an olive oil mister. Bake at 350 degrees for 12 to 15 minutes until the chips are crisp but have not turned brown.
Read more: Meet the Women Who Are Changing Health and Wellness
Image Credit:

Brent Hofacker/Adobe Stock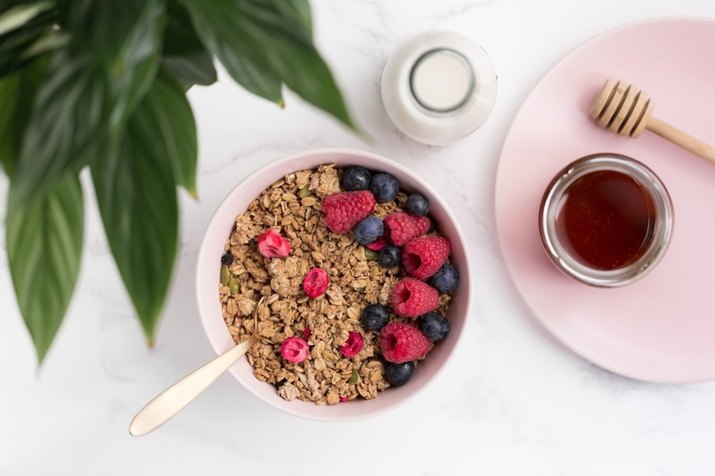 9 of 22
8. Bake a Batch of Wholesome Granola
Store-bought granola can be loaded with added sugars, so make your own to avoid the huge sugar load. How to make it: Combine 4 cups raw oats with 1/2 cup unsweetened coconut flakes, 1/2 cup chopped or sliced almonds, 1 teaspoon cinnamon and 1/2 teaspoon nutmeg. In a small bowl, mix together 1/2 cup warm water with 1 teaspoon vanilla extract and 1/2 cup honey or agave. Pour the liquid over the oat mixture and combine. Spread onto two lightly oiled cookie sheets, and bake at 300 degrees for about 30 minutes, stirring every 10 minutes. Remove from oven and stir in 1 to 2 cups of your favorite chopped dried fruit (such as cherries, raisins, dates or prunes). Voila! Store your granola in an airtight container in the refrigerator for up to a month.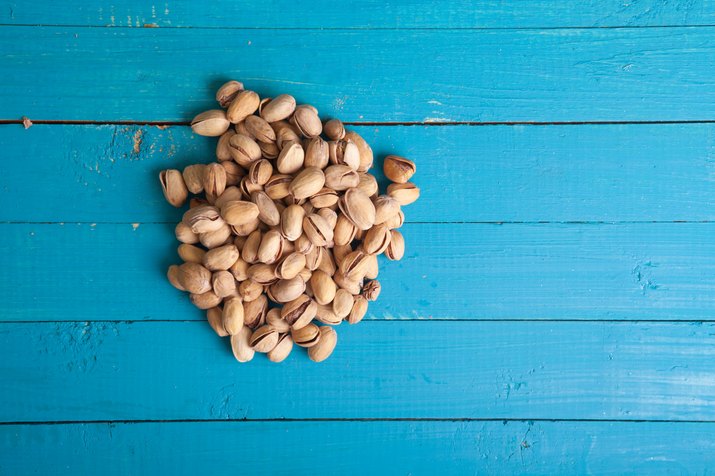 10 of 22
In-shell pistachios are a great summertime snack. They're a good source of protein (6 grams per serving), but unlike many other proteins, they require no refrigeration so they travel well. They also have 3 grams fiber per serving. Their combination of protein and fiber may help keep you fuller longer. At about 49 nuts per 1-ounce serving, you can enjoy more nuts per serving with pistachios compared to other nuts. And because you have to take the nut out of the shell, you'll eat them slower. In fact, studies show that the shells make a single serving size of pistachios look larger, and your empty shells serve as a visual cue to remind you how much you've eaten.
Image Credit:

toomler/iStock/Getty Images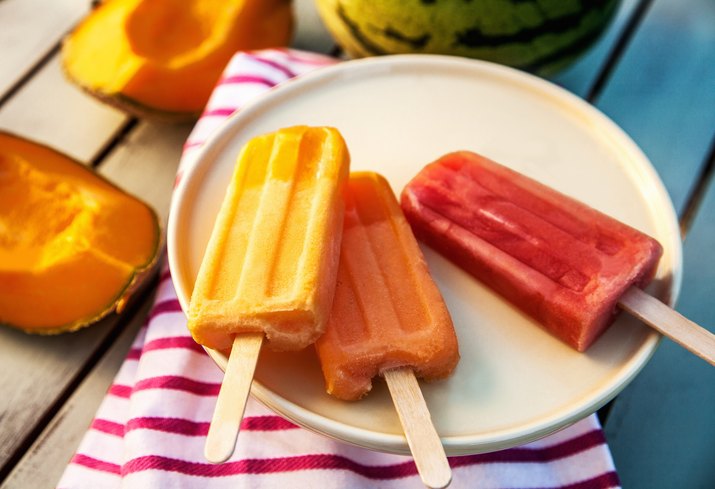 11 of 22
10. Fabulous Frozen Fruit Bars
Fruit bars are refreshing fat-free treats that are generally always lower in calories compared to dairy-based frozen desserts. Be sure to look at the labels, and choose a bar with under 100 calories and made with 100 percent fruit juice or real fruit. Smart snack options: Dreyer's Outshine Fruit Bars, all of which are made from fruit juice. These are an excellent source of vitamin C and contain just 60 to 80 calories, depending on the flavor. Coconut Waters bars, Trader Joe's Fruit Floes and Whole Foods Markets 365 Everyday Value Frozen Fruit Bars are other good choices. You can also make your own frozen treats using a frozen popsicle mold. Be sure to use 100 percent fruit juice or fruit purees.
Read more: 15 Cold Summer Treats Under 200 Calories
Image Credit:

Marilyn Conway/Photographer's Choice/Getty Images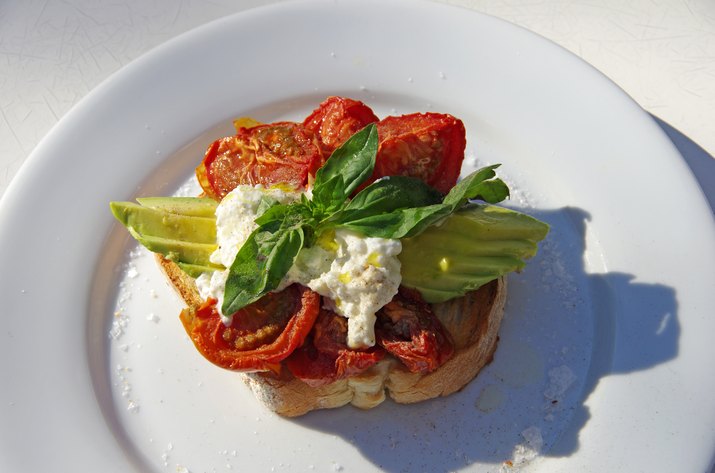 12 of 22
11. Cottage Cheese with Tomatoes
Cottage cheese has one of the best protein-to-calorie ratios of all foods. A 1/2 cup serving of lowfat cottage cheese has 15 grams of protein and about 100 calories. What's more, cottage cheese is one of the best sources of the essential amino acid leucine, which is one of the amino acids considered most important for building and maintaining lean muscle mass. That's why cottage cheese is an excellent post-workout recovery food. Add a cup of grape or cherry tomatoes, which contains about 50 calories, for added fiber. Top with chopped fresh basil and pepper -- or even a drizzle of balsamic vinegar -- for a gourmet snack.
Image Credit:

Simon McGill/Moment Open/Getty Images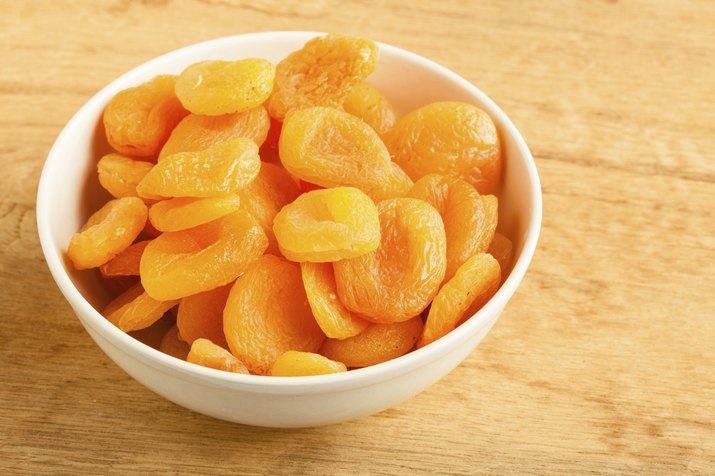 13 of 22
Dried fruit is convenient, travels well and can be a great source of quick energy that won't leave you reaching for sweets right after snacking. Opt for dried fruit such as apricots, dates, prunes or raisins when you're looking for a sweet fix. A convenient pre-packaged option that's portion-controlled is Sunsweet Ones, individually wrapped prunes. One piece contains only 25 calories and nearly a gram of fiber. Research shows that prunes are good for our bones, mostly likely due to the combination of bone-building nutrients like potassium, boron, vitamin K, copper and the fruit's antioxidants.
Image Credit:

Voyagerix/iStock/Getty Images
14 of 22
13. Apple with Natural Peanut Butter
Certain foods are just better together. That's the case for natural peanut butter and apples. Together, they pack a fiber and protein punch that can help to keep you satisfied for hours. A medium apple contains just 60 calories and is a good source of fiber (5.5 grams). Several studies show that the phytonutrients found in apple skins may help protect against certain diseases and may help speed recovery after exercise. A tablespoon of peanut butter has 30 different vitamins and minerals and 4 grams of protein in 80 calories. This is a perfect and wholesome snack under 150 calories!
Read more: 7 Healthy 3-Ingredient Snacks
15 of 22
14. String Cheese with Apple or Pear
Most people enjoy cheese with crackers, but swapping crackers for a fiber-rich piece of fresh fruit makes for a more nutritious (and even more satisfying!) snack. Here's why: A medium-sized apple or pear contains around 90 to 100 calories and 4 to 5 grams of fiber. Reduced fat or light string cheese contains just 50 to 60 calories and 6 grams of protein. Together, this combination is a great calorie bargain for the amount of fiber and protein it delivers.
Image Credit:

bhofack2/iStock/GettyImages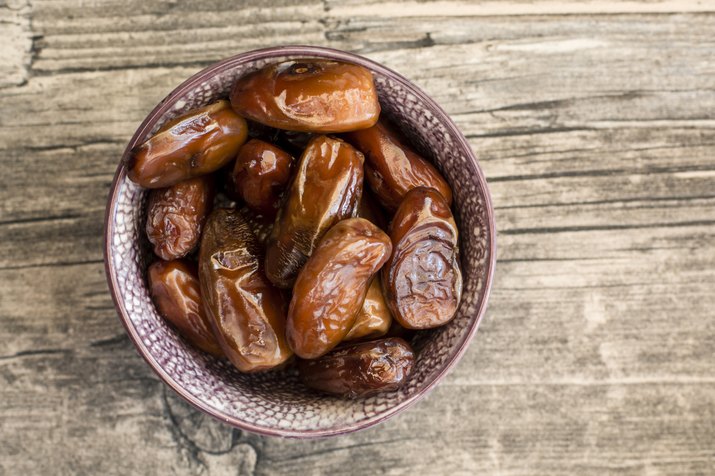 16 of 22
Medjool dates are one of nature's perfect sweets, and they should be enjoyed more than as the occasional holiday baked treat. Many natural energy bars use dates as their main ingredient, but you can easily make your own bars with Medjool dates, nuts, dried fruit and a few spices. A serving of dates (5 to 6 pieces) is 120 calories, and they're a good source of potassium, fiber and many other vitamins and minerals. Plus, dates are also antioxidant-rich so they can help reduce oxidative stress and damage from free radicals. For an on-the-go treat, check out the new Natural Delights Date Rolls, which are dates combined with almonds, pistachios and coconut. Two date rolls contain about 130 calories and 3 grams fiber.
Image Credit:

Westend61/Westend61/Getty Images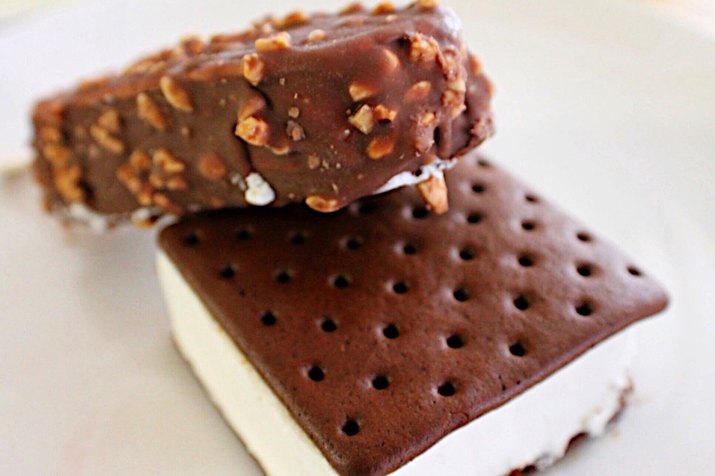 17 of 22
16. Slimmed Down Ice Cream Sandwiches
Ice cream sandwiches can bring back memories of carefree childhood summers and running to the ice cream truck. The two chocolate wafers that "sandwich" creamy vanilla ice cream make for a delicious, iconic summertime dessert. Traditional ice cream sandwiches pack in about 170 calories and 6 grams of fat, but now you can get several slimmed-down versions that taste great with fewer calories. Some tasty ones to try: Skinny Cow No Sugar Added Sandwiches weigh in at 140 calories and 4 grams of protein with 2 grams of fat. Tofutti Cuties are dairy-free and contain 130 calories, 2 grams of protein and 6 grams of fat per sandwich.
Read more: 19 Fast, Healthy Convenience Store Snacks
18 of 22
Edamame is the Japanese term for fresh, young soybeans that are usually steamed or boiled and served with salt. Edamame boast a one-two punch of protein and fiber, not to mention antioxidants and cardiovascular benefits. A cup of edamame has 190 calories, 8 grams of fiber and 17 grams of protein. One of the best parts of soy protein is that it's considered a complete protein, in that it provides all nine essential amino acids. In addition, the Food and Drug Administration states that 25 grams of soy protein, as part of a diet low in saturated fat and cholesterol, can help reduce the risk for heart disease. The antioxidants in soybeans will also help tame inflammation linked to many chronic diseases. Buy GMO free and/or organic edamame whenever possible.
Image Credit:

sommail/iStock/Getty Images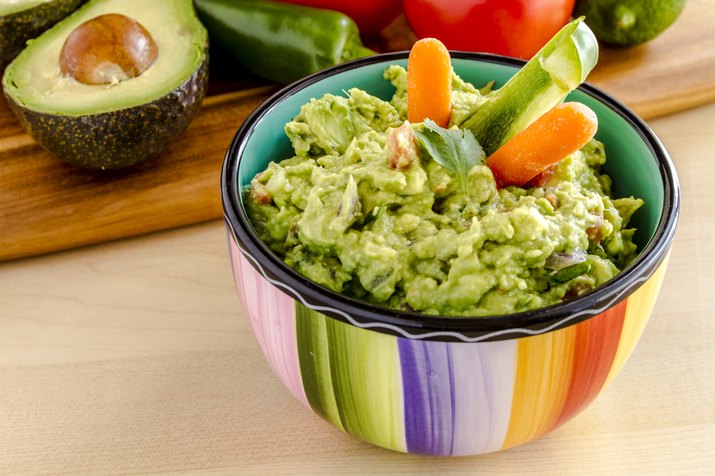 19 of 22
18. Pre-Cut Veggies with Guacamole
A cup of your favorite veggies with 1/4 cup of guacamole is a great snack that can actually boost the absorption of certain nutrients. Avocados provide more than 20 different vitamins, minerals and antioxidants. Yes, they're rich in fat, but the fat in avocados is primarily the healthy, monounsaturated fat that is good for your heart's health. When you combine avocados with veggies, such as bell peppers or carrot sticks, the fat in the avocados will help boost the absorption of the important fat-soluble antioxidants in the veggies. All this with fewer than 150 calories per serving!
Image Credit:

tvirbickis/iStock/Getty Images
20 of 22
If you think jerky is the limited same-old sticks sold at gas stations, think again! There are oodles of new jerky brands making tasty dried treats from wild-caught salmon, and organic and free-range beef, chicken and turkey. Many are available at major grocery chains. Jerky is a great snack because it delivers more protein per calorie than most other foods. Many types of jerky provide 10 or more grams of protein in less than 100 calories. Plus, jerky is portable and doesn't require refrigeration -- the perfect snack to keep in a desk drawer, gym bag or carry-on luggage. Some brands worth trying: Krave, Field Trip and Oberto.
Image Credit:

Jiri Hera/Adobe Stock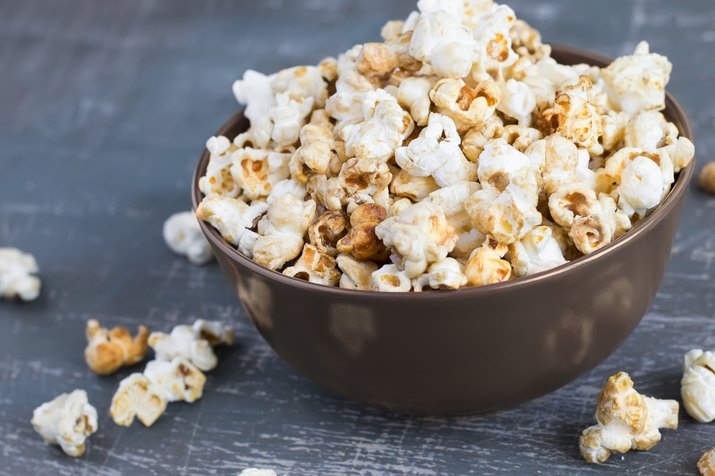 21 of 22
The sheer volume of air-popped corn will help keep you satisfied. Popcorn is 100 percent whole grain, and provides protein, fiber and antioxidants. A study presented at the American Chemical Society's annual meeting revealed that some beneficial antioxidant polyphenols were even more concentrated in popcorn than in fruits and vegetables. The polyphenols are concentrated in the hulls of the popcorn -- the pesky part that often gets stuck in your teeth. A 3-cup serving of plain, air-popped popcorn contains 100 calories, 3 grams of filling fiber and nearly 3 grams of protein. Top with garlic powder, cinnamon, basil or oregano for flavor.
Image Credit:

colnihko/iStock/Getty Images
22 of 22
Do you have a favorite seasonal snack? What's your go-to healthy food when you're camping, hiking or road tripping? Share your favorite mini-meal or snack recipe in the comments below. We love trying your ideas!
Read more: 10 Convenient Low-Carb Snacks
Image Credit:

sarsmis/Adobe Stock
---