Runners are a unique part of the population — they wake up at the crack of dawn, often train in bad weather and sign themselves up to suffer through races of all lengths, including ultramarathons. But there are races all over the U.S. that offer experiences that have to be seen to be believed!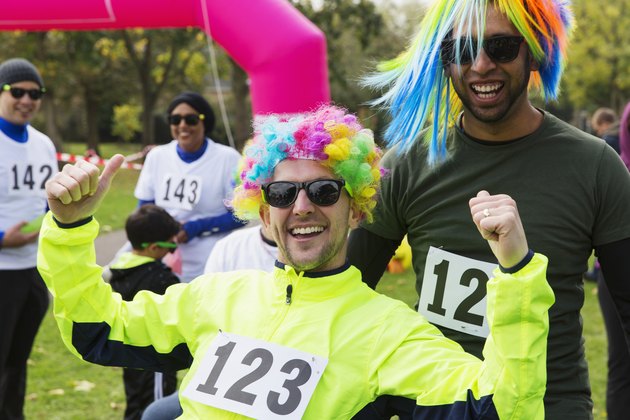 From famed locales to events that will impress even the most finicky foodie, there's truly something for everyone. Read on to see 12 unique races and get tips to start planning and training for your next adventure!
1. Cupid's Undie Run (February)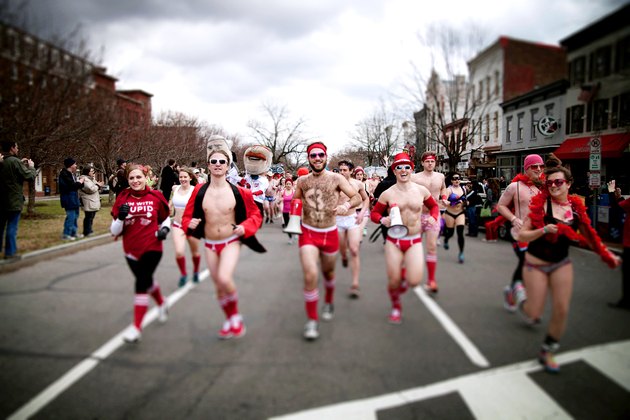 In more than 35 cities in the U.S., runners celebrate their love of running during the month of love — in nothing but their underwear! Cupid's Undie Run is a fundraiser for the Children's Tumor Foundation and has helped to raise more than $16 million for the organization. With fundraising incentives such as V.I.P. open-bar access at the post-race party, running roughly one mile in your "bedroom best" will be an experience like never before.
"We created Cupid's Undie Run with the sole intent of having a fundraiser that made a bigger splash in the bucket than the other options out there," says Bobby Gill, co-founder and COO of Cupid's Undie Run. "With millions in donations to CTF raised every year, we've been successful beyond our wildest dreams. Plus, we've somehow managed to create the biggest party the charity world has ever seen. Bonus!"
2. The Great American Bacon Race (January)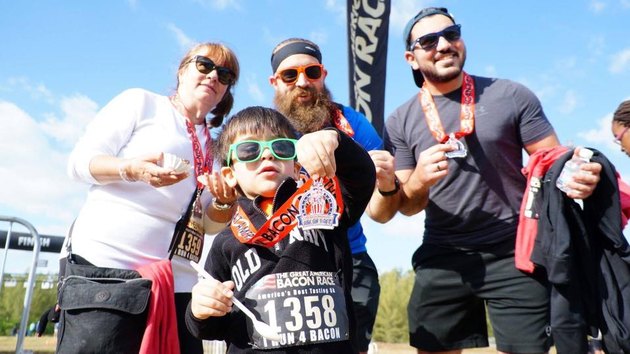 You may not think that running and bacon go hand-in-hand, but thanks to The Great American Bacon Race in Orlando and Miami, you'd be wrong about that! Runners have the option to run the event competitively timed or as a fun run. No matter what you choose, there'll be plenty of bacon waiting for you at the finish line festivities.
Get the whole family involved thanks to the 1K Kids Bacon Dash or show your speed and try to win a Golden Pig age group award. Who knows? The smell of bacon in the air may even help you reach the finish line faster.
3. Krispy Kreme Challenge (February)
4. Bay to Breakers (May)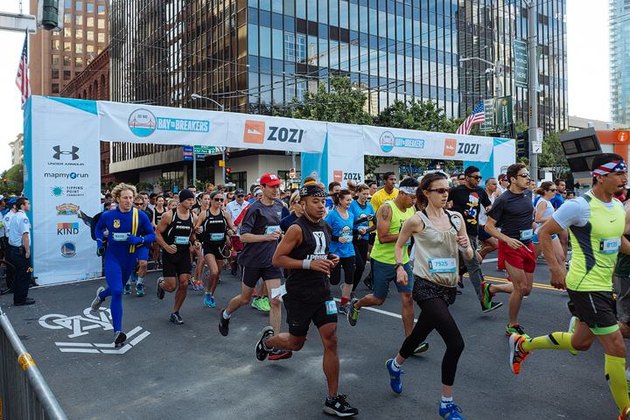 As "the oldest consecutively run annual footrace in the world," Bay to Breakers is a must-run for any level of runner. Since 1912, runners have hit the streets of San Francisco to celebrate the unique and vibrant culture of the city. In 1986, the race earned a spot in the Guinness Book of World Records as the largest footrace in the world, with 110,000 participants.
Now the event sees more than 40,000 participants and 100,000 spectators filling the streets of the City by the Bay. This 12K starts at the San Francisco Bay near the Embarcadero and ends at the Great Highway, where costumed participants are met by excited crowds at the Finish Line Festival. Whether you run, walk or just watch, this is certainly an adventurous race you won't forget.
5. Carlsbad 5000 (April)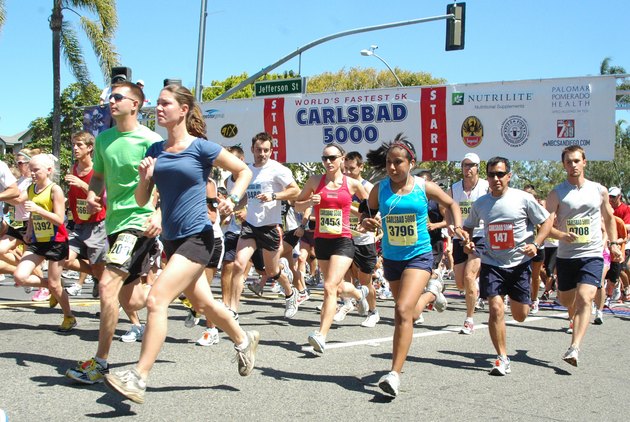 If you're looking for a 5K that sees professional and amateur runners racing side-by-side, the Carlsbad 5000 is for you. Known as the "World's Fastest 5K," the race is actually owned by a team of runners that includes U.S Olympian Meb Keflezighi.
This 5K in Carlsbad is home to both the men's and women's World 5K road records (set in 2006 and 2000, respectively). Runners love the course for both its speed and sweeping ocean views, and if you're looking to see how you stack up against the competition, this is a great place to do it.
6. Hood to Coast Relay (August)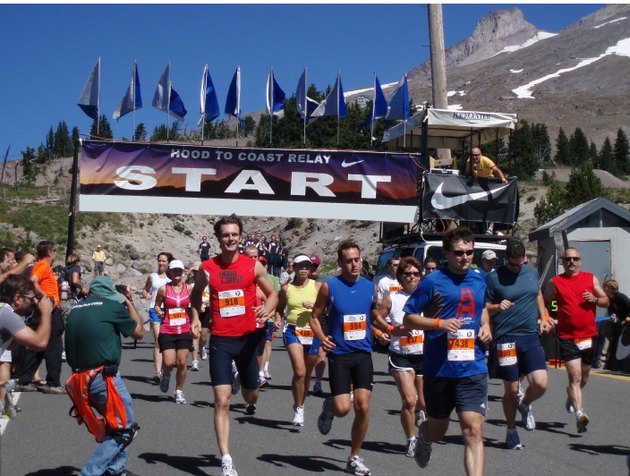 Known as "The Mother of All Relays," Hood to Coast takes 1,050 teams on a 199-mile journey across Oregon. The teams of six to 12 runners start at the Timberline Lodge on Mt. Hood and travel by foot to Seaside, Oregon. Runners are assigned to 36 separate legs of the race, traveling by van across the course when not running.
Hood to Coast is the perfect way to push yourself both individually and as part of a team. This historic race began in 1982 with only eight teams and has grown into the monolith it is today, with teams training and traveling for the ultimate relay challenge. Be prepared for an epic weekend with teammates who support you and your die-hard love of running.
7. A Christmas Story 5K/10K Run (December)
8. Anchorage RunFest (August)
9. Garmin Marathon in the Land of Oz (April)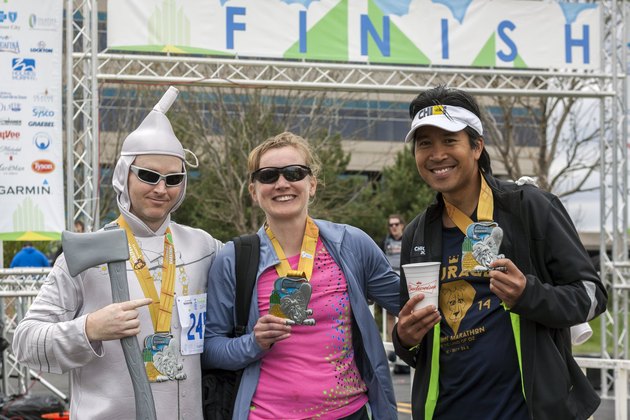 Make your way to the Land of Oz and run your way through the Garmin Marathon, Half Marathon or 10K course. Host city Olathe, Kansas, which gets its name from a Shawnee word for "beautiful," will charm and delight runners as they make their way through this Boston Marathon-qualifying course.
The race began in 2004 as the Olathe Marathon, and runners from all over the world travel to this city just 30 minutes from Kansas City. You'll even see some participants dressed as Dorothy and friends! This is a big-time race with small-town charm, complete with local food and drink to celebrate at the finish-line festivities. Your childhood dreams come true in this journey to Oz — and it doesn't even take a twister to get you there.
10. La Sportiva Vail HillClimb (July)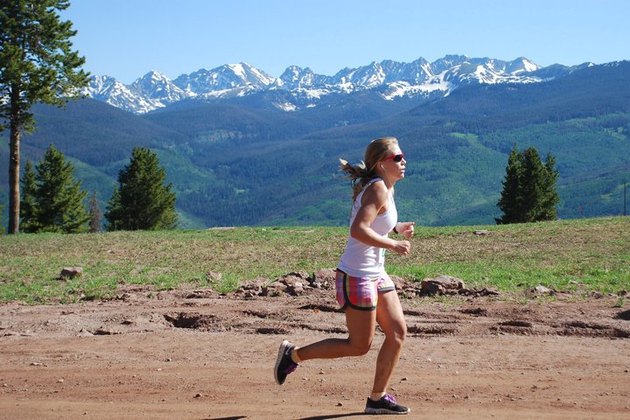 "Runners from all over the country visit Vail during the Fourth of July holiday to race the HillClimb, a true testament to the beautiful views of the Gore Range and Holy Cross Wilderness that are offered throughout the entire run," shares one race director. Both beginners and advanced trail runners can take on the double-track route — with spectators taking an easier trek via gondola ride — offering sweeping views and a day on the mountain unlike any other.
11. Jurassic Trail Runs (June)
12. AJC Peachtree Road Race (July)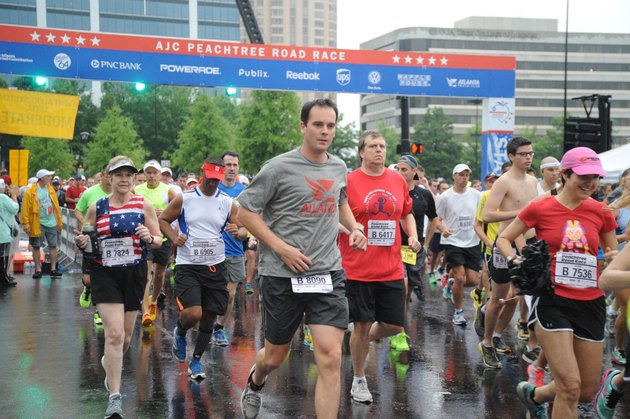 Celebrate Independence Day with runners from all over the country in the AJC Peachtree Road Race. This beloved Atlanta race is now the largest 10K in the world. There's a lottery registration system in place, which makes landing a spot in the race a coveted prize.
"Each year, the AJC Peachtree Road Race gives 60,000 individuals throughout Atlanta and around the world the opportunity to take part in a great tradition and celebrate health and fitness," says Rich Kenah, Atlanta Track Club's executive director. "We're proud to continue to be known as the country's largest road race and the world's largest 10K."