As the creators of the Whole Life Challenge, we believe that health and fitness doesn't come in a bottle or a box. At its deepest level, we believe it's a personal experience and that it is 100 percent dependent on your participation. It's not something that can be bought; it must be built. We believe that everyone can have the health and well-being they want and deserve.
There is no one-size-fits-all solution: Health and well-being are as much a personal expression of who you are as it is a process of discovery, and there are no limits on how you can achieve it.
An untamed industry has grown up around health and fitness, and we've worked closely with people at CrossFit Los Angeles (CFLA) on both. But we're tired of unchecked promises and wild expectations. We want people to know they can get real, inspiring results from real, daily effort.
How the Whole Life Challenge Came to Life
When we ran CFLA, our clients came to the gym and worked hard, but they didn't have practical guidance for the other daily choices they made when they weren't there.
We wanted to help our clients make good choices all the time, not just for the hour that they were at the gym. We knew that if any positive changes were going to last, they would take time. These changes would need to be slowly integrated into our clients' lifestyle. And we realized we could do it by having a some fun!
So we created a game we called the "Whole Life Challenge" to switch their attention to making small, in-the-moment, smart and personal choices that reinforce long-term and sustainable healthy living. It would allow them to make choices that made sense for their lives, not someone else's.
Then the magic happened: People changed, they learned, they let go of expectations. They discovered health and fitness could be easy and fun. They learned they could get real results from small, daily efforts. And it wasn't specific just to our gym members: Their loved ones, co-workers, neighbors were all invited to play the game, regardless of fitness level. It worked for everyone.
The Challenge doesn't tell you who you should be or what goals to have. That's up to you. It doesn't matter if you're in the gym daily or have never set foot in one. The Challenge helps you discover yourself through practices that fit your life. It helps you find the opportunities for health and well-being to exist everywhere in your life.
How It Works
During the Challenge, you focus on the "7 Daily Habits," the building blocks of a healthy mind and body:
1. Nutrition
2. Exercise
3. Mobilization
4. Supplementation
5. Hydration
6. Lifestyle Practices
7. Reflection
Before you think you can't handle some crazy nutrition challenge, know that this is designed to meet you where you are today and to stretch you just beyond your comfort zone. This challenge is meant to be the start of a lifetime endeavor, not a crash course in a fad diet. There are several nutrition levels available to choose from, none of them better than the other. They're meant to let you choose the best starting point for you.
Rules of the Challenge
You start by taking your preliminary measurements: This includes doing a measurable workout, measuring your body (weight, body fat or girth), taking a "before" picture, and completing a questionnaire about how you feel day to day. Save your results in your profile — you'll re-visit all of them at the end to see how you've improved.
Each day, you track your behavior and give yourself a daily score in each of the 7 Daily Habits:
Nutrition: 0-5 points. You start each day with 5 points. You lose or keep those points based on your nutrition choices. For the nutrition level you choose, we provide a list of non-compliant foods. If you eat any foods on that list, you subtract a point. You can't go lower than zero.
The nutrition category addresses five basic categories of foods: grains and starches (including corn and soy), sugar, dairy, alcohol, and artificial ingredients.
For the remainder of the categories, you can earn additional points towards your score:
Exercise: 0 or 2 points. Complete at least 10 minutes of any activity each day to earn your two points. It's up to you: hit the gym or put on your shoes and go for a run. Other days, you may just need active recovery: a bike ride, a hike, light yoga, playing tag, or even just a walk around the block. You listen to your body and decide what exercise looks like and how much of it you need. The results you earn are totally dependent on the effort you decide to put in.
Mobilization: 0 or 2 points. Stretch or move your joints for a total of 10 minutes each day to earn your two points. This can be done all at once or throughout the day. Any kind of stretching or joint mobilization counts, even yoga. And if you do 20 minutes or more of yoga you can count it as exercise and mobilization!
Supplementation: 0 or 1 point. Choose a supplement that you decide would make a difference if you took it every day for eight weeks: fish oil, multivitamin, super green powder, vitamin D, etc. Earn your one point daily by taking it.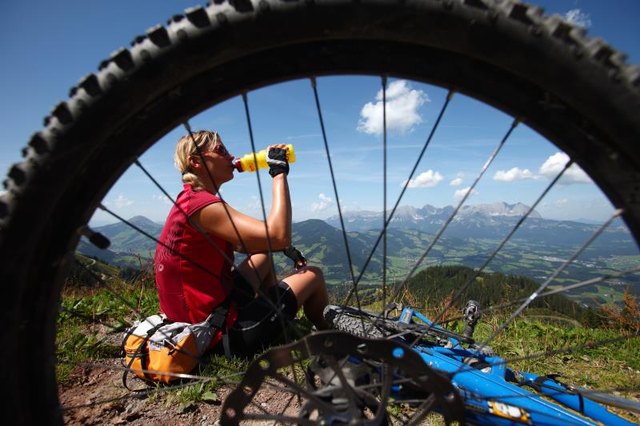 Hydration: 0 or 1 point. Calculate 1/3 of your bodyweight. Convert that number to ounces and drink that amount of water each day to earn your hydration point. For example, if you weigh 180 pounds, you'll drink 60 ounces of water daily. You can fulfill this requirement with water, coconut water, herbal tea, etc. Drinks like coffee and tea don't count.
Lifestyle Practices: 0 or 1 point. Every Friday, a new weeklong practice will be announced that you begin on Saturday. You'll earn your daily point by fulfilling the requirements of that practice. Past practices have included meditation, sleep, powering off electronic devices during meals, and intentional acts of kindness. The specifics for each practice will be included in the announcement.
Reflection: 0 or 1 point. When you record your daily score, you get the opportunity to submit what we call a "reflection." That is your chance to say something about what you're learning, what you're noticing, where you'd like to make a more intentional effort, or talk about your progress. Reflections will show up in your team's communication feed, where teammates will be able to read, comment and offer support and tips. You'll earn 1 point for submitting a reflection of at least 25 characters (limit 280).
Every day beginning at 8pm, you log in to the Challenge website to record your score and interact with teammates. You get a full 28 hours, until midnight the following night, to enter that day's score. After that, you get a 0 for that day.
At the end of the eight weeks, you repeat the measurements and questionnaire you completed at the start. You'll be able to see how you changed and how you managed your habits over the course of the Challenge.
The Challenge teaches different things to different people, and the overarching principle -- building health and well-being into your life by exploring, experimenting, practicing, learning, and growing -- will continue to guide your choices after it's done.
We've found that by making small, manageable changes each day, along with building a network of support and positive change in your personal community, you build a world of health and well-being that extends beyond what you eat and the time you spend in the gym. People discover a new perspective on their daily activities that allows them to move their practice and experience into the choices they make each day.
If you're ready to play and make some positive changes in your life, you can join the LIVESTRONG.COM team. The challenge begins September 19th.
TESTIMONIALS
My main goal and challenge this WLC was to stay off sugar and eat whole foods. What the WLC experience made me realize is that I do not need sugar to comfort me. I do not need sugar to elevate my mood, to survive sadness or to relieve anxiety. A huge realization. - Alexandra Paul
After calling my friends crazy and telling them I could never do it, I decided to do the Whole Life Challenge. A few weeks before the challenge I broke my foot. The broken foot held me back a bit but I still got to the gym and worked my upper body, and was seeing amazing results from the diet. I feel fantastic. I have tons of energy and have been in a great mood recently. As of now I have lost 22 pounds, down to 200 pounds from 222 pounds. - Dan White
This was my fourth Challenge - every challenge has truly created a transformation in my life. My perspective of what we call "food" in this culture has shifted dramatically. I even learned to cook! Something I detested previously! I almost don't recognize myself any longer - I love what I have become. I also have been blessed with bringing approximately 20 others to the Challenge and being a part of their transformation. Thank you WLC! - Xen Buchanon