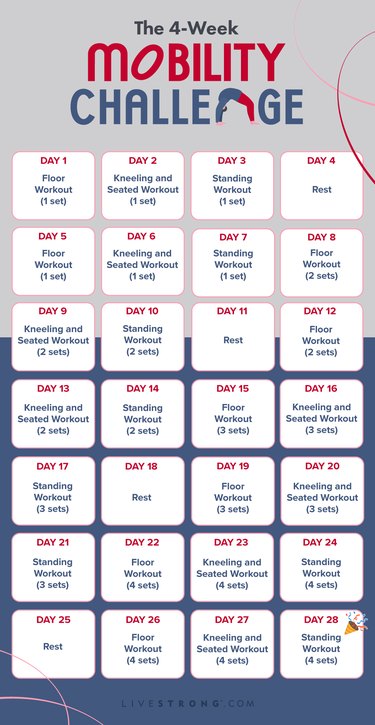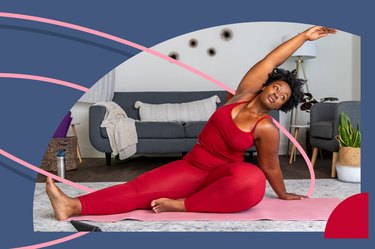 There's more to mobility than the 3 minutes you're used to stretching before or after your workouts. Really.
Stretching primarily targets your muscles to improve flexibility. Mobility focuses on moving your joints through their full range of motion. That's essential to managing everyday tasks more easily and without pain, especially as we age.
Maybe for you it's a twinge in your lower back, an ache in your shoulders or pain in your neck, knees or ankles. No matter where you feel a hint of discomfort, prioritizing mobility can help relieve tightness and tension.
That's why we created our 4-Week Mobility Challenge with Lore McSpadden-Walker, CPT, founder of Positive Force Movement. All you need is your body (and a yoga mat, if you'd like) to start feeling better.
How the 4-Week Mobility Challenge Works
We're launching our first official run of this challenge on Tuesday, March 1, 2022, but you can start it any time you like — either as a standalone practice or in addition to your regular workouts.
Each week, you'll repeat three different mobility workouts: one with floor-based moves, the second with kneeling and seated moves and the third with standing moves.
Here's your weekly schedule:
​Get a printer-friendly version of the challenge calendar here.​​
Throughout the month, you'll increase the number of sets you do each week like this:
| Week | Sets |
| --- | --- |
| 1 | 1 |
| 2 | 2 |
| 3 | 3 |
| 4 | 4 |
Tip
How long you do each exercise depends on what feels good for you. "I tend to not prescribe how long a person should stay in each move: There are so many variables in regards to that," McSpadden-Walker says. "Instead, I tend to encourage people to stay mindful and curious while they do each movement, and move on to the next one when their body requests a change."
How to Join the Body-Weight Workout Challenge
Step 1: Print and/or Save Your Challenge Calendar
Print out the calendar above or save it to your phone and use it each day to help you stay on track. Do the workout listed, then check off each day as you complete it.
Our community of more than 52,000 members is here to support and motivate you through this challenge. Tell the group how the day's routine went, post photos or videos of your workouts or share your favorite mobility-related meme or motivational quote.
Step 3: Start Your Mobility Routines
On Day 1, kick things off with the Floor-Based Mobility moves. Check out the links below for details on each of the three workouts:
Step 4: Enjoy Your Rest Days
Every Friday, you'll have a rest day. Even though mobility is low-intensity and low-impact, you're still applying just a bit of stress and stretch to your joints and muscles, so you want to give them a chance to recover. Plus, it's a nice mental break, too!
You can take the day off from exercise entirely if that's what your body needs, or you can try something active but low-intensity like swimming, yoga, tai chi or walking.
Step 5: Celebrate Your Success
You made it to the end of the 4-Week Mobility Challenge! Take some time to appreciate that accomplishment — and let us know how it went in our Challenge Facebook Group.
​​When you're ready, keep your momentum going with another challenge, such as:​